Andrew Cullison (Phyllis W. Nicholas Director) (he/him/his) has led the Prindle Institute since 2014. To find out more about his academic background, visit here. Contact Andy at andycullison@depauw.edu.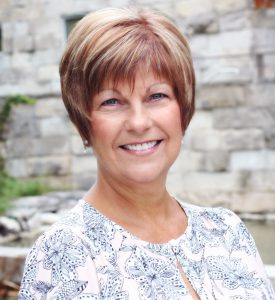 Linda Clute (Operations Manager) (she/her/hers) began working at DePauw in 1998 and moved to the Prindle Institute when it opened in early 2008. She is responsible for the budget, stewardship of the endowed funds, human resource functions, event planning, and ongoing oversight of the building and programs. Contact Linda at lclute@depauw.ed
Lana Hall (Administrative Assistant) (she/her/hers) joined the team at Prindle in January 2018 and loves contributing to Prindle's mission. In her spare time, she enjoys music, art and downhill skiing. Contact her at lanahall@depauw.edu
Emily (Jones) Knuth (Assistant Director of Events and Engagement) (she/her/hers) is a 1999 DePauw University graduate and has deep-rooted family history in Putnam County. She oversees the planning and management for such events as Express C.A.M.P, the Indiana State High School Ethics Bowl and the Summer High School Ethics Bowl Invitational. Contact her at eknuth@depauw.edu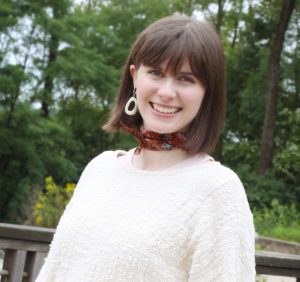 Christiane Wisehart (Assistant Director of Digital and Academic Services) (she/her/hers) oversees Prindle communications, produces the Examining Ethics podcast, and writes stories for the website. Most importantly, she runs Prindle's annual Tootsie Roll Poll. Contact her at christianewisehart@depauw.edu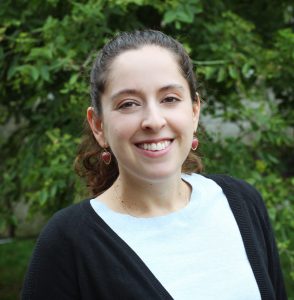 Jessica Mejía (Nancy Schaenen Scholar and Assistant Director of Academic Services) (she/her/hers) has a specialization in applied ethics, with a focus on animal ethics. In addition to her research and coursework, Professor Mejía is heavily involved in the decision-making process for the Young Philosophers series, and applications for Prindle reading courses. Contact her at jessicamejia@depauw.edu
Eleanor Price (Graduate Fellow) (she/her/hers) graduated from DePauw University in 2017 as an Honor Scholar with a degree in Flute Performance and English Literature. She is the editor of The Prindle Post, produces the podcast Examining Ethics, and assists with Prindle's social media presence. Contact her at eleanorprice@depauw.edu
Saige Trottman-Huiet (Graduate Fellow) (they/their/theirs) graduated from DePauw University in 2018 with a degree in Music and Women's, Gender and Sexuality Studies and has a great passion for the outdoors. Contact them at strottman-huiet@depauw.edu
Advisory Committee (2018-2019)
Members of the advisory committee provide wide-ranging expertise and multiple perspectives as they advise on the work of the Institute. Please contact any of these committee members if you have questions, comments, or concerns.
DePauw faculty and staff who would like to serve on the Advisory Committee or nominate a colleague should contact Linda Clute (lclute@depauw.edu).
Members
Representing Social Sciences: Kevin Moore 2017-2020 (Psychology / Honor Scholar Director)
Representing Arts or Humanities: Joe Heithaus 2016-2019 (English)
Representing Philosophy: Jeremy Anderson 2017-2020 (Philosophy) and Erik Wielenberg 2016-2019 (Philosophy)
Representing Library and Information Services: Z. Sylvia Yang 2018-2021
Representing Natural Sciences/Math: Mamunur Rashid 2019-2021 (Mathematics)
At-large Members
Ted Bitner 2016-2019 (Psychology)
Justin Glessner 2016-2019 (Religious Studies)
David Gellman 2018-2021 (History)
Wesley Wilson 2018-2021 (Archives and Special Collections)
Rebecca Schindler 2018-2019 (Classical Studies)
Ex-Officio Members
Marcia McKelligan (Blair Anderson and Martha Caroline Rieth Chair in Applied Ethics)
Kate Smanik (Chaplain and Assistant Dean of Civic Engagement)
Andrew Cullison (Director, Prindle Institute)
Linda Clute (Operations Manager, Prindle Institute)
Emily Knuth (Assistant Director of Events and Engagement, Prindle Institute)
Christiane Wisehart (Assistant Director of Digital and Academic Services, Prindle Institute)
Jess Mejia (Assistant Director of Academic Services, Prindle Institute)
Lana Hall (Administrative Assistant, Prindle Institute)
Eleanor Price (Graduate Fellow 2017-2019, Prindle Institute)
Saige Trottman-Huiet (Graduate Fellow 2018-2019, Prindle Institute)