The people who started it all
Many talented people have contributed to the success of the Prindle Institute for Ethics in the decade since our founding. The Prindle Institute's growing list of programming, media, and community engagement has been built on the vision and values of the founders of the Prindle Institute. Without their talents, time, and generosity, Prindle would not exist.
The Wall Street pioneer who made the Prindle Institute possible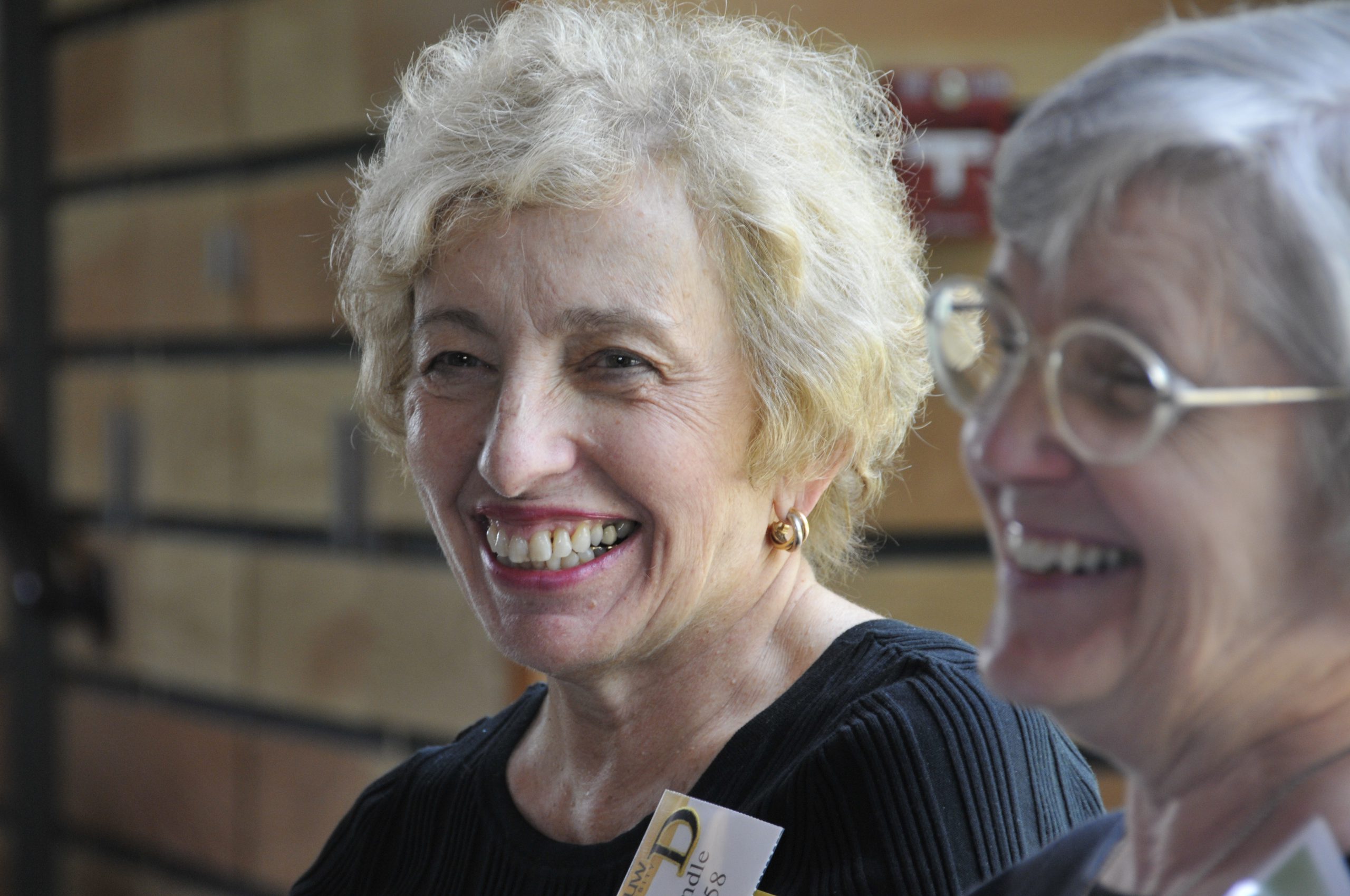 Janet Prindle and Martha Rainbolt in conversation in 2008
Janet Prindle
A 1958 graduate of DePauw, Janet Prindle made the construction of The Janet Prindle Institute for Ethics possible. Prindle was the first woman to be named partner at the investment firm Neuberger Berman. She successfully dispelled the idea that socially conscious investing means lackluster performance. She proved that progressive social policy can indeed be a company's best financial strategy.
Of DePauw, she says:
"My DePauw liberal arts education greatly enhanced my personal life and advanced my career. But today's graduates face an increasingly complex array of choices. I believe that DePauw's liberal arts program will be more relevant if students' critical thinking skills include ethical issues within the subjects they study. I am honored to be able to play a role in strengthening DePauw University's high quality academic program and preparing future graduates for the decisions they will have to make."
Thanks to Janet Prindle's kind contributions, her Institute is poised to aid all students — and the community beyond — in making a more ethical future.
Robert Bottoms – President Emeritus of DePauw University and Prindle's First Director
When DePauw acquired the Nature Park in 2003, Robert "Bob" Bottoms' dream of creating an ethics institute which would provide students, faculty and the wider community with a place to ask the big questions moved closer to reality. His vision embraced a definition of ethics which focused on inquiry and multiple perspectives. Under Bob Bottom's leadership, the Prindle Institute defined itself as a "place for inquiry and discourse about critical issues of our time."
Dr. Bottoms had the vision for The Janet Prindle Institute for Ethics; he also had the expertise, energy and commitment to guide the DePauw community toward the inspiring physical setting for the work to be done.
Martha Rainbolt – Prindle's First Coordinator
Through Dr. Rainbolt's initiative and guidance, the Faculty Advisory Committee was institutionalized, reading programs for both students and faculty began, renowned outside speakers were invited to become part of the DePauw community, and the Undergraduate Ethics Symposium was initiated in 2008. Martha played a key role in promoting ethics-related topics that would be of interest to students, and she organized faculty development workshops to help DePauw faculty members integrate ethics into their teaching and scholarly research. Martha Rainbolt's contributions were instrumental in the conception, growth and impact of the Prindle Institute.