Character. Attitude. Morals. Perspective.
Young children face an increasingly divisive and divided world, where they often lack the models and tools they need for respectful disagreement and positive dialogue. Express C.A.M.P. (Character, Attitude, Morals, Perspective) is a week-long summer camp led by local Putnam County K-5 educators and college-aged counselors that's designed to teach first- through fifth-grade children how to actively engage with others who might have different views, while also encouraging them to express and develop their own values.
Express C.A.M.P. 2021 Cancelled
We are sad to report that we are not able to host Express C.A.M.P. for the 2021 summer due to concerns about COVID-19. DePauw University remains very cautious about having people on campus. The ratios for the number of people allowed in the building would severely limit the number of staff and campers that could attend. So, we will turn our focus and attention to plan the best camp we can for summer 2022.
We truly regret that our opportunities to meet, engage, and work with Putnam County children in July have been compromised because of the current circumstances. When this situation resolves, we hope to be able to continue the meaningful connections we have begun to make with all of you.
If you have any questions for us, please do not hesitate to reach out to Leslie Petiniot (lesliepetiniot@depauw.edu).
What is Express C.A.M.P.?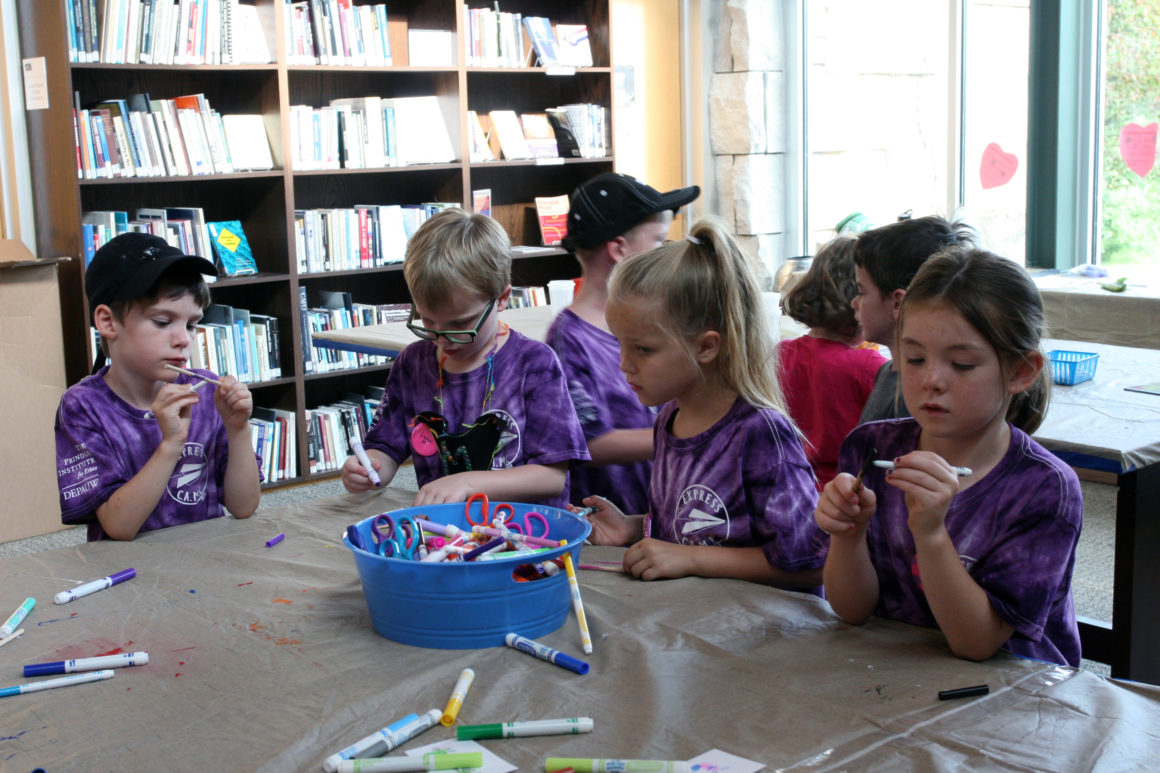 Campers crafting craftily at C.A.M.P.
The fun, meaningful activities at Express C.A.M.P. provide local schoolchildren with experiences centered on building character, expressing values and building empathy. The camper's cornerstone experience at Express C.A.M.P. is an in-depth exposure to philosophy through the stories and themes of well-known children's books.
Details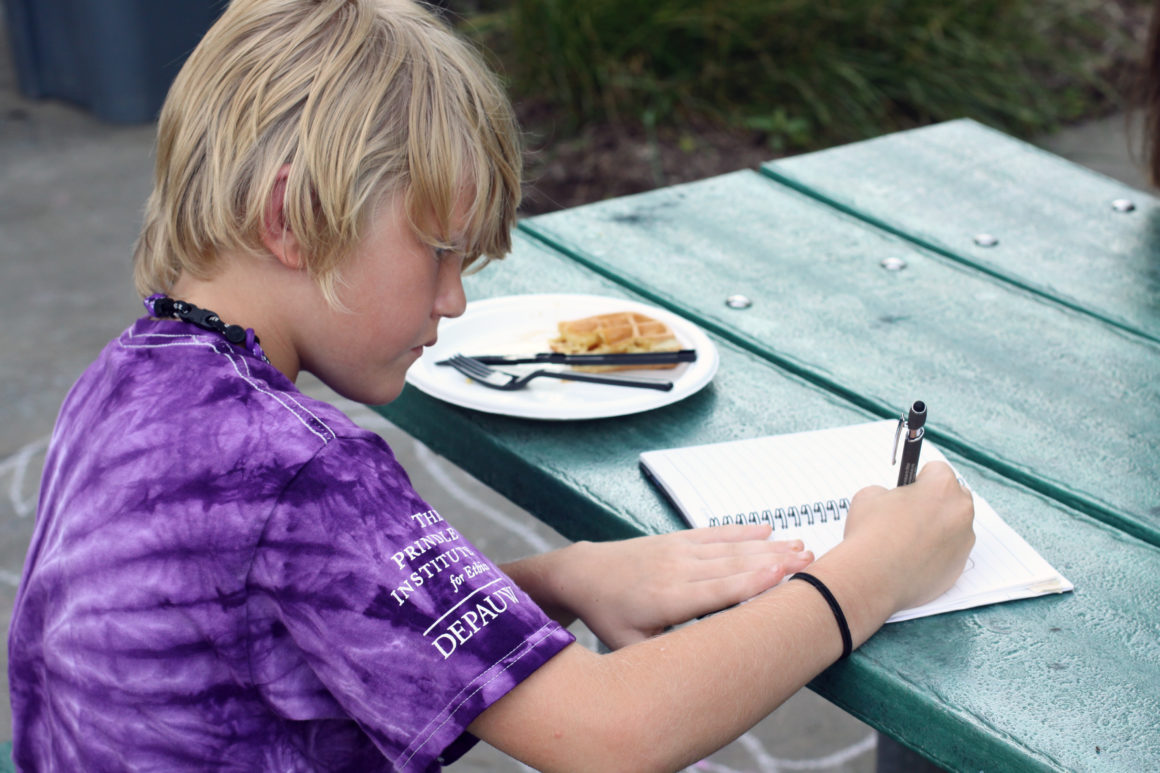 A time for reflection...and waffles!
Please note that this information does not apply to our 2021 camp, which has been cancelled due to concerns about COVID-19.
The camp takes place from 8 a.m. – 3 p.m. in early July.
Breakfast, lunch and snack served daily.
Free bus transportation within Greencastle city limits is available.
Parents should sign up well before the May 1 deadline, as our camps fill up quickly.
Registration is $150 if your application is received by the deadline. Siblings receive a $50 discount! If for any reason, camp is closed, all registrants will receive a full refund.
Express C.A.M.P. Behavior Policy
The counselors of Express C.A.M.P (Character, Attitude, Morals, and Perspective) and Prindle Institute camp staff want to offer your child the best experience possible while attending our camp this summer. Therefore, we need each camper to understand and follow the camp guidelines and rules. These guidelines are in place to ensure the safety and well-being of your child, fellow campers and camp staff.
Listen to camp counselors and staff members.
Respect camp counselors, staff, and fellow camp participants.
Respect camp property, the Prindle Institute, and field trip locations.
Keep your hands, feet, and other objects to yourself.
Use an indoor voice when indoors.
When riding the bus, respect the bus driver and fellow campers, and remain seated at all times.
Follow the counselors' instructions at all times, including field trips to the nature park, Lilly Center pool, and the campus farm.
Clean up after yourself.
Be positive, kind to others, and have fun!
Should a camper choose not to follow the rules, the steps listed below will be used to handle the situation:
Redirection of camper to change behavior
One verbal warning
Time away from the group with a camp counselor or staff member
Conversation/phone call with the parents/guardians and follow up letter will be sent home
Removal from the camp
If the camper engages in behavior that is a threat of bodily harm to themselves or others, or the physical property, parents or guardians will be called immediately. If such behavior warrants, a meeting with parents may be needed and could result in suspension or removal from camp.
Situations that will result in an automatic behavior warning report include: stealing, use of profanity, excessive violence (hitting, kicking, biting, etc.) and property damage.
Please review these rules and expectations with your child. The camp staff will also review these rules with your child at the beginning of camp.
Parents/guardians are not entitled to a tuition refund if their child is removed from Express C.A.M.P.