Find your place at the Prindle Institute
If you're a DePauw student who wants to go deep with ethics, the Prindle Institute has an opportunity for you. Whether you're interested in being a member of DePauw's ethics bowl team or taking one of our quarter-credit reading courses, we've got something to offer you.
Applications for 2019-2020 Hillman intern positions are now closed. There are still many ways for you to become involved in our programming, whether it is as a Prindle Post staff writer or by submitting to our Prindle Prizes program. Read on for more information!
Ethics Reading Courses
Register for one of the Prindle-sponsored 1/4-credit reading courses! It's a great way to weave ethics throughout your DePauw curriculum. Find the classes – listed as UNIV291 – in the Schedule of Courses.
Prindle Prize Program
Any DePauw student can submit their coursework for consideration in the Prindle Prize program! There are many $300 prizes available in several categories, including Humanities; STEM; Visual, Literary or Performing Arts; Technology and more.
Hillman Internship
Applications are currently closed.
Hillman Interns (supported by the Anne and Charles Hillman Student Intern Fund) have the largest time commitment and greatest involvement with the Institute's events and programs. Hillman Interns create and promote Prindle events, contribute content to The Prindle Post, help with educational outreach, or create their own individual projects.
Prindle Post Staff Writer Application
Prindle Post staff writers contribute weekly content for The Prindle Post in the form of ethics in the news articles and op eds. Staff writers are strong writers with an ability to keep up with and analyze current events and culture.
Applications accepted throughout the year!
APPLY
First-Year Student Internships
The first-year internship program is uniquely suited for new DePauw students who want to immediately get involved with the Institute's work. First-year interns will receive mentorship from Hillman Interns and Prindle's full-time staff, assist with events and event promotion, and gather necessary skills to be successful in the Hillman Internship, the staff writer program, and beyond. We will begin accepting applications for this program in August 2019.
Ethics Bowl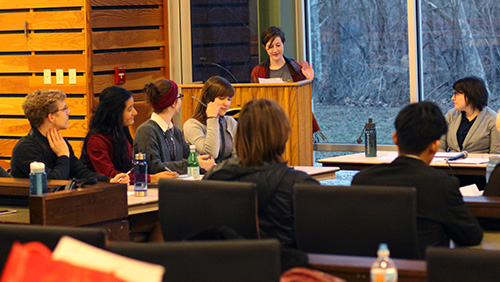 Whether it's through volunteering or competing yourself, we've got a spot for you at one of our ethics bowls!
Ethics bowl is a debate-style competition that focuses on contemporary moral problems. Unlike typical debate competitions, the judging criterion focuses more on key elements of constructing a well-reasoned argument in a civil manner. There are a few different ways you can be involved in ethics bowl at DePauw.
Find out more about Ethics Bowl