Funding ethics-related projects and events for DePauw faculty, staff and students
The Prindle Institute for Ethics seeks to fund projects, events, and scholarship at DePauw University that encourage ethics education and discussion. We want to support projects about important ethical issues, but ethics content alone is not sufficient to receive Prindle Institute funding. Applications for funding must articulate how you see your project or event developing and encouraging lively, in-depth engagement with the ethical themes of your project. Please carefully review the guidelines below. If you have a question, contact Emily Knuth (eknuth@depauw.edu).
Guidelines
Our Advisory Committee reviews proposals and makes final funding decisions. The kinds of projects we fund are widely varied, but must have a DePauw University-affiliated faculty, staff or student as the project lead.  In a competitive funding pool priority is given to those projects that have the biggest impact on the DePauw community. Examples include, but are not limited to:
Bringing speakers to campus
Hosting meals and discussions
Hosting a dialogue group or faculty reading group that meets regularly throughout the year or semester
Engaging and connecting with the local K-12 community
Developing an ethics-related course
Funding for faculty-student collaborative research that has a substantial ethics focus.
Funding the dissemination and/or presentation of student research when the project has a strong tie to ethics.
Don't limit yourself to the ideas outlined in the bulleted list above! We welcome creative approaches to ethics education.  We encourage you to reach out to the our Associate Director, Emily Knuth (
eknuth@depauw.edu
), to discuss your ideas before you invest heavily in a proposal.
Funding Cycles and Deadlines
We offer funds on a cycle model to ensure equitable access to funding opportunities. Projects and events should require funds no earlier than four weeks after the application deadline.
Funding Cycles:
Winter Cycle (provides funds for projects in early Spring semester or summer)
Deadline for proposals: January 15
Decisions announced: February 7
Spring Cycle (provides funding for projects in summer or early Fall semester)
Deadline for proposals: April 15
Decisions announced: May 7
Fall Cycle (provides funds for projects in Fall or early Spring semesters)
Deadline for proposals: September 27
Decisions announced: October 7
Course and Research Funding
In an effort to ensure that curricular and research funding aligns with broader guidelines for curricular development and research, the advisory committee will review these proposals in consultation with Academic Affairs.
Application Form
Next deadline January 15, 2024
Application for Funding from the Prindle Institute Early Spring or Summer 2024 (Winter Cycle)
Funding a Speaker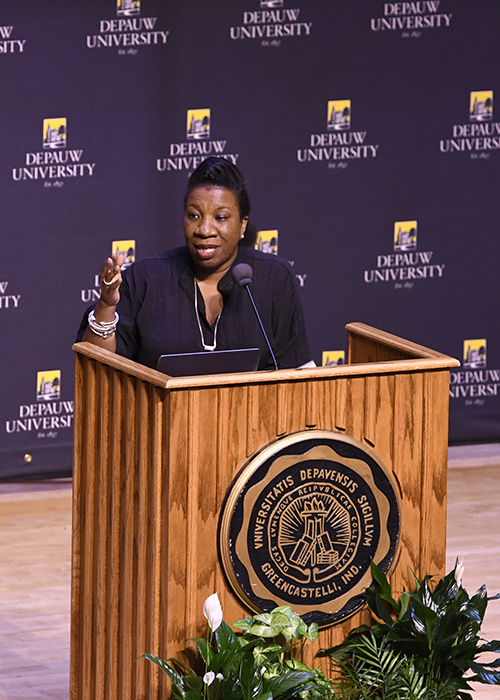 Tarana Burke enraptured a packed house at a Prindle Institute-funded speaking engagement
There are often many visiting speakers throughout the academic year at DePauw, so the advisory committee will be more cautious about funding speaking events. We ask that some reflection on the following considerations on funding a speaking event before submitting it to the advisory committee:
Speaking events that bring in more campus partners (e.g. fellows programs or student groups) have a higher likelihood of receiving funding.
Speaking events that integrate the speaker's work into the curriculum (e.g. using the speaker's work in a course, or arranging for a classroom visit) have a higher likelihood of being funded. The more classes and faculty that are involved in the speaker's event, the more likely the event is to be funded.