Getting Started
Interested in teaching philosophy to elementary school children? This website will help you do that using popular children's picture books. To get started, take a look at some of the book modules contained on this site. They will introduce you to the philosophy in each picture book, and suggest questions to help you initiate a philosophical discussion with young children. If you're using any of our book modules in your classroom or with your young children, we've provided some helpful resources to guide you.
Leading a Philosophical Discussion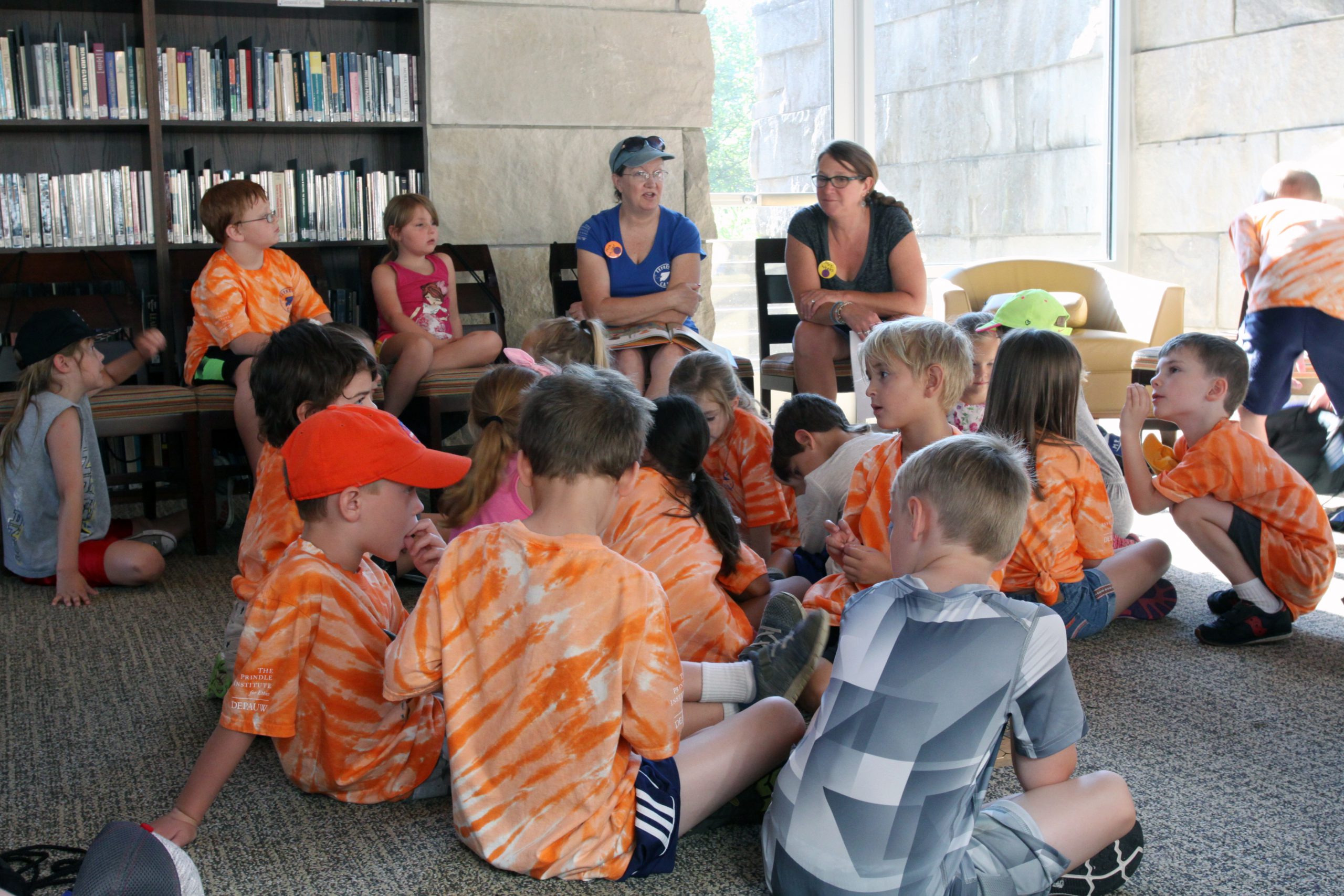 Leading a philosophical discussion with children can be intimidating, especially when it's your first time. It's hard to anticipate what they might say, and that can be pretty scary. The following advice was originally created for undergraduate students preparing to lead a discussion in a classroom for the first time. However, we hope that veteran educators will find helpful tips on this page as well.
Book Modules
Preparation
Preparing to lead a philosophical discussion with children means that you have to be familiar with the material you will be teaching, both the book itself, the questions, and the philosophical issues. This takes some time. You should read the book out loud and try to put real excitement into your reading. It often helps to practice this with a partner; this could be either a fellow classmate or a friend. You should also make sure to go over the questions and figure out which ones you think are the most important, the ones you really want to ask. It's also important to be familiar and comfortable with the philosophical issues, so you can recognize a good response and call the childrens' attention to it.
In the Classroom
The key to a great philosophical discussion is to listen, really listen, to what the students are saying. We've provided many questions for each book. The temptation is to ask a question and then, after a kid responds, to just ask the next one. Don't do it! Listen to what they are saying and, if no one else has a hand raised to respond, ask an improvised follow-up question. The idea is to have them discuss the question that you ask. There is absolutely no pressure on you to "get through" the questions in each module. If you ask a question and a good philosophical discussion develops, that's great! Stick with it. The key to teaching children philosophy is having the children talk to one another philosophically. Don't worry about "coverage."
If you've never taught a group of children before, make sure you show them how excited you are to be in the classroom! Show them that you are very interested in them and are excited to be teaching them.
Remember to give the students "markers." These are comments that indicate that they've accomplished something. In general, the more encouragement you give the students, the better they will perform. So, if you've had a discussion of some topic, don't just move on to the next question. You need to mark what has occurred so that they recognized what has been accomplished and feel good about it. Even if there is a disagreement, you can say something like, "We've had a really interesting discussion. I think we have a real disagreement here. Some of you think that xyz, while others disagree. That's really interesting because —-. Maybe we should move on to another question now." In addition, it's good to just summarize where things are periodically, so that the children have a sense of the course of the discussion.
Remember to be a facilitator and not a participant in the conversation. Your goal is to get the kids to talk with one another about the issues, not tell them what you think. There are a variety of techniques you can use to keep them talking to each other. Ask, "What do the rest of you think about what Amanda just said?" Or, "Does anyone disagree with Colin, that bravery is really stupid?" Or, "Let's go around the circle and each of you share an example."
Finally, enjoy yourself! If you focus on what the kids say, it can be a really fun and rewarding experience. Remember, they are "natural born philosophers," so we can learn from them. Give yourself over to the experience and enjoy!
Helpful Guidelines for Young Children
Kids may not be familiar with the practice of philosophy, so we've created some ground rules that will promote better discussion:
We raise our hands before we speak
We never speak when someone else is speaking
We listen carefully to what is being said
We don't have side conversations
We are respectful of others' opinions
We justify our opinions by giving reasons for them
Disagreement is good, so long as it done with respect
We have fun thinking together!
Further Guidance and Resources
Associated Programs and Resources