June 25, 2020
12:00 am - 11:59 pm
Cancelled – Summer High School Ethics Bowl 2020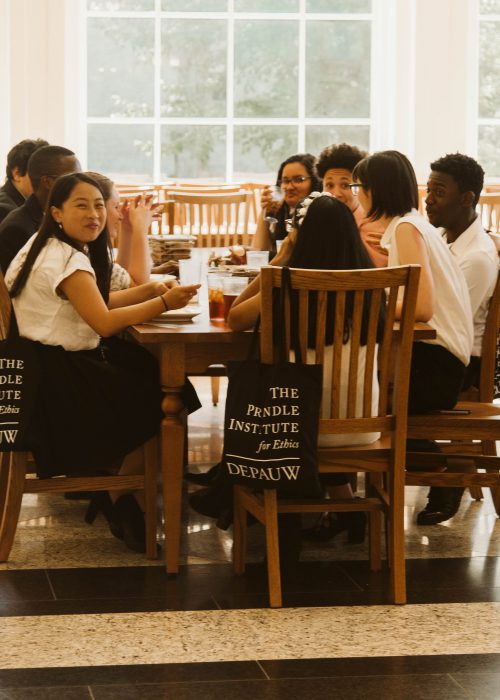 Photo by Piper Voss 2019
Due to concerns about the virus that causes COVID-19, we regretfully announce that our regularly scheduled Summer High School Ethics Bowl 2020 is cancelled. DePauw University has cancelled all guest speaker events and programming originally scheduled for summer 2020.
However, we will be holding a series of virtual ethics bowl meet-ups!
If you have any questions for us, please do not hesitate to reach out to Emily Knuth (eknuth@depauw.edu).
The following information is being retained on the page for informational and archival purposes only. It is no longer accurate.
The Prindle Institute cordially invites high school ethics bowl teams that finish first- through fourth-place in their regional competition to compete at our annual Summer High School Ethics Bowl Invitational. This is a national competition hosted by the Prindle Institute and DePauw University. Teams will experience college life during the bowl as they stay in dorms on DePauw's campus while competing against fellow ethics bowl teams from across the country.
If your team places first- through fourth-place in your state bowl, you are invited to register for our summer competition. Registration is first come, first served and the invitational is capped at 20 teams. There is no entry fee for this competition. However, each team is required to bring at least one adult who can serve both as a judge or moderator and a chaperone for your team.
Team registration opens February 17 and closes April 10. Individual participant paperwork is due May 1. Registration forms can all be found here:
TRAVEL AND LODGING
Lodging and meals will be provided for each team member, each coach, and one judge/moderator who will also serve as a chaperone per team in a university dorm.
All schools will receive up to $1,000 for travel reimbursement (receipts are required for reimbursement). Contact event planners Leslie Petiniot (lesliepetiniot@depauw.edu) or Emily Knuth (eknuth@depauw.edu) to discuss additional funding options.
Parents and guardians who are not a part of the team but wish to attend can book rooms at the Inn at DePauw. Parents and guardians must cover their own food expenses.
Rooms are available at a discounted rate until May 2020. Call the Inn at 765-658-1000 to reserve. To receive the discounted rate, as for the "Summer High School Ethics Bowl Invitational" room block.
We strongly advise against booking non-refundable travel until you are notified in April of your acceptance to the competition. Once teams are notified, all participant paperwork must be completed by May 1. Follow the guidelines on our registration page to complete all paperwork.
Shuttle transportation will be provided to and from Indianapolis airport. On Thursday, June 25, there will be a midday shuttle and a mid-afternoon shuttle to Greencastle. On Saturday, June 27, there will early-morning and mid-morning shuttles to the Indianapolis airport. All air travel information must be submitted by the May 1 deadline. 
DIFFERENCES FROM NHSEB
1. We have 3 preliminary rounds.
2. The NHSEB time for presenting the primary presentation is typically 6 minutes. The time we allow for the primary presentation is 5 minutes.
3. Moderators only announce the winner and do not provide detailed scores.
FREQUENTLY ASKED QUESTIONS
Why aren't team members who graduated eligible?
For liability and accountability reasons, we are not allowing students who have graduated to attend.
Most of my team were seniors. Can I replace them with new teams members?
Yes. Schools are free to have students participate who were not on the original regional team. We encourage schools to replace graduated seniors with new members and think of this as a rebuilding and training opportunity for their teams.
Can parents and guardians attend? 
Yes! We welcome parents and guardians to attend. A room block will be available at the Inn at DePauw. To receive the discounted rate, ask for "Summer High School Ethics Bowl Invitational" room block.
Do students need and coaches need to bring linens? 
Sheets, pillow, a pillowcase, blanket, bath towel, and a washcloth will be available in the dorm rooms.
Contact Leslie Petiniot (lesliepetiniot@depauw.edu) or Emily Knuth (eknuth@depauw.edu) with any questions.
CASES
The cases will be available by February 17, 2020.
DEPAUW UNIVERSITY CAMPUS MAP HERE
EVENT SCHEDULE available soon: