Sharing stories, understanding values
The world children and adolescents face today is full of divisiveness and moral uncertainty. We believe that by equipping students with the skills to talk about their own values, civilly engage in dialogue with their peers and recognize moral issues when they arise, we can empower young people to live examined, fulfilled lives. Our K-12 programming harnesses the power of narrative to create impactful content that resonates with students and educators.
K-5 ethics education programming with children's literature at its heart

Learning philosophy through children's literature.
Stories can act as a secure space for children to explore some of the tough moral issues they face.
Classic children's tales form the foundation of our annual summer camp for Putnam County children, Express C.A.M.P. (Character, Attitude, Morals, Perspective). This week-long summer camp led by local Putnam County K-5 educators and college-aged counselors is designed to teach first- through fifth-grade children how to actively engage with others who might have different views, while also encouraging them to express and develop their own values.
We've hosted visits from scholars like Thomas Wartenberg, a renowned philosopher whose website, Teaching Children Philosophy. His work is the inspiration for much of our ethics education programming for children. His visit in February 2019 kicked off with a professional development workshop for local educators. He also visited a DePauw class about teaching philosophy using children's literature and gave a public talk about his work. This is the first of many professional development workshops we will plan for educators who want to incorporate ethics into their classrooms.
Middle school: Telling and examining our stories

Engaging middle schoolers with captivating ethics education workshops
We've developed an exciting suite of workshops for middle-school classrooms that empower students to examine and discuss their own values and moral frameworks.
To create and implement these workshops, the Prindle Institute regularly partners with The Castle, a local Putnam County organization that works to invigorate the curriculum of area schools through arts integration and project-based learning. Prindle and The Castle typically collaborate on three to four workshops a semester with the help of a dedicated Hillman intern, and together they reach hundreds of local students a year with lessons incorporating moral reasoning and ethical thought.
Previous modules produced by the Prindle Institute in collaboration with The Castle include an ethics of photography unit, a genetics workshop, and others. Former Graduate Fellow Conner Gordon explains his Civil War photography unit here.
For further information about Prindle's partnership with The Castle, contact Emily Knuth at eknuth@depauw.edu.
High school and beyond: Identifying ethics in news stories
The Prindle Post is the Prindle Institute's online source for pieces that examine and explain the ethical dimensions of current events and culture. The articles are written for a general audience (in other words, they have very little jargon!) that includes high schoolers, college students and life-long learners.
If you are an educator interested in incorporating The Prindle Post in your classroom, we have a few different options for you to explore.
Visit www.prindlepost.org every day to find new articles on ethics in the news and culture. A selected number of pieces have classroom discussion questions provided. You can find them on The Prindle Post's educational resources page.
Request free copies of The Prindle Post print edition for use in your classroom by contacting Christiane Wisehart (christianewisehart@depauw.edu).

Each print edition comes with a free set of worksheets and questions for each article.
Examining Ethics podcast in the classroom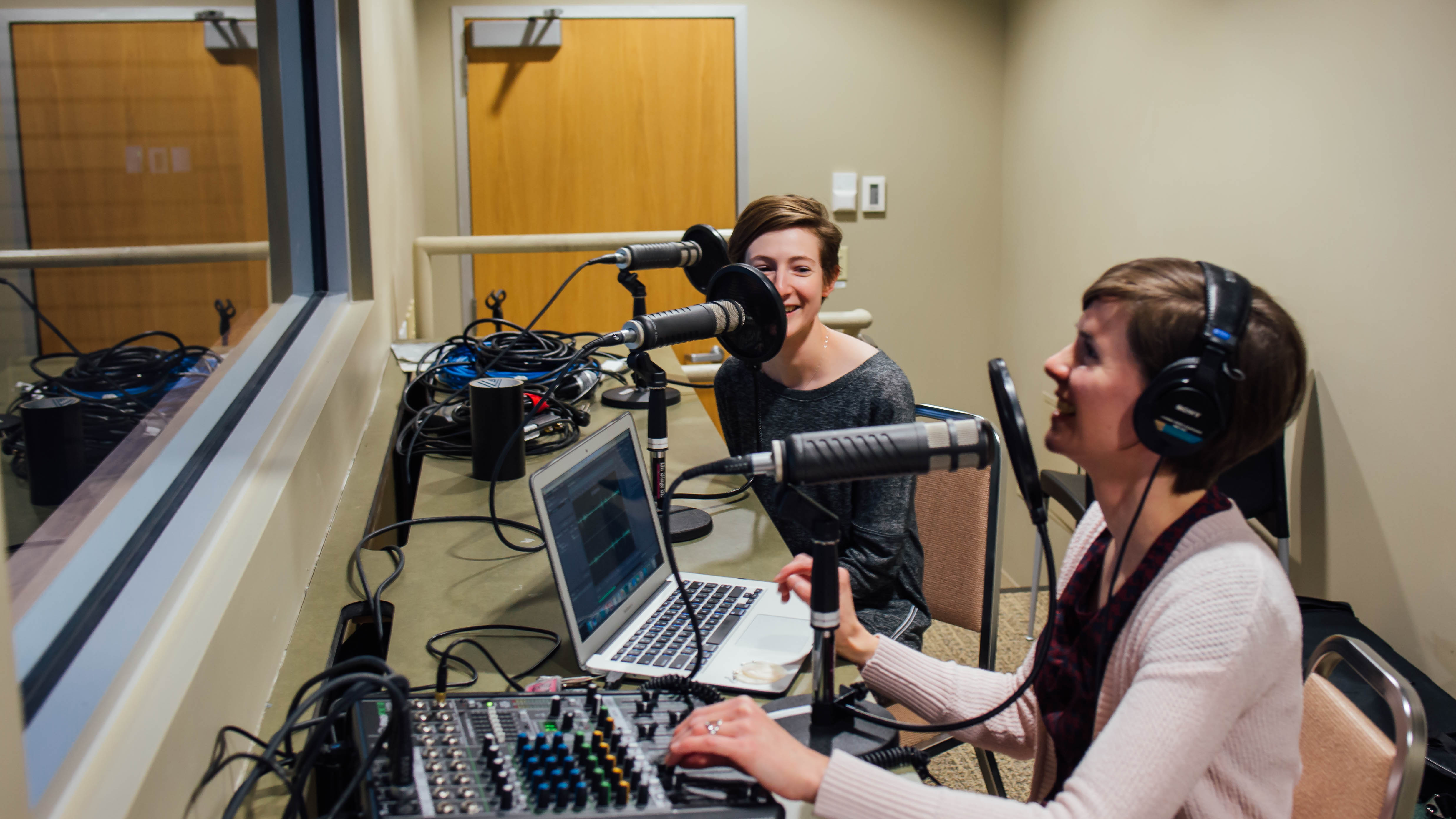 Producers Christiane Wisehart and Eleanor Price at work on an episode about achievement.
Scholars can be difficult to understand if you're not one yourself. Examining Ethics is a podcast that translates big ideas from some of the country's leading ethicists, philosophers and scholars into language we can all understand. We've covered everything from the ethics in Dungeons and Dragons to forgiveness to Frankenstein, all in a way that's designed to appeal to high schoolers, college students and life-long learners.
High school teachers and college professors alike use the podcast in their classroom to help provoke discussion. We're currently developing discussion questions for each episode. We've also got some fun ideas up our sleeve about creating workshops to teach podcasting as a classroom project. Contact Christiane Wisehart (christianewisehart@depauw.edu) for more information or to provide suggestions for more resources we could provide your classroom.
Listen to Examining Ethics
Ethics bowl at the Prindle Institute
Ethics bowl is a debate-style competition that focuses on contemporary moral problems. It's a fantastic teaching tool because unlike typical debate competitions, the judging criterion focuses more on key elements of constructing a well-reasoned argument in a civil manner. We're home to a variety of opportunities to participate in ethics bowl programming. We're the home of the annual Indiana High School Ethics Bowl competition and each summer, we also host an invitational for the nation's top high school ethics bowl teams.