March 2, 2020 - March 16, 2020
Cancelled – Anne Frank Exhibition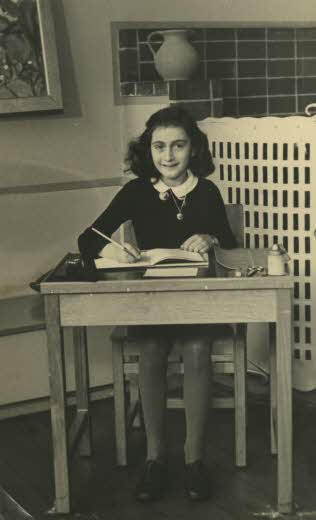 Anne Frank in 1940, while at 6. Montessorischool, Niersstraat 41-43, Amsterdam (the Netherlands). Photograph by unknown photographer. According to Dutch copyright law, now in the public domain.
This event has been cancelled:
While there have (as yet) been no reported cases of the COVID-19 virus in Putnam County, out of an abundance of caution, DePauw University has cancelled all guest speaker events beginning Sunday, March 8 through at least Spring Break because of concerns about the COVID-19 virus. This means all upcoming Prindle Institute events, including our Tuesday, March 10 documentary screening, all March visits to our Anne Frank House exhibit and our March 15-16 Ethics and Leadership Summit are cancelled. Please see DePauw University's Preparedness page for more information on the situation.
We are heartbroken that our opportunities to meet, engage, and work with our audiences this March have been compromised because of the current circumstances. When this situation resolves, we hope to be able to continue the meaningful connections we have begun to make with all of you. Please take care.
If you have any questions for us, please do not hesitate to reach out to our Operations Manager Linda Clute (lclute@depauw.edu).
Please note that the following information is no longer accurate. This event has been cancelled.
The Prindle Institute for Ethics welcomes the public to view "Let Me Be Myself," an Anne Frank Stichting Exhibition. This unique photographic exhibit tells the inspirational story of Anne Frank and seeks to address several important questions: Who is Anne Frank? What are the lessons we can obtain from the horrors that Anne's family underwent? How do we prevent the repetition of the horrific crimes of the past? Most importantly, the goal of this exhibition is to remind people to never forget the horrors of the Holocaust. Juxtaposing photographs of the Frank family with historical images, this exhibit shows how persecuted people were impacted by the political actions of both individuals and groups.
In addition to guided tours by trained staff members, we also offer two different workshops for visiting school groups. The first "Ethics and Literature" workshop is intended help students appreciate the value of considering different points of view both when writing creatively and when morally evaluating one's own or others actions. The second workshop is a discussion-based activity aimed to improve moral reasoning skills and to facilitate a conversation about the moral implications of contemporary situations.
This exhibition comes to us from the Anne Frank House in Amsterdam, and is made possible in part by the University of South Carolina.