March 10, 2020
7:00 pm - 9:00 pm
Cancelled – Free Screening "Eva: A-7063" with special guests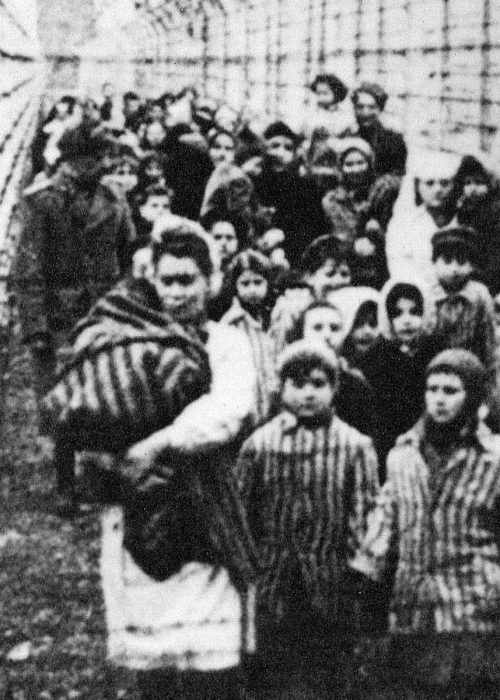 Twin sisters Eva and Miriam Mozes being released by the Soviet Army. (Photograph in public domain.)
This event has been cancelled:
While there have (as yet) been no reported cases of the COVID-19 virus in Putnam County, out of an abundance of caution, DePauw University has cancelled all guest speaker events beginning Sunday, March 8 through at least Spring Break because of concerns about the COVID-19 virus. This means all upcoming Prindle Institute events, including our Tuesday, March 10 documentary screening, all March visits to our Anne Frank House exhibit and our March 15-16 Ethics and Leadership Summit are cancelled. Please see DePauw University's Preparedness page for more information on the situation.
We are heartbroken that our opportunities to meet, engage, and work with our audiences this March have been compromised because of the current circumstances. When this situation resolves, we hope to be able to continue the meaningful connections we have begun to make with all of you. Please take care.
If you have any questions for us, please do not hesitate to reach out to our Operations Manager Linda Clute (lclute@depauw.edu).
Please note that the following information is no longer accurate. This event has been cancelled.
The Prindle Institute for Ethics welcomes the public to a free screening of Holocaust survivor Eva Kor's documentary Eva: A-7063 on the evening of March 10th in Thompson Recital Hall in the Green Center for Performing Arts. Director and award-winning filmmaker Ted Green will introduce the film and tell us a little about the making of it, and afterward Eva's son Alex Kor will share stories about his mother.
"Narrated by Hollywood icon Ed Asner, Eva: A-7063 tells the full, astonishing story of this historic figure for the first time, tracking her from Auschwitz to Israel to the United States—even into the U.S. Capitol for her jaw-dropping arrest—and ultimately to her courageous return to the Nazi death camp. The documentary reveals her hidden pain, unbridled rage and unextinguished love for humanity that transformed her into an international spokeswoman followed by millions." – www.thestoryofeva.com/about-eva/