DePauw class equips model UN attendees to consider ethics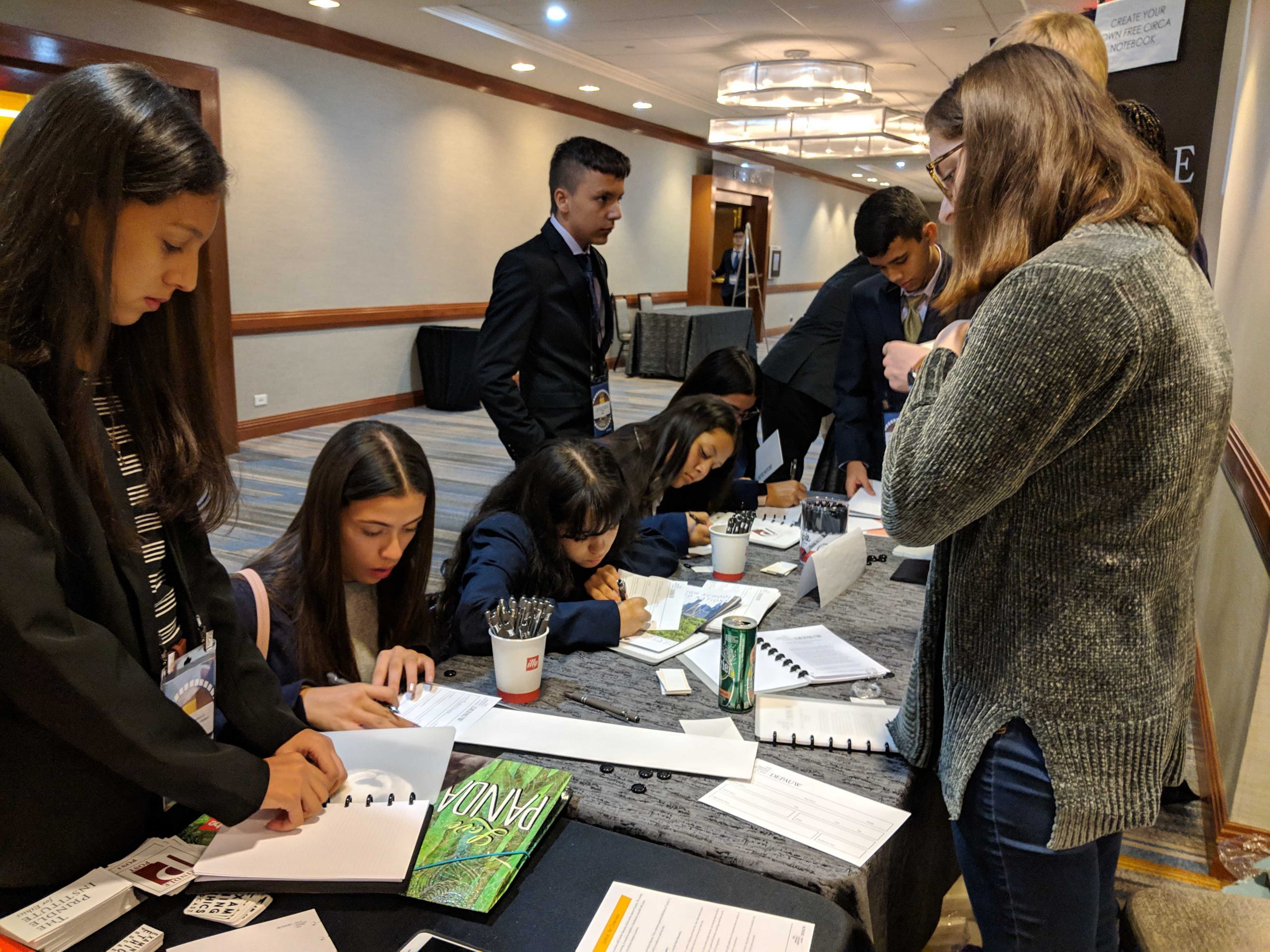 DePauw students provide information and materials that high school students at a Model UN conference could assemble into a notebook tailored to them.
When Andrew Cullison set up a Prindle Institute for Ethics booth at the 2018 National High School Model UN conference, he found himself being asked the same question over and over: "What's ethics?" As bright as the high school students attending the conference were, many of them were mystified by the topic – and then fascinated when Cullison explained it.
That gave Cullison, director of the Prindle Institute, an idea: "I decided that the next year I would come out and do briefs on the issues the students would be debating and give them backgrounds on moral assumptions," he said.
Organized annually by the International Model United Nations Association, the conference Cullison attended in New York is the largest model UN for high school students in the world. Designed to expose students to global issues and challenges, the conference puts students into the roles of UN delegates, assigning each a nation to represent and issues to debate.
Cullison wanted to see the students consider moral assumptions and ethical dimensions as they developed arguments for their debates; however, their lack of knowledge about ethics made it clear that they would need some help. So Cullison planned to develop tools to help the students. And in that idea he saw an analogous opportunity: He could give DePauw students a chance to engage in investigations of global ethics by letting his Ethics and International Relations honors class help to develop the tools.
"It was a really interesting experience," said one of the participating students, Ayo-Oluwa Laleye, a DePauw University sophomore majoring in neuroscience and biochemistry with an English minor. "We researched all these ethical topics and dilemmas, and then sat around a conference table and kind of teased out the important points."
In all, the students in Cullison's class addressed 52 topics and prepared materials that the Model UN students could use to prepare for their debates and addresses. Four of the honors-class students attended the New York conference with Cullison.
The class considered a few ways they could present the information, said Laleye, a native of Nigeria who graduated from Avon High School in Avon, Ind. For example, one idea was to create a deck of playing cards with a topic on each card, but there was too much information to fit on the cards. The class ultimately decided to provide information and materials that each high school student could assemble into a notebook tailored to his or her role and the issues to be discussed.
The DePauw students who attended the conference helped the high schoolers understand ethics as a subject matter. "I spoke with students about my DePauw experience and how we formed the ethical conclusions," said sophomore Spanish and economics major Emma Bailey. A Balden City, Kan., native, Bailey said she had always found ethics interesting, and thought the honors class seemed like the perfect opportunity to actually study it in the classroom. Being able to attend the model UN and present the information to the high school students was an added bonus, she said.
Laleye found the high school students to be inquisitive and intent on discussing topics such as just war theory, ethics of justice and power, and more. "They asked questions. They wanted to know more," she said. "It was such an amazing experience."
And it's an experience that others are likely to have in the future, as Cullison hopes to return to the National Model UN Conference to provide ethics backgrounders. "It not only helps these kids with their Model UN project, but it also exposes them to ethics as a subject matter and to DePauw as a potential place of study," Cullison said. "And, finally, it provides a great experience for DePauw students.
Bailey certainly agrees. She was especially excited to attend the model UN conference in New York, because she had participated in model UN at her high school. "It brought back the good old days," she said. "I looked around and thought, 'These are my people!'"