Anne Frank Stichting Exhibition on View at the Prindle Institute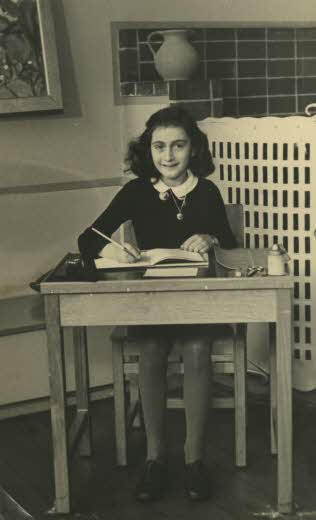 [Please note that this event has been cancelled due to concerns about the COVID-19 virus.]
From March 2-19 at the Prindle Institute, the public is invited to view "Let Me Be Myself," an Anne Frank Stichting (Foundation) Exhibition. Brought to DePauw by Luka Ignac '20, this unique photographic exhibit tells the inspirational story of Anne Frank and seeks to address important questions like, Who is Anne Frank? How do we prevent the repetition of the horrific crimes of the past? Juxtaposing photographs of the Frank family with historical images, this exhibit shows how persecuted people were impacted by the political actions of both individuals and groups.
In addition to guided tours by trained Hillman interns, we also offer two different educational workshops for visiting school or community groups. Nina Katarina Stular '22 wrote and designed our "Ethics and Literature" workshop, which is intended to help students consider differing points of view both when writing creatively and when evaluating the morality of a given action or behavior. She also developed a second workshop: a discussion-based activity aimed to improve moral reasoning skills and to facilitate a conversation about the moral implications of contemporary situations that echo the Holocaust.
This exhibition comes to the Prindle Institute for Ethics from the Anne Frank House in Amsterdam, and is made possible in part by the University of South Carolina.