Destroy the 'Mona Lisa' for an NFT?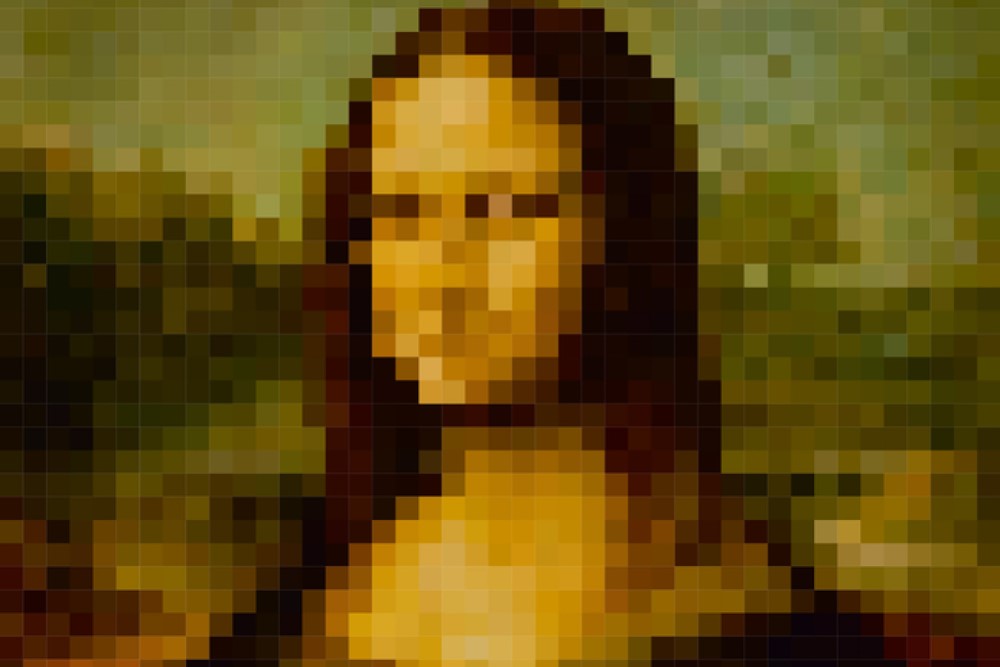 This article has a set of discussion questions tailored for classroom use. Click here to download them. To see a full list of articles with discussion questions and other resources, visit our "Educational Resources" page.
---
Damien Hirst is a contemporary English artist whose work is world-renowned. Recently, I had the opportunity to view a collection of his work at the Galleria Borghese in an exhibition titled "Archaeology Now." Hirst works almost exclusively in the genre of sculpture, but recently he has been pursuing a decidedly less physical kind of art — NFTs.
NFT, which stands for "non-fungible token," is a piece of digital property that is unique — nobody but the owner of the NFT has that exact electronic object in their possession, and it is marked as an original in a way that digitally distinguishes it from all copies made. Hirst is part of a recent project, titled The Currency, in which artists submit works of art which are then turned into NFTs. For example: a sculptor can create a physical sculpture and put it on display in a museum or an art gallery. On the other hand, that sculpture could be turned into an NFT, and the owner of that NFT would then be able to print the image of the piece wherever they like, send the image to anyone who wanted to see the piece, or possibly even 3D print an exact replica of the piece. Art in the form of NFTs allows artists to send their works all over the world. And some would say that "sending" digitized artwork is much better than loaning physical works of art — there is no limit on the number of places one may send the image to and no time spent waiting for it to get there. The idea behind The Currency is a sort of competition between what we might think of as the "received view" of art — that the physical originals have a unique value that cannot be replicated by digital copies — and an emerging view that denies a difference of value between the two (or, perhaps, sees more value in the NFTs).
For artists, art connoisseurs, or even regular art-appreciators, the idea of destroying a physical work of art might be painful to think about. So much time, money, and resources have been invested in attempting to preserve original physical copies of works like the Mona Lisa that these efforts have become intertwined with the pieces' value. Recent examples of near destruction of great works of art are similarly met with horror, sadness, and a rush to try to preserve the pieces. Just think of the fire at the Notre Dame Cathedral, or the vandalization of Michelangelo's Pieta. Is Hirst's project — one in which original works of art may be destroyed if clients choose to keep the NFT instead — a tragedy? While the project is unquestionably controversial, is there anything inherently wrong in destroying (the physical copy of) a work of art, so long as the NFT remains?
One argument in favor of owning NFTs over physical copies of works of art is that access to these pieces could be expanded greatly. Rather than having to travel to a museum to see a certain piece, viewers could simply download a digital copy reproduced by an NFT. This could be done, in theory, in a sensorily immersive way, such that there would be little difference between the digital experience and the in-person experience. Those who lack resources to travel, or the time to visit museums, could have access to the great works of art that they might otherwise be deprived of. This democratization of art could, in turn, boost education equity and improve education outcomes across demographics. The experience of art could be liberated from its typical exclusivity.
But there is another strong argument for answering "no" to this question, which relies on intuitions many have about what it is that is valuable about art. Philosopher Alexander Pruss pursues this question in relation to one particular form of art: music. In a blog post titled "Musical Beauty and Virtual Music" Pruss asks "where does the musical beauty lie?" He goes on:
"One day […] I expect many people will have direct brain-computer interfaces. When they 'listen to music', no sounds will be emitted (other than the quiet hum of computer cooling fans, say). Yet I do not think this will significantly change anything of aesthetic significance. Thus, the production of musical sounds seems accidental to the enjoyment of music."
Pruss here argues that the way the music is produced, the technology through which the sounds are emitted, does nothing to change my experience of the music and, therefore, does nothing to change how valuable the music is. The beauty — and value — of music therefore must lie in the experience of it. Similarly, people who agree with Hirst may find themselves drawn in this direction with regards to other forms of art, like sculpture, paintings, performance art, etc. Perhaps the value of these pieces lies in what we experience when we observe them, and not in the physical manifestations themselves. Destroying the Mona Lisa, therefore, may be perfectly fine so long as the experience of seeing the Mona Lisa can be preserved. Hirst seems to have a similar idea about the value of art, saying, "I just think anything that looks good and feels good, and makes you feel good, you know, it's good art."
This picture of value calls to mind the famous "experience machine" thought experiment proposed by the philosopher Robert Nozick. In the fictional scenario, you are given the option of plugging into a virtual reality machine, where you will (1) forget you're in a virtual reality, and (2) live an incredibly happy and fulfilling life, all while your body is kept alive for as long as possible. Guessing that most people would refuse to enter the experience machine, Nozick uses this thought experiment to argue that the value of good things in life goes beyond mere experience — there is value in the goods actually occurring in reality, outside of our perception of them. For example, we might think that it is better to actually have relationships with real others, than to merely believe you have relationships with real others, even if there is no difference between the experience of the real relationships and the experience of the simulation. Likewise, one might think that there is value in the original piece of physical artwork itself that goes above and beyond the viewers' experience of it. The fact that Frida Kahlo herself put these precise, meticulous brush strokes on the canvas, for instance, may hold value that is not grounded in our experience of her work.
Further, we may wonder whether the experience of seeing original works of art in person really can be preserved in an NFT. Anyone who has been deeply affected by the experience of viewing their favorite originals face-to-face may be skeptical that NFTs can truly capture the full experience. One difficulty would be recreating the awareness of sheer size, something important to the experience of carved works like the Appennine Colossus or Landowski's Christ the Redeemer in Rio de Janeiro, and to large-scale paintings like the Sistine Chapel. Such awareness requires something like a sensory comparison of your size compared to the size of the work of art — something that would likely be difficult, or perhaps even impossible, for an NFT to facilitate.
A further complicating factor is that we tend to believe that pictures of art are not themselves art. For example, if you go to the Vatican Museum to see the Sistine Chapel, and then purchase a poster print of The Creation of Adam at the gift shop, you probably do not actually believe you have taken the painting home with you. Moreover, you also likely do not believe that your poster is equally as valuable as the original painting on the roof of the ceiling. The gift shop certainly thinks there is a difference in value, as a poster of the painting costs only about as much as one admission ticket! Whence the difference in value? Does it have to do with scale? But we can easily imagine a to-scale replica of the Sistine Chapel. Is the difference in value related to the wide availability of replicas compared to the limited availability of originals? If so, NFTs would retain the single-original status of works of art, and thereby (presumably) keep their value high, giving the owners of the NFTs full rights over any reproduction of the work. Additionally, some creators have sought to solve the problem of the inherent value of the original by positing that creators and artists may decide for themselves which work is the original: the physical copy, or the NFT. Choosing to designate the NFT as the original, as one YouTuber suggests, may change our understanding such that the physical copy becomes merely a "tool" used to create the final product, the NFT.
And finally, we may question whether Hirst's project — exchanging original physical works of art for NFTs — would work for other kinds of art beyond painting and sculpture. There are, for example, works of art specifically created by the artist to exist only for a moment. Instances of this kind of art include a recent piece by Banksy titled "Girl with Balloon" which was secretly designed to self-destruct a few hours after it sold (the destruction was only partially successful), as well as performance art such as Chris Burden's famous "Shoot" in which his friend shoots Burden in the arm with a gun.
Whether you're an optimist or a pessimist about buying and selling art as NFTs, it is clear that the emerging technologies raising these philosophical questions will have a large impact on our view of art — what counts as art, who counts as an artist, and how we can best experience the work of those working with digital and physical mediums. May it make us more creative, and more open to appreciating the creative talent of others.