Coronavirus Briefings: Virtue in Ignorance?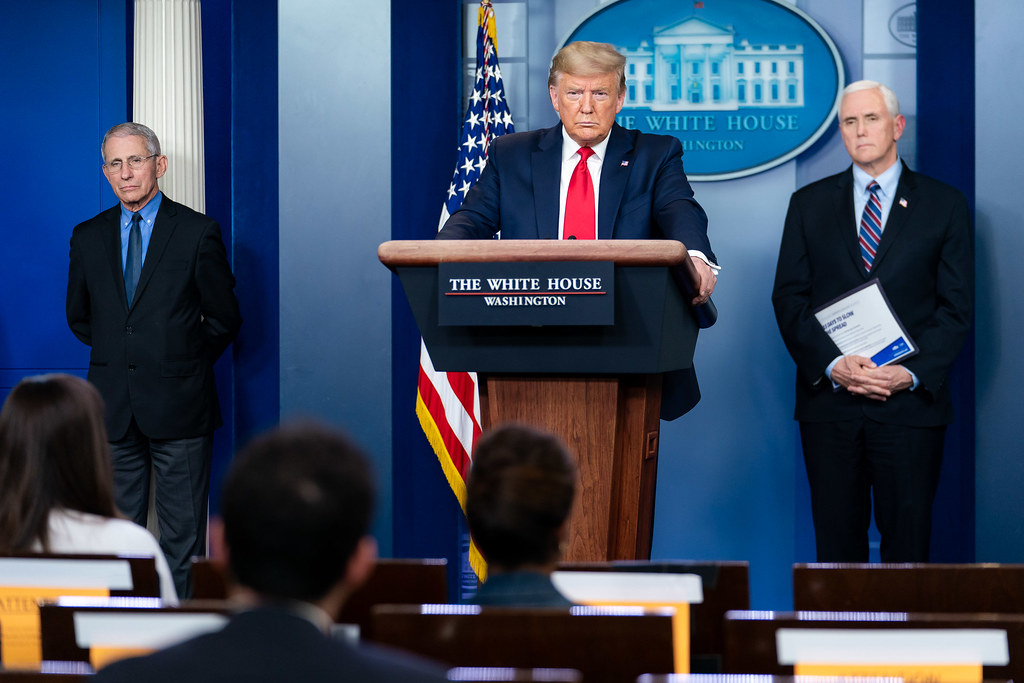 Last week, KUOW, an NPR Member station in Seattle, said that it would no longer air the daily White House Coronavirus Task Force briefings live. On Wednesday, CNN and MSNBC both cut away from the president's briefing when Trump kicked off the report by talking about a new counter-narcotics operation and progress on the border wall. CNN's John King called Trump's manipulation of Americans' fear-driven attention "shameless" and "political." But these networks' actions have also been criticized for political bias in refusing to relay the news of the day. The decision to cease coverage of the president's special briefings represents another chapter in the ongoing debate about how the media should cover Trump, and, more generally, where news agencies' obligation to the public lies.
As of the time of this writing, over 200,000 people have signed a petition asking media outlets to stop covering the president's coronavirus briefings live. Many of those individuals are no doubt motivated by party identification, but there are a number of moral reasons that are being offered as justification. Chief among these are appeals to decency and presidential decorum. Many have objected to the way that Trump has transformed (or perhaps weaponized) these fireside chats into political rallies. National emergency briefings aren't the time for partisan politics, and they certainly aren't the time for campaigning. These daily television spots are not legitimate policy briefings genuinely attempting to inform the public, but spectacles put on for political purposes. Flanked by muzzled science experts and a carousel of business leaders, Trump projects power while lacking substance. He bad-mouths reporters, fields planted questions, and is self-congratulatory when his guests aren't too busy singing his praises. Critics argue that such displays are beneath the dignity of the office.
Second, there is a very real fear concerning the amount of misinformation that Trump has been circulating when talking off the cuff. That kind of ad libbing is deadly. While we are confronted by a disease that threatens to kill as many as 240,000 of us (just in the US), our current leader can't be bothered to get his facts straight or fall in line with the recommendations of experts. At the very least, news outlets have an obligation not to give a platform to epistemic trespassers or snake oil salesmen. All the after-the-fact commentary and correction in the world can't undo the damage being done on live TV as Trump undermines and contradicts public health experts.
On the other hand, it cannot be denied that everything the president does or says is, in a fundamental way, noteworthy. As Jack Shafer of Poltico writes,
"He speaks and economic markets move. He speaks and political markets shudder. Even when he holds his tongue—a rare occurrence for our current president, I'll admit—the world shifts. Like it or not, his lies move markets, too."
As such, we must consider whether these daily briefings represent important news items even if the content may be actively causing harm. Even the president's most vocal critics can see the benefit of having a daily public record of the president's words for the sake of transparency and accountability.
Further, these daily briefings also serve as a window into the brain and soul of our commander-and-chief. Rarely are our political leaders called upon day after day to give live updates on an ongoing emergency and to do so in a way that is suitable for consumption by the general public. What the president says, how he decides to frame it, and how he comports himself while doing it, all convey important information that transcends what fits on the page or can be communicated by an amended account. In these productions, believers hear hope and self-assurance; and critics hear braggadocio and incoherence. Even if it's true that there is nothing more on offer than spin and self-promotion, aren't even those performances worth relaying to the public?
The answer to that question may all come down to our pessimism regarding the public's  competence. Those in favor of stopping coverage are inclined to play the role of guardian. As Shafer argues,
"[Their] greatest fear isn't that Trump will lie or that Trump's lies will somehow deceive them. What they worry about the most is that the average viewer will be sucked in by Trump's lies. This paternalistic mindset holds that the same individual who can be trusted to vote in elections can't be trusted on his own to listen to long, unbroken statements from the president. He must be guided and protected by volunteer censors."
But we can't have it both ways; a truly informed voter can't be spoon-fed. It may be that those who are willing to tune in should decide for themselves the value of the information being shared.
Finding a middle ground in this disagreement on the media's role in relaying the president's message is not easy (nor is it a new problem). National Public Radio, for example, has made the decision to stop airing the briefings live. Instead it offers commentary and analysis, while including a link to the full briefing should its users care to see it. In defense of this move, Elizabeth Jensen, public editor for NPR, explains the newsroom's mission to "serve the public and democracy," writing,
"I take that to mean that it should provide facts to help listeners make decisions in their lives, not spin, particularly at a time when public health is at stake. That means having its reporters listen to the briefing and immediately share important updates in the newscasts and newsmagazines, without giving a platform for falsehoods, or speculative comments on as-yet-untested treatments or campaign rally-style rants."
Perhaps this is a suitable compromise between the values of transparency and journalistic integrity. Or perhaps this again privileges opinion over facts and editorializing over reporting, or objectionably puts "knowers" in a position to protect the rest of us.
Other White House correspondents have proposed alternative solutions: "I don't think trying to keep him from people because he lies is necessarily the right answer. Cover him aggressively, but let people see what he's saying." To that end, "networks could adapt, and carry them live, but fact-check in real time." Whether such a strategy is feasible or effective remains to be seen.
Unfortunately, it may be that, regardless of the stance news outlets take, their consumers will always simply hear what they want to hear.