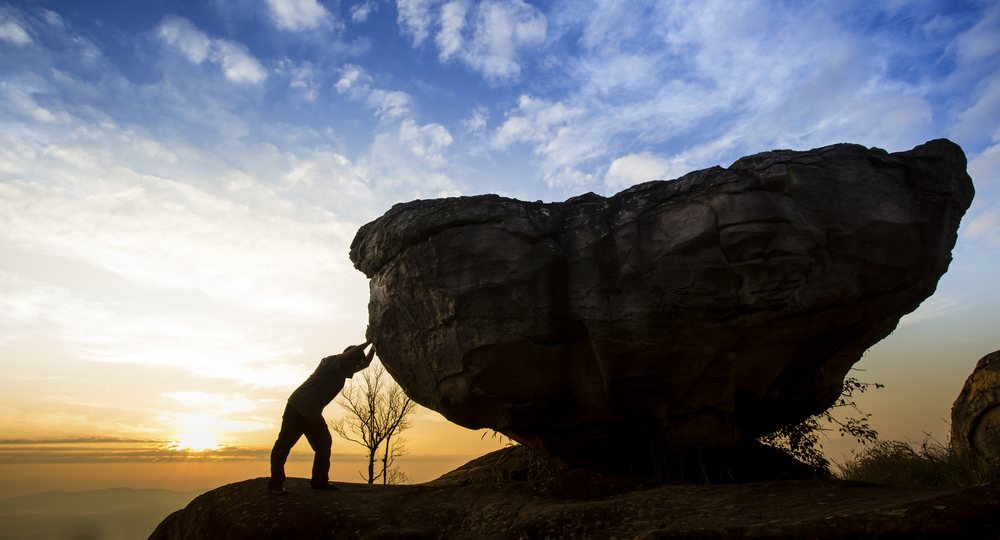 On occasion a philosopher will be asked, sometimes seriously but often tongue-in-cheek, "What's the meaning of life?" Stereotypically this conversation happens at a bar or party—somewhere that involves a mind-altering substance. A few weeks ago I had such a conversation at a bar. The novel coronavirus was not yet being taken seriously across the US (though it should have been). Nonetheless the theme is applicable—what should we do, and how should we feel, when things are bad? Does it matter? It's easy to get to a negative answer: there is no meaning, and it doesn't matter what we do. We can pick out at least two philosophical viewpoints from these sentiments.
If we think what we do doesn't matter we might be affirming fatalism. This the view that future events are fixed and immutable, not susceptible to alteration by even our greatest efforts. This may be because, in some sense, the future has already happened. (Or more accurately, is continuously "happening," just as the past is.) Several arguments for fatalism hinge on the premise that the future has, in some sense, happened. In order for statements about the future to be true (Aristotle), or for it to be possible that God has perfect knowledge about the future (Nelson Pike), some philosophers have argued that the future must be fixed and immutable.
To envision how fatalism plays out, consider Chinese engineer and author Liu Cixin's short story "Moonlight." An unnamed man receives a call from himself, far in the future. The Earth has suffered a climate disaster and the only way to avert it is to change how the world's power needs are met. The future-caller offers advanced technology, and tells his past self to get it implemented. Immediately after the man resolves to get the technology built, he receives another call from the future. Though the plan worked, a different ecological disaster occurred instead. A new technology is offered, but another call but minutes later reveals that Earth is still doomed. The man and his future self resolve to destroy any plans sent from the future and have no further contact. The world will suffer an ecological catastrophe no matter what, in the world of "Moonlight." It is fated.
What about nihilism? Nihilism is the view that there is neither negative nor positive moral value to anything we do. That is, there is nothing that we must or mustn't do, morally speaking. To be clear, this isn't a form of moral subjectivism claiming that what is good or bad—right or wrong—is different for each person depending on their beliefs and desires. Instead it is the view that nothing is good, bad, right, or wrong. Fyodor Dostoyevsky's character Dmitri Karamozov opines that atheism leads to nihilism when he says in The Brothers Karamozov, "But … how will man be … without God? It means everything is permitted …"
A pandemic disease like coronavirus, with its attendant economic and social disruption, can provide fodder for fatalism and nihilism. When there is so much suffering and when years of work can be undone in a matter of weeks it can appear that everything is meaningless and pointless. In this situation arguments like the famed Problem of Evil ring plausible. This argument asserts that, if God exists it must be omniscient, omnipotent, and omnibenevolent. If God has these qualities then it would know about all evil (omniscience), be able to prevent all evil (omnipotence), and desire to prevent all evil (omnibenevolent). However pandemics, wars, natural disasters, and their like happen consistently. These are evils. Therefore no omniscient, omnipotent, and omnibenevolent being exists. Therefore no God exists. If Dmitri Karamozov is right, this means that everything is permitted. That is, nihilism is true.
Whether arguments like the Problem of Evil are valid, they have an emotional appeal when things are bad. There is a reason for this in the view of phenomenologists (i.e., philosophers whose method is to focus on the structure of lived experience) like Martin Heidegger and Jean-Paul Sartre. As humans we experience this disruption as anxiety. We are accustomed to a seamless experience of actions, objects, and interactions being jointly conducive to a clear end. In anxiety we feel as if all of these things are separated from each other by an untraversable space. When thinking in this disengaged fashion we can't see any essential, objective (i.e., perspective independent) connections between anything. There is a reason for this, too, according to Heidegger and Sartre. It's because there are no essential, objective connections. Life has no meaning of its own.
So are nihilism and fatalism true? No—or, maybe yes, but so what? For Sartre, humans are free and life has meaning because of the lack of any essential or objective connections and purposes. This is the upshot of his famous statement "existence precedes essence." For Sartre nihilism and fatalism are the conditions of human freedom and meaningful life. Humanity's quest for some prepackaged meaning and value is an effort to shirk the enormous responsibility of what he calls "radical freedom."
But what about the futility of it all? After all everyone dies, and in life we may work for years to see all those efforts come to nothing. Albert Camus dramatizes this facet of life with his interpretation of the story of Sisyphus. Punished by the gods, Sisyphus is doomed to roll a great boulder up a long hill only for it to roll back down, over and over again. But Camus does not assume that Sisyphus' toiling brings only despair. While he pushes the boulder up, Sisyphus is too engrossed in his task. This is the seamless experience of practical engagement described by Heidegger and Sartre. Camus asserts that the interesting thing is to think of Sisyphus as he walks back to the bottom of the hill. He imagines that Sisyphus claims ownership of his "fate." By claiming ownership he creates a meaningful connection between the endless pushing-up and rolling down. He knows it will never end, but he does not despair. Camus imagines Sisyphus is happy.
Many people have been yanked from the feeling of seamless practical engagement by the coronavirus and its knock-on effects. Feelings of anxiety rise as people doubt the inherent worth and meaning of their lives. In the face of this how can people go on, and why should they? Because that's what life is like, and there's nothing else to do. Push the boulder back up the hill. It'll roll down again, but at least we'll have something to do.