Same-Sex Marriage: A Libertarian Perspective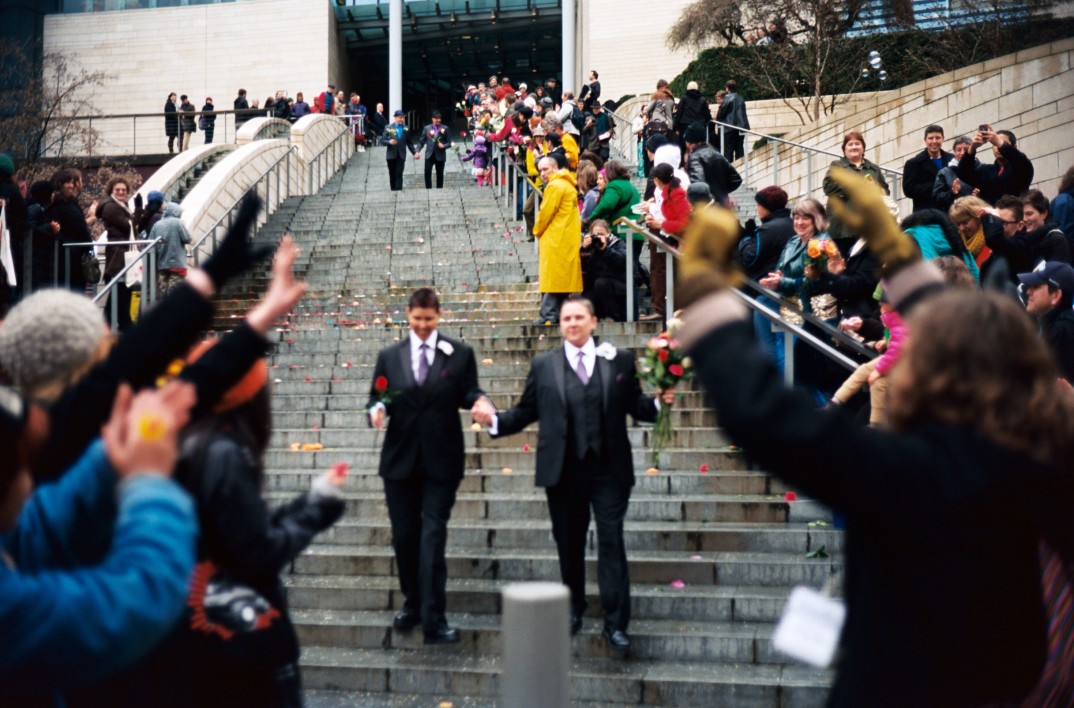 The dust is just now beginning to settle on same-sex marriage in the United States, since the Supreme Court's recent ruling in Obergefell v. Hodges established the unconstitutionality of state-level bans on such marriages. Though the law of the land has been established, all the legal and sociocultural effects remain to be seen (for example, can elected officials receive a religious exemption from performing certain job-related duties).
Is same-sex marriage a victory for freedom? It's hard to say, and depends on who you ask. The ability to marry a partner of the same sex at the same time both expands the life possibilities for many citizens, while also bringing them into the fold of semi-coercive social norms regarding what a proper long-term romantic relationship and family look like. The Supreme Court let "love win," but that love is now an increasingly institutionalized one.
To those who we could call "rule of law" libertarians, the most important consideration is fairness and impartiality under the law. This perspective comes down in favor of same-sex marriage for obvious reasons having to do with fairness and equal protection. End-the-state libertarians, on the other hand, strongly disapprove of government in marriage to begin with (on the grounds that it invites and normalizes the meddling of government in private affairs), and object to its expansion (even to same-sex couples) as more of a bad thing. Some in the LGBTQ community (who may or may not be libertarians or anarchists) share this concern, believing that marriage is a kind of well-meaning but ultimately pernicious encouragement towards the conventional domesticated lives they don't actually want.
No principled libertarian objects to gay marriage for specifically moral reasons, having to do with "marriage" being reserved for the permanent bond between a man and a woman, for instance. Whether it is un-libertarian to have reservations about progressive views regarding the malleability of sexuality and family is a trickier question (certainly progressive, libertine, and conservative libertarians have basically always co-existed in libertarianism's big tent).
Libertarians do reasonably worry that same-sex marriage will lead to the abridgment of other liberties, namely freedom of religion and freedoms of association, especially through commerce (see, for example, the fight over whether religious bakers must bake a wedding cake for a same-sex couple). However it is certainly nothing new in principle that some values in a plural society would necessarily become pitted against others. And it does not seem to be the goal of same-sex marriage proponents to use that position strategically for the purpose of dismantling other liberties, though the possibility is real and conspiracy theories abound.
Could there be other libertarianism-consistent reasons to oppose same-sex marriage? Not really. Allowing only straight marriage in order to "strengthen the nuclear family" runs afoul of the libertarian goal of making minimalist policy that is as value-neutral as possible. Even if same-sex marriage and parenting somehow did in fact weaken family life overall (it's complicated, and family stability may matter more than gender), that would be a less important consideration for even most socially conservative libertarians than establishing state neutrality in marriage. In any case, there are relatively hands-off ways for the government to fight childhood poverty and provide opportunity to families, like properly-structured earned income tax credits and basic food support, that do not necessarily require discriminating on the basis of the biological or adoptive parents' sexuality.
Similarly, slippery slope arguments against same-sex marriage don't seem to be consistent with libertarianism. The threat of a slippery slope from same-sex marriage to multiple partner marriage (polygamy) is real. However, that move only seems like a pernicious slippery slope if one assumes that legally-sanctioned marriages must be between one man and one woman in the first place. Rule-of-law libertarians would likely reject that assumption.
In the end, it is not really up for debate – from a libertarian perspective – whether people of the same gender should be allowed to marry conditional on the fact that government is in the marriage business in the first place. Since marriage, in the civil-legal light, is about distributing the benefits and burdens of a particular form of citizenship, that form of citizenship should be in some strong sense available to all.
It's a separate issue as to whether the government should require private businesses that cater to heterosexual weddings also to cater to same-sex weddings. The primary values at stake here are economic freedom versus non-discrimination, but the situation is much more narrow than the marriage question in general (which necessarily has broad and far-reaching consequences over many citizens' whole lives). Whether a libertarian, or anyone, should trade some economic freedom in the attempted pursuit of non-discrimination is, however, a topic for another time.