On the Morality of Declawing Cats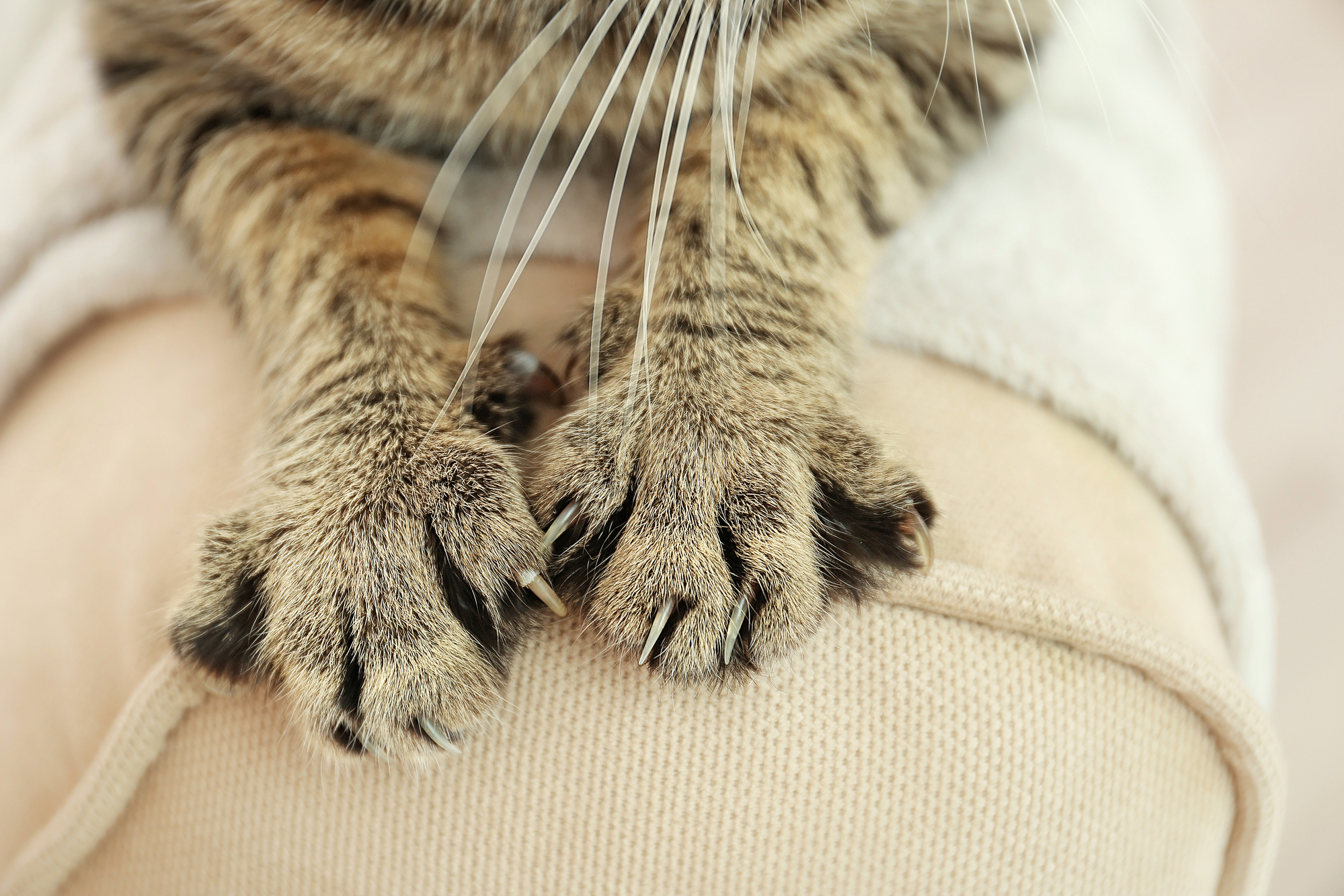 In late May, the California State Assembly advanced a bill banning the declawing of cats. If the bill is passed by the State Senate, California will become only the third U.S. state – along with New York and Maryland – to have banned this particular procedure. But what does cat declawing involve, and why might we have reason to think that it's wrong?
Several months ago, I argued that we have strong moral reasons to keep our pet cats indoors at all times. It's a necessary step in order to prevent the decimation of native wildlife (including many endangered species) and it's also much better for cats themselves – extending their expected lifespan from 2-5 years to 10-15 years. Further, so long as owners are attentive to indoor enrichment, these benefits can be obtained at almost no cost – with indoor cats capable of being just as happy as outdoor cats.
There may be some minor drawbacks, however – chief among these being the potential damage caused to furnishing and décor. Cats regularly (and instinctually) pull the claws on their front paws through surfaces that offer some kind of resistance. This is done for a number of reasons, including (1) marking their territory, (2) exercising their muscles, (3) relieving stress, and (4) removing worn sheaths from their claws. While outdoors, cats will typically direct this clawing behavior towards hardened ground, tree trunks, and other rough surfaces. Indoors, things get a little trickier, with cats obliviously directing their clawing behavior towards leather couches, expensive stereo speakers, and Grandma's antique furnishings.
Frustration at this continual damage can often drive owners to declaw their cats. In fact, around 23 million pet cats – more than 20 percent of all domestic cats in the U.S. – have been through this procedure. To the uninitiated, 'declawing' might sound relatively harmless. But sadly, this is not the case.
Cat claws grow not from the skin, but from the bone. Thus, a cat declawing procedure – or onychectomy – necessarily requires the amputation of the last digital bone on each front toe. This would, for a human, be equivalent to cutting off the tips of your fingers at the knuckle just below the fingernail.
Understandably, this is far from a simple procedure, and is often accompanied by weeks to months of post-operative suffering and pain management. There are also accompanying risks of infection, tissue necrosis, nerve damage, and bone spurs. Even where successful, the procedure fundamentally alters the way in which a cat walks, often leading to lifelong pain.
It is these harms to cats – both actual and potential – that have already led more than forty countries (including UK, Ireland, Switzerland, Germany, Austria, Sweden, Australia, New Zealand, and Norway) to ban the declawing of cats. In California, the only opposition to the bill came from the California Veterinary Medical Association (CVMA), who claimed that veterinarians must be able to declaw the cats of autistic children.
This was unusual reasoning, given that scientific evidence shows that declawed cats actually bite more often – and much harder – than cats that have not been through the procedure.
It's perhaps worth noting that declawing procedures are often charged at a rate of more than $1000/hour, meaning that successful passage of the bill will stem a large source of revenue for veterinarians.
There are, of course, certain circumstances in which declawing might be absolutely necessary – particularly for the well-being of the cat. But legislation often contains exceptions for such cases. The California Bill, for example, continues to allow the procedure for the medically necessary purpose of addressing a recurring infection, disease, injury, or abnormal condition that affects the cat's health. What it does prohibit is the use of declawing for cosmetic or aesthetic purposes or "to make the cat more convenient to keep or handle."
And this is precisely where the real immorality of cat declawing becomes evident. Suppose we take a consequentialist approach to an issue like this, claiming that we'll be morally justified so long as the good consequences justify the unsavoury means. To be fair, there are good consequences that come from declawing. Having a pristine home with unshredded décor is a good thing. As is avoiding the replacement of a valuable piece of furniture or a priceless heirloom. But these very same goods can be achieved by other means – means that come at far less cost to our cuddly companions. For one, providing a cat with an abundance of more attractive clawing alternatives – like scratching posts – can minimize their desire to scratch other objects. This can be coupled with behavioral training, where cats are rewarded for clawing the right things, and discouraged from clawing the wrong things. Even frequent nail trimming (where a cat's claws are clipped – but not removed) can go a long way to minimizing damage when a pet does target an item they are not supposed to. Unfortunately, these methods require time and energy – something many pet owners are unwilling to spend in addressing the issue of cat-related damage to furnishings. Declawing provides an easy (if not cheap) solution to the problem – but it's certainly hard to argue that it's the morally right one.