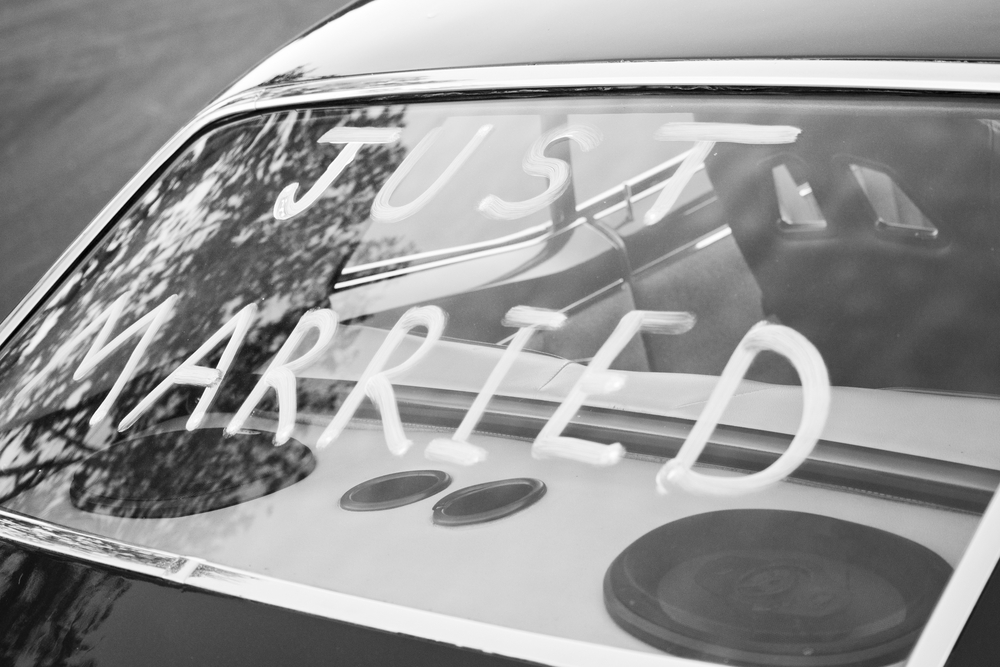 "Marriage is wonderful when it lasts forever, and I envy the old couples in When Harry Met Sally who reminisce tearfully about the day they met 50 years before. I no longer believe, however, that a marriage is a failure if it doesn't last forever. It may be a tragedy, but it is not necessarily a failure. And when a marriage does last forever with love alive, it is a miracle."
                                                                           —Peggy O'Mara, Mothering
On May 3rd, Bill and Melinda Gates announced their divorce, stating that after lots of "thought and a lot of work on our relationship, we have made the decision to end our marriage," ending their twenty-seven year union. Whatever their reasons for divorce — the announcement being understandably vague — we should pause here to think about an important philosophical question, namely: why would anyone marry? Choosing to enter into a marriage is among the most consequential decisions one can make, affecting potential future children, well-being and happiness, and so on. A good marriage can be a major blessing, but a bad marriage can be hell.
Here's a rough argument against marriage: no one wants a loveless marriage; it is something that, if we knew it would happen, would likely encourage us not to wed to begin with — to be stuck in a loveless marriage is a potential horror show. Often enough, the love couples feel for each other, entering a marriage, will fade and sometimes cease. To avoid this fate, we should be reticent prior to taking the vows. As the philosopher, Dan Moller, explains:
"Reduced to a crude sketch, the argument [against marriage] is simply that, (a) most of us view the prospect of being married in the absence of mutual love with something like horror or at least great antipathy; (b) the mutual love between us and our spouse existing at the inception of our marriage may very well fail to persist; and hence (c) when we marry we are putting ourselves in the position of quite possibly ending up in a loveless marriage of the sort we acknowledge to be undesirable."
What's partly hard about marrying is that emotions — an essential aspect of romantic love — have an autonomous element, not wholly governed by the will, even with the best of intentions. If romantic love is an essential aspect of marriage, how can marriage vows bind? When you cannot control something, you cannot be culpable for it — we don't think people culpable for the ocean waves, by example.
Someone may object that marriage vows specify actions, not emotional states, and are thus under our control. As the philosopher, Justin McBrayer, argues:
"Notice how heavily [many generic marriage vows focus] on actions compared to emotions: support one's partner, honor one's partner, respect one's partner, and so on. Even the emotional content is easily understood in a behavioral sense: to be a faithful partner in sickness and health clearly has a behavioral component. To see this, imagine the following thought-experiment. Suppose Landon makes the aforementioned promise to Hannah. Suppose next that he feels all the right things toward her (for example, he is in love with her), but that his behavior is wildly erratic – he sleeps around, is verbally abusive to Hannah, abandons her when she is ill, etc. Would anyone be willing to say that Landon has fulfilled his wedding vow? Surely not."
There's only one problem with this: it ignores the fact that emotions, like romantic love, are also essential to marriage. Of course it is clear that marriage vows, and marriage itself, includes the vow to do certain things — many married people expect their partner to be faithful to them, by example. However, it cannot be that actions and behavior is all there is to marriage — without an appropriate emotional component, it is not clear one would be in a marriage they would find fulfilling and satisfying. Imagine a different thought experiment: John treats his wife well, cares for her when ill, never cheats on her, and so forth, but simply doesn't feel love for her at all. He is a good husband to fulfill his marriage vows because his nagging conscience won't let him break them. We wouldn't think though that this is a fulfilling marriage; it likely isn't one John would have entered into had he known the result would be the death of love for his wife. Whether marriage vows include a behavior aspect is irrelevant — emotions seem a necessary part of marriage too.
So then we must wonder why people would marry — the people who marry usually do not want to end in a loveless marriage. There must be an upside then to marriage; benefits that contribute to our well-being. Likely they partly include the positive emotions many experience, especially in the early days of the marriage. However, there must be more to explain why so many people, despite the risk a bad marriage poses to living a good life, still choose to tie the knot.
It looks like, in addition to a romantic venture, marriage is a commitment device: by imposing costs on dissolving a marriage, the institution of marriage forces individuals to comprise and grow in a manner they wouldn't if the cost of 'walking away' from a relationship were relatively low. And this can do several things: incentivize individuals in a marriage to work together, to engage in personal improvement for the sake of the union and family, provide a more stable environment for rearing kids, and make relationship-specific investments. Think of it like this: often time, but not always, couples will get along if forced to. Imagine, by example, you're permanently handcuffed to someone — your fate and theirs are bound up. It would then make sense, assuming the other person is reasonable, to make the best of the situation by doing things like getting along and compromising.
This can, of course, be a bad thing if one of the partners is unreasonable; there are downsides to nearly anything. Our point isn't to claim that marriage is always a good thing — we began the piece by thinking about why anyone would marry — but to highlight some marital benefits; whether the benefits outweigh the costs will likely vary from couple to couple. However, there are some downsides too if the cost of abandoning commitments is too low: it may be harder in some cases to find a long-term relationship if the cost of finding a new partner, whenever one is even remotely dissatisfied, is too low. To illustrate, consider a scene from Season 5, Episode 4 of Seinfeld, where Elaine has just dumped her partner:
JERRY: You're out of your mind you know that.
ELAINE: What?
JERRY: It's an exclamation point! It's a line with a dot under it.
ELAINE: Well, I felt a call for one.
JERRY: A call for one, you know I thought I've heard everything. I've never heard a relationship being affected by a punctuation.
ELAINE: I found it very troubling that he didn't use one.
We don't want to be trapped in a loveless marriage, obviously; but we should worry too if the cost of abandoning our commitments is too low — the ramification of that would extend beyond marriage to, among other moral practices, promises more generally.