Moral Authority in America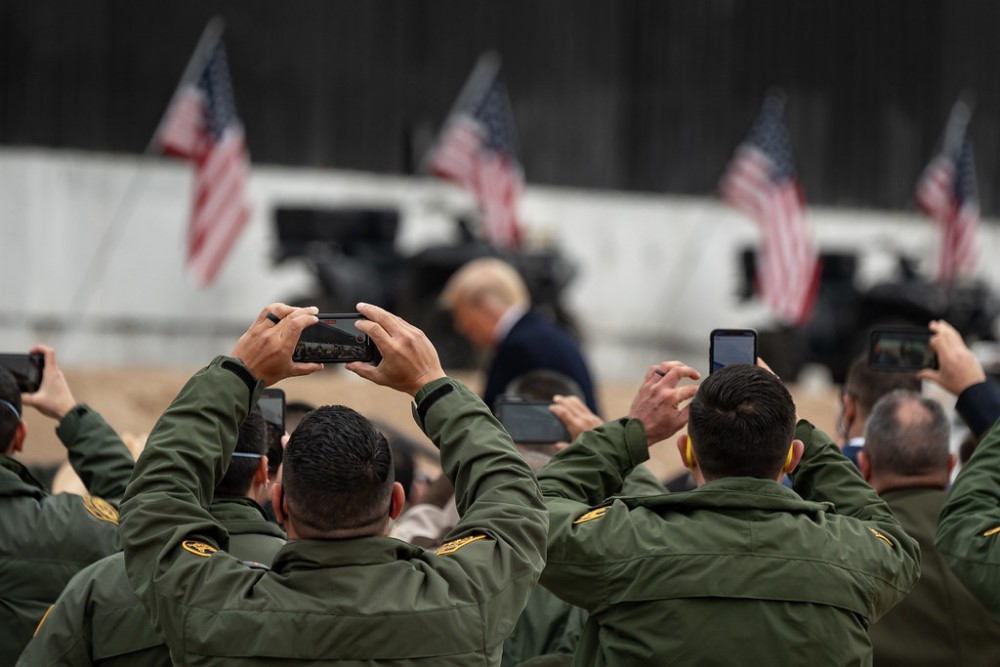 Leaving office on January 20, a disgraced Donald Trump, enraged over the failure of his attempts to overturn the election result, chastised by his latest impeachment for incitement of insurrection, sulking at being denied a farewell military parade, will be able to gloat about one thing – Joe Biden's inauguration crowd will be smaller than his.
Trump's presidency began in January 2016 with the petulant and much-repeated lie that his was the biggest inaugural crowd ever, despite the evidence of photographs showing the size of the crowd attending Barack Obama's inauguration clearly refuting the claim. This gave rise to Kellyanne Conway's absurd remark that there are 'alternative facts' a phrase which encapsulates the Trump presidency.
This ridiculous lie, and many others like it that issued from the president and his administration over the last four years, seems petty and, compared to other false claims, laughable.
Things have taken a much darker turn since the November election with Trump's campaign to convince his supporters that the election was rigged culminating in the horrific events of January 6, when what should have been a routine process of certifying the electoral college vote turned, at Trump's urging, into a violent and deadly assault on Congress by an angry mob of his supporters.
Following this failed insurrection, as the FBI continued to arrest (suspected) participants and the president faced swift rebuke with the House impeaching him, disturbing reports have continued to surface about possible collusion from inside Congress, questions have been raised about the lack of preparedness of security forces, the disparity has been noted between the anaemic response on Capitol Hill the day of the riot and the heavy-handed response to BLM protests earlier in the year; as security services remain concerned about possible sympathizers within the US armed forces and the Pentagon attempts to vet all armed personnel ahead of Biden's Inauguration, America looks like a different place.
In the hours leading up to the inauguration of Joe Biden as America's 46th President the world watches on anxiously, shocked by footage of Washington DC, that beacon of democracy, where streets are lined with soldiers in fatigues, and government buildings are fenced off, heavily guarded by military vehicles.
This moment, in which America and the world holds their breath, is the culmination and intersection of many factors – Trump's election fraud lies, his persistent years-long stoking and appropriation of people's grievances, and the permissive normalization of white supremacy which has characterized his presidency together with the inexplicable presence in the US of citizen militias legally armed to the teeth.
This period of American political and social history will no doubt keep analysts, historians, and pundits of all kinds busy for a long time.
Something we have heard a lot over the past weeks, from US lawmakers, political observers and members of the public is that these events have somehow changed America. Whether it is being called an insurrection, a domestic terror attack, a riot or the storming of the Capitol, one thing is clear – something has happened to America that has deeply and indelibly affected the country's claim to being a beacon of democracy. Counting the cost of these last four years (and especially the last two weeks of the Trump presidency), America's moral authority has to be reassessed.
To talk about America's moral authority as a free, liberal democracy, jingoistically, without acknowledging factors that complicate that claim – such as the deep vein of racism which runs through American history to the present as its legacy of slavery, and America's interference in other country's political processes with its involvement of coups d'état in Latin America during the Cold War era – would be naïve.
But eschewing the simplistic patriotism which leads to sloganizing of America as 'the greatest country on Earth' – a cliché that has long irked many non-Americans – still leaves room for America to be justifiably proud of the central role held by liberal democratic values like freedom, equality, civil rights, justice, and the rule of law.
As the era of the Trump presidency (if not of Trumpism) closes, those values have taken a hit. Whether the wounds are fatal is yet to be seen, and depends on what happens next.
However, as the Trump presidency has marched and stumbled inexorably towards the events of January 6, some of the country's moral authority has been lost.
Moral authority is a difficult, somewhat fuzzy concept. It is not the authority of power, but of example. A person, institution, idea, or indeed a society possesses moral authority when it has over time exemplified some important moral stance. Moral authority exemplifies 'the good' not in the shallows of moralism but in the deeper waters of virtue.
Donald Trump has never had any personal moral authority. He has power, and authoritative sway in the form of might, but he does not possess the kind of authority that comes in principle and by example. He has in fact always mistaken power for authority. Of the many instances that demonstrate this confusion is the tone of his attempt to persuade Georgia's secretary of state to change the election results in early January. Trump has used his power to demand loyalty at all costs, and the costs have been high.
As he has tried more and more to wield his power with sound and fury, real authority has become more and more remote from him.
Trump has of course not single-handedly caused the current crisis in American social and political life that has seen white supremacist extremism move from the fringes to entering the mainstream, but he has used the resentments boiling away in American life ruthlessly to his own ends – to gain power and feed his insatiable ego. As we try to unpack this whole mess, the question of America's moral authority will have to be wrested back from that of Trump's – and we have yet to see what is left.
In her book Too Much and Never Enough, Trump's niece Mary Trump writes:
"The fact is, Donald's pathologies are so complex and his behaviours so often inexplicable that coming up with an accurate and comprehensive diagnosis would  require a full battery of psychological and neuropsychological tests that he'll never  sit for."
Diagnosing Trump is one thing, diagnosing the state of the American democracy is another. I believe American democracy is resilient, and that it will win out against the dark forces not just at its door but well and truly inside the gates – but only if America is prepared to learn the lessons here.
Moral authority will not be preserved fully intact after these events, which may not yet be over; but neither will it be lost if we keep hold of the idea that authority is not about being faultless, and it is not about power, or strength in the form of power. Moral authority comes from the way a person, an institution, a country copes with its challenges, and how it responds to its own failings. For such authority to return, power and moralism, will have to step back.