How Words Translate to Action: The Ramifications of Trump's Rhetoric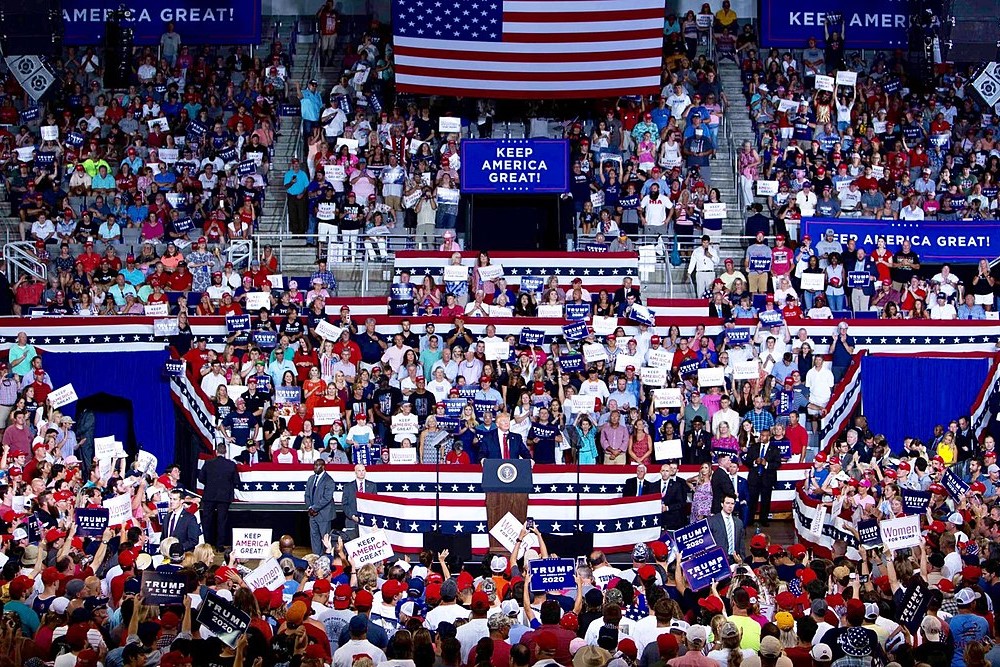 "[The coronavirus] has more names than any disease in history," President Donald Trump said at a campaign rally in Tulsa, Oklahoma on Saturday. "I can name kung flu. I can name 19 different versions of names."
Saturday's rally was not the first time Trump used racist rhetoric to divert criticisms toward his administration for its mishandling of the coronavirus crisis. Since March, the president has cast China as the "invisible enemy" and bragged about his early ban on Chinese travelers in almost every public appearance. In addition, he repeatedly used the phrase "the Chinese virus" despite concerns from public health experts, and again referred to the coronavirus as "the China virus" in a self-congratulatory tweet in May.
Critics of Trump have argued that his words have contributed to the rise of hate crimes against Asian Americans. From March to April, the New York Police Department documented 25 hate crimes against Asian Americans, marking a stark increase from a total of 3 incidents in 2019. Meanwhile, STOP AAPI HATE — a database that San Francisco State University and Asian advocacy groups created in late March — has recorded more than 1,700 incidents ranging from verbal assaults to stabbing. Still, the president has defended that his words have been anything but racist: "It's from China. That's why. It comes from China. I want to be accurate," he said at a press briefing. How could have his words have translated into real hateful and discriminatory actions?
Although the president argues that he only intended to convey his disapproval of China's pandemic response, literature on the philosophy of language elucidates the connection between Trump's words and hateful actions. With the benefit of hindsight, we can study such language — and the phrase "the Chinese virus" in particular — and learn how to respond to similar rhetorical moves as the president escalates his attacks on China and on other minorities.
When Trump justified the phrase "the Chinese virus" in March, he took advantage of the vagueness of language. Compound nouns — like "spa water," "arm pillow" and the "Chinese virus" — are ambiguous, because the relationship between the two nouns, like "spa" and "water," is unclear. Although Trump claimed he meant that the disease originates from China, "the Chinese virus" could also signify 'a virus carried by Chinese people' or 'a virus of Chinese people.' The president acted as if the intention of the speaker — which he promised was not racist — controls how words are understood.
Contrary to Trump's defense, however, many philosophers of language argue that the meaning and effect of words are also governed by how they are used in society. Of course, in regular conversations, words communicate a speaker's transparent intent. However, should Trump's press conferences and tweets — or any politician's speech for that effect — considered to be in context of a typical conversation? Often in political discourse, words affirm belief systems and the communal practices in which they are embedded.
Specifically, when one uses words that have been shaped by social practices, one legitimizes the connotations and value systems attached to them. One can insist that they only meant the inside of a city when using the phrase "inner city," but the racist ideology associated with that term persists nevertheless. "There are tools like a hammer or a screwdriver which can be used by one person; and there are tools like a steamship which require the cooperative activity of a number of persons to use," philosopher Hilary Putnam writes in his paper the Meaning of "Meaning." "Words have been thought too much on the model of the first sort of tool."
Philosopher Lynne Tirrell offers a relevant example in her 2012 paper Genocidal Language Games. According to Tirrell, for years preceding the Rwandan genocide, the Hutu majority called their Tutsi counterparts "cockroaches (inyenzi)" and "snakes (inkoza)." These were mindless slurs at first, Tirrell explains, intended to insult an individual rather than to convey the ethnic inferiority of the Tutsis. But these words were said in the context of a culture where snakes are public health dangers and cutting the heads of snakes is considered a rite of passage into manhood. When the conflict between the two groups intensified, these slurs helped connect murdering the Tutsis to a celebrated act of killing snakes. In retrospect, a Hutu calling his Tutsi neighbor a "snake" or "cockroach" was participating a linguistic practice embedded in ethnic discrimination and legitimizing hatred toward the Tutsis. "What we do with our speech acts often outstrips our own mastery, and in cases in which the social functions of speech have been co-opted, we can see that participants might not see the full scope of the games that they are playing," Tirrell explains.
Tirrell's account of the Rwandan genocide is instructive not because Asian Americans are at the risk of getting massacred, but because it illuminates how words can activate longstanding discriminatory sentiments and help authorize actions. Like the insults hurled against the Tutsis, Trump's attacks on China are embedded in the context of oppression against minorities. His administration's nativist agenda has rekindled centuries of discrimination against Asian Americans, dating from the Chinese Exclusion Act of 1882.
In addition, the phrase "the Chinese virus" draws on a history of nativist attempts to scapegoat immigrants about public health. During a smallpox outbreak in 1900, the government exclusively imposed a quarantine on San Francisco's Chinatown and called it a "laboratory of infection." In English, metaphors are often used to compare a nation to a body — such as "head of state," "body politic" and "arm of the government" — and Trump has frequently equated immigrants to an illness penetrating it. They bring "tremendous infectious disease," "communicable disease" and a "tremendous medical problem coming into a country," Trump has said.
"Like the ordinary farmer in Rwanda who did not think that calling his Tutsi neighbors 'snakes' and 'cockroaches' would help authorize the killing of his neighbors, people who repeat the phrase 'the Chinese virus' may not realize its pernicious impact," Tirrell explains. "I don't think we should assume that there is a war planned against the Chinese in America but I do think that it sows the seeds of discrimination by connecting Chinese people with the virus."
By rebaptizing the coronavirus as "the Chinese virus" with the authority of a president and insisting on the phrase, Trump has affirmed the racist and anti-immigrant narratives behind it. Calling coronavirus "the Chinese virus" had the effect of connecting practices one would take against the spreaders of a deadly virus — such as shunning them, kicking them out and even attacking them — to those who appear Chinese. One might argue that this rhetoric convinced people to rationalize discriminatory and hateful actions against Asians as fighting the virus.
The power of words can seem mysterious and insignificant, particularly in light of a rapidly spreading disease that has taken more than a hundred thousand lives. However, literature on the philosophy of language shows that words do make things happen. Though Trump's coronavirus rhetoric cannot — and most definitely should not — be censored, we must acknowledge and discuss the damages inflicted by his anti-Chinese narrative.