The Trump/Zelensky Exchange: The "Though" Makes It Quid Pro Quo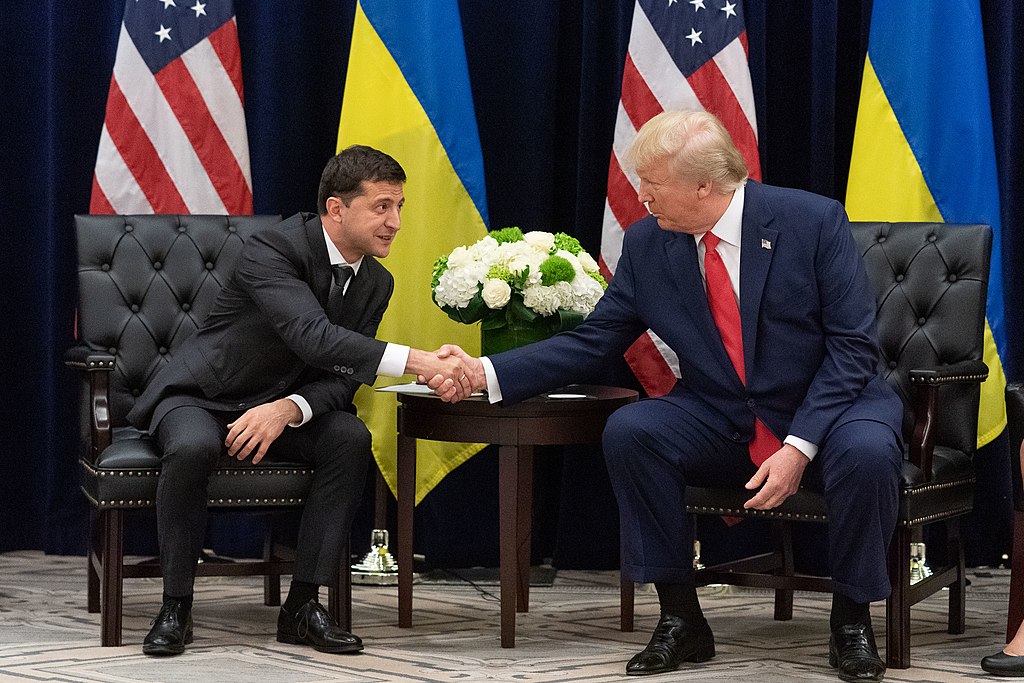 The Trump administration released a "transcript" of the recent phone call between Ukraine's President Volodymyr Zelensky and Trump. The administration seems to think that the document proves there was no quid pro quo arrangement suggested by the president. They claim that defense funding was never made conditional on Ukraine investigating Joe Biden or his son. Supporters of the president have dismissed the uproar as motivated by partisan politics, and regard any suggestion that the memo might represent an impeachable offence "a huge overreach" by Democrats.
But the accusation of a quid pro quo arrangement between a sitting president and a foreign government is a big deal. Asking the Ukrainian president to investigate a political rival by itself is sketchy. But to dangle defense funding in front of Ukraine and suggest that Ukraine won't get it unless they come through is clearly an abuse of power. These types of political dealings were precisely the kind the founding fathers thought essential to keep out of our democracy. To use the power of the presidency for personal gain or to undermine a political rival is precisely the kind of power the founding fathers meant to curb with the constraints they placed on the executive branch. As Zack Beauchamp of Vox has argued,
The president is trying to get a foreign power to open an investigation into the highest-polling Democratic candidate, perhaps Trump's likeliest opponent for reelection in 2020, on an extremely flimsy pretext — to turn Biden's fake Ukraine scandal into "her emails" 2.0. He is actively working to weaponize the presidency to boost his political fortunes.
Not only would this constitute election interference, it further threatens to give a foreign power leverage over another nation's commander-in-chief.
The administration has been adamant that no such deal was officially presented. In Trump's own words he said, "I didn't do it. There was no quid pro quo." Many news outlets have tended to confirm this account; without anything more explicit it's hard to say definitively whether an offer was intended or whether it was interpreted as such. This ambiguity has led the Justice Department to conclude that prosecutors "did not and could not make out a criminal campaign finance violation." Without a clearer picture of the actual goods on offer and any clear-cut proposal, the DOJ found it difficult to hold the president accountable for soliciting foreign support in his upcoming presidential campaign.
But there is one word in the transcript of the phone call between Donald Trump and Zelensky that makes it pretty clear that Donald Trump threatened to withhold defense funding from Ukraine if Ukraine did not investigate Joe Biden and his son. It's the word "though".
Here is the excerpt that matters:
President Zelenskyy
I would also like to thank you for your great support in the area of defense. We are ready to continue to cooperate for the next steps. Specifically we are almost ready to buy more Javelins from the United States for defense purposes.
The President
I would like you to do us a favor though because our country has been through a lot and Ukraine knows a lot about it. I would like you to find out what happened with this whole situation with Ukraine, they say Crowdstrike… I guess you have one of your wealthy people… The server, they say Ukraine has it. There are a lot of things that went on, the whole situation. I think you're surrounding yourself with some of the same people..
President Zelinskyy thanked President Trump for defense support and mentioned that he would like to continue this cooperation. The first sentence out of Trump's mouth is "I would like you to do us a favor though." He goes on to ask for an investigation of Biden as part of this favor. In this context, "though" would literally be defined as "placing a restriction or condition on what was previously said."
Had Trump left that word out, this still looks pretty close to quid pro quo, but there is still the possibility of inferring some weaker claim. On the other hand, one might infer that though he didn't explicitly threaten to withhold funding unless an investigation happened, it's implied by asking for the favor. The "though" is what actually makes this an explicit threat; it's what removes this ambiguity.
It's up to Congress and the American People to decide what should be done next. As a matter of political expediency, we can argue about whether impeachment is a good idea or not. But whatever is decided, let's not pretend that this phone call was anything other than an explicit threat by a sitting US President to stop cooperating with Ukraine on their military defense unless they investigated his political rival. The "though" makes this clearly a quid pro quo exchange.