Should We Romanticize the Dead?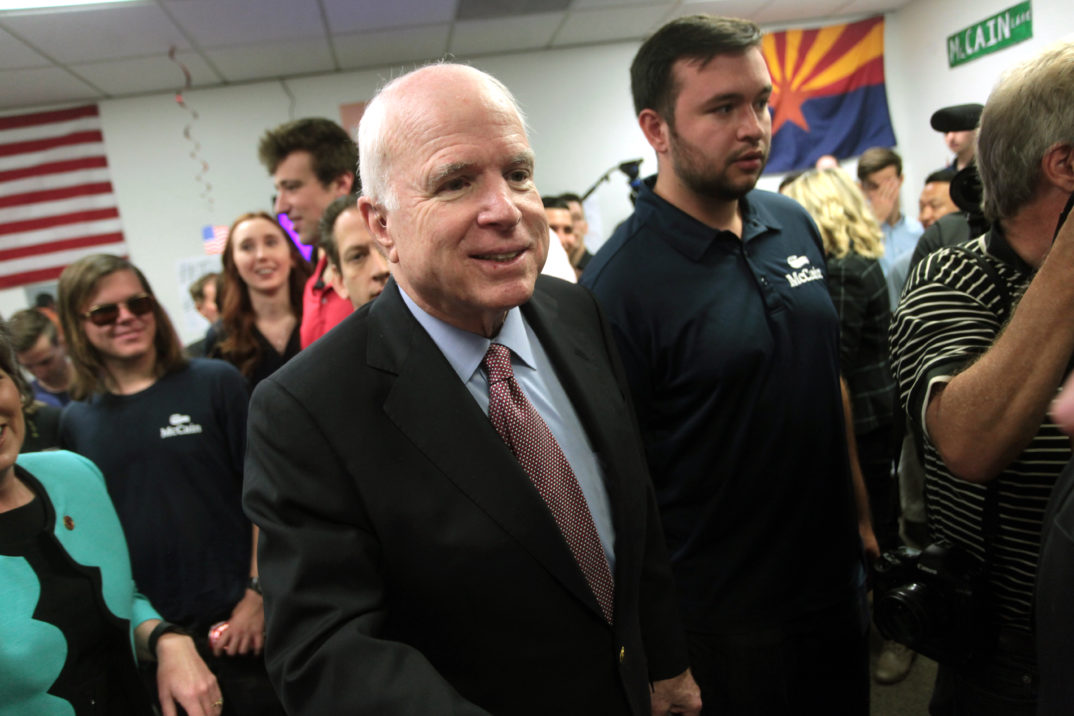 It seems as if it is human nature to disagree– to go against that which one doesn't believe in. Often disagreements between people can elicit hostility from either side, causing individuals to simply dislike one another or purely hate each other. But what happens when one side dies? Does the living side rejoice in their opposition's death or take the time to appreciate the life they lived? It's almost as if choosing to decide is a decision between the lesser of two evils, for rejoicing in someone's death is immoral, and relishing in their life seems hypocritical. To oscillate between these two choices raises the question: should we romanticize the dead?
Republican Senator from Arizona John McCain passed away on August 25th, 2018. He suffered from a brain tumor for which he had undergone treatment in 2017. Since Senator McCain's passing, Democrats and Republicans alike have expressed their condolences. Tweets from Democrats such like Congressman John Lewis referred to McCain as "a warrior for peace" . Representative Alexandria Ocasio-Cortez even tweeted that McCain's legacy represented an unparalleled example example of human decency and American service. Other expressions of sympathy from Democratic politicians called McCain a war hero in reference to his service during the Vietnam War.
Democratic constituents even expressed their condolences over McCain. For instance, in Arizona, the state that Sen. McCain represented, the residents of a small town called Bisbee, remarked on McCain's death. Despite the residents of Bisbee priding themselves on being a "blue pocket in a red state," they had kind things to say about the fallen senator. When asked about Sen. McCain, many residents talked about him voting against his own party in the repeal for Obama's Affordable Care Act. One Bisbee resident, who had never voted for McCain, referred to him as a leader.
Since McCain's death, people have, regardless of party affiliation, praised McCain's life. However, the same Democratic politicians could have gone against McCain on legislation. Some citizens, as we've seen with the constituent from Bisbee, have even glorified Senator McCain in the wake of his death. But it seems, that because of McCain's death, people have focused on the positives of the life he lived, and neglected the negatives. Over McCain's political career, he made a series of racists comments and took incredibly controversial stances in legislation. During his time in politics, McCain voted against the creation of Martin Luther King Day. He also voted against civil rights legislation such as the 1990 Civil Rights Act, which was aimed at banning discrimination of employment at American businesses. Senator McCain had also been quoted using a racial slur in reference to Vietnamese people and made a racist joke about Iran's former president, Mahmoud Ahmadinejad. McCain's death shows that people have the ability to put their differences aside and celebrate an individual's life. But should they after years of opposition?
The question of romanticizing the dead is not limited to bipartisanship either. It's a phenomenon that has been prominent in the realm of hip-hop as well. This past June, the rapper known as XXX Tentacion was shot and killed. Following X's death, both of his albums held the No. 1 and No. 2 spot on Amazon's Movers and Shakers Digital Music List. X's album "?," which was released in March, spiked by 41,306% in sales following his death and his previous album "17," which was released in 2017, spiked by 9,000% in sales. On iTunes, X's single "SAD" reached No. 1 and while his "?" album was ranked at No. 3. Many expressed their condolences over X's death, and sentiment came from not only the rapper's fanbase, but rappers and influencers of hip-hop culture. However, it's interesting how some of the people who expressed their condolences admitted that they had never met XXX Tentacion. Take for example producer and songwriter Mikewillmadeit, who posted a picture on Instagram of X. he caption explained how Mikewillmadeit never met X and he never got the chance to tell him how great he thought X's music was. Even Kanye West, a very controversial but prominent figure in hip-hop, took to Twitter, posting a picture of X and and writing how much X inspired him even though they never met.
Despite all of the positive sentiment that came from XXX Tentacion's death, the life he lived was accompanied by some negativity. Before his death, X was facing felony charges for aggravated battery of a pregnant woman, domestic battery by strangulation, false imprisonment, witness tampering, and witness harassment.
Most recently, another rapper, Mac Miller, also passed. However the romanization of Mac after his death seems slightly different from that of John McCain and XXXTentacion. Similar to XXXTentacion, Mac's most recent album Swimming reached No 1 on Apple Music's album chart. However, Ugly God, another rapper and friend of Mac Miller, tweeted about people supporting Mac only because it was relevant. Ugly God explained how Mac Miller had dropped his latest album Swimming the same day as another popular rap artist Travis Scott dropped his and at the time and people scorned Mac, saying that no one would listen to his album. Ugly God said that he and Mac had spoke about this and apparently, Mac said that if he died, no one would own up to what they said about him before.
Although John McCain, XXXTentacion, and Mac Miller are all very different people, what they have in common is how people viewed them after death. Everyone focused on the positives of their lives and shed little to no light on the negatives. But why would people who opposed McCain want to celebrate his life? How could people who didn't know X, like Kanye West, be so inspired by him? And why would people who made fun of Mac Miller's music suddenly become huge fans of him? Perhaps it is purely out of respect for the dead. Or maybe people just want to show that they're up to date and conscious of what is going on. In terms of McCain's death, even the bipartisan nature of Democrats and Republicans is put on halt when politicians pass.   Regardless, if someone prominent dies, who one doesn't agree with or like, perhaps saying nothing at all is the best solution.