Cultural Appropriation in American Holi Festivals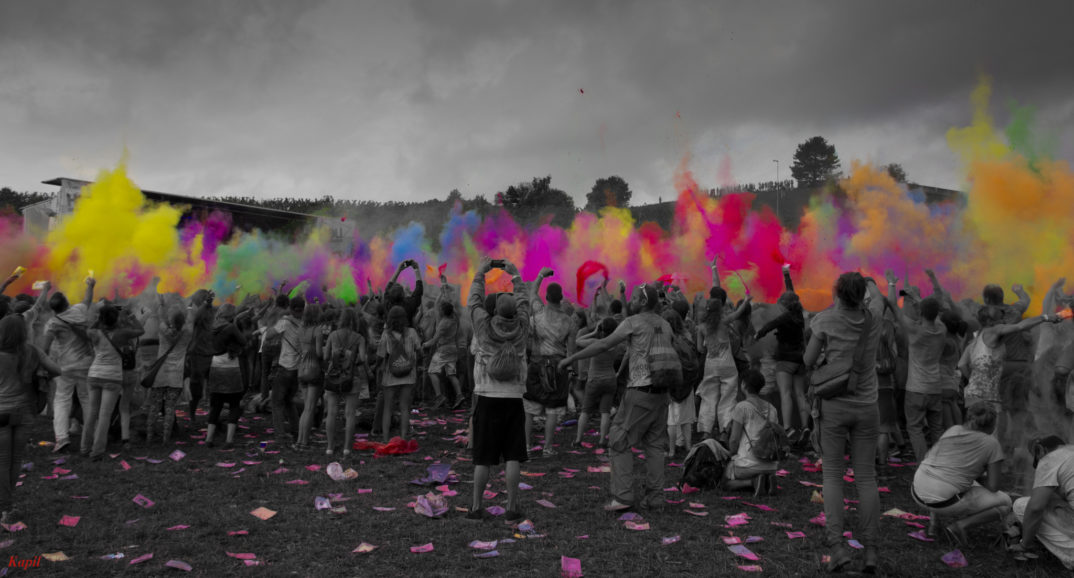 Throughout the month of March, crowds of thousands will gather in Houston, Boston, and other cities around the United States to celebrate the Indian festival of Holi. Called the Festival of Colors, this holiday celebrates the arrival of spring, and is chiefly known for its tradition of participants throwing brightly colored powder on the crowded streets of India. However, there's a cultural history that might be lost in the crowds of Americans eating Indian food and drenching each other in colored water. Is celebrating Holi in American festivals a victory for diversity, or is it cultural appropriation?
Holi also commemorates the victory of love over evil, as told in the story of Krishna and his lover, the Hindu goddess Radha. According to Hindu legend, the demoness Holika was sent to kill the god Krishna with  poisonous milk when he was a baby. Krishna lived after drinking the poison, but his skin turned blue. Afraid that the beautiful goddess Radha would not love him with his blue skin, Krishna pranked Radha and put color on her face so they would both look different.
For centuries this love story has been re-enacted by strangers throwing gulal, or colored powder, on each other in the streets of India. Holi is traditionally celebrated for the two days surrounding the vernal equinox. This year, the Indian government declared that March 13th would be a national holiday for this celebration, and this year's Holi festival means much more than a celebration of spring.
"It's a double celebration," remarked Madhav Saran Shastri, a local Hindu priest in the city of Mathura, India. The double celebration he refers to is the landslide victory of the Bharatiya Janata Party (BJP) in the Uttar Pradesh territory where Mathura is located. Led by the current Prime Minister of India, Narenda Modi, the BJP is a right-wing Hindu nationalist party. The BJP is nationalist in that it campaigns on the perceived persecution of Hindus, and strives to incorporate Hindu concerns in legislation. When the streets became packed with people throwing colored powder and water, the festival of colors also became a festival celebrating Hindu nationalism.
Along with festivals across the United States and in Europe, college campuses also participate in Holi. DePauw has their Holi celebration on April 6th, and Armaan Patel, a current junior at DePauw University whose family is from the Gujarat region of India, expressed his concern about possible cultural appropriation during college celebrations of Holi:
"My biggest thing with people celebrating Holi is that people don't really take the time to appreciate or understand the importance or context of the event in America (especially at DePauw). Holi is definitely one of India's most beautiful and fun celebrations, but there's a lot of cultural significance that people never think about."
Celebrating a Hindu festival in America is an excellent opportunity to learn about different cultures, but most times that opportunity is wasted and washed over with Indian cuisine and remixed Bollywood music. For Holi festivals in America to not cross the line into cultural appropriation, information on the holiday's background should be available at all events, and participants should be encouraged to learn about Holi's religious and political significance before partaking in the party.