Rape Culture, In and Out of the Locker Room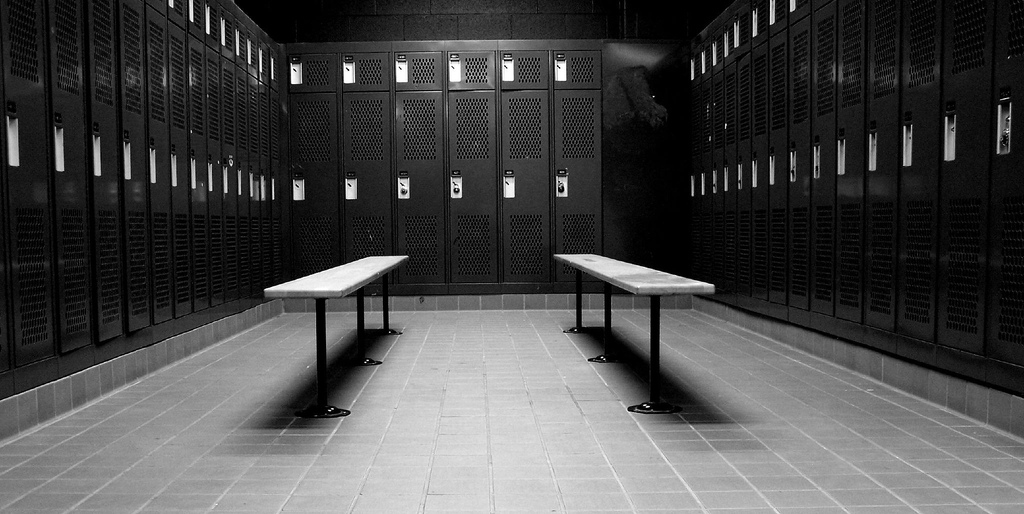 Last week, President Obama signed the Sexual Assault Survivors' Rights Act into law. Peyton Carper, writer for Uloop, a college politics news website, summarized: "[t]he legislation states that survivors must be informed of the results of their rape kits, which, shockingly, was not a requirement before this bill. More importantly, the kits must be preserved for the state's maximum statute of limitations, and survivors can request that the kits be preserved for longer than that period if need be."
There is currently a backlog of an estimated 400,000 untested rape kits, which could be holding crucial evidence for victims' cases. There are many factors contributing to the fact that, as Carper brings up, "[o]nly 344 of every 1000 instances of sexual assault are reported to police, meaning that almost 2 of 3 cases see no legal action." According to the Maryland Coalition Against Sexual Assault, a few of these reasons include: "fear of reprisal," "belief that the police would not do anything to help," "not enough proof," and "fear of the justice system." This new bill attempts to protect the physical evidence that a woman may use in court from being thrown out in court, a tactic often used by defense attorneys defending alleged rapists.
In contrast to the federal legislation's focus on the victim, Jerry Brown, governor of California, has passed a bill that expands the punitive measures for a convicted rapist. With the conviction, minimal sentence, and release of Brock Turner still fresh in our minds, Brown has "broadened the power of judges to treat sex crimes as rape" by "requiring longer sentences to be served in state prison for defendants convicted of assaulting unconscious victims." Setting a precedent in the very state in which Turner escaped with a soft sentence, convicted perpetrators could be facing up to 14 year sentences.
Proponents of the bill praise its initiative to administer harsher punishments for sexual offenders, to encourage the legal system to be a slightly more hospitable place for matters of sexual assault, and to lighten fear and blame of the victim. Though acknowledging the bill as well-intentioned, some opponents of the legislation claimed that "the new laws will disproportionately affect poor and minority defendants who receive little or no legal representation." Thus, the law—inspired by the failures of a case founded in legally exempting the privileged—may perpetuate the unequal treatment of criminals based on their race and class. Yet it is not only this measure in particular; with the systematic flaws of our criminal justice system, any harshening of sentences will lead to socioeconomic and racial injustices.
Yet these legislative changes are not the main reason that sexual assault is in the news. The emergence of the 2005 video in which Donald Trump bragged about how he is able to get away with sexually assaultive behavior because of his wealth and fame has incited nationally controversy. Trump's dismissal of his comments revolved around them being "just locker room talk." Due to his sports related metaphor, Trump's justification for his inexcusable remarks has sparked discussion in the sports community as well. Tom Brady, quarterback of the New England Patriots—who last year flaunted his "Make America Great Again" hat, apparently a gift from his friend Trump—ended a press conference abruptly when a reporter asked about locker room talk: "You have kids of your own. How would you respond if your kids heard Donald Trump's version of locker room talk?" While some athletes, like Brady, have refused to comment about the matter, others are very outspoken about their resentment towards Trump's defense.
Udonis Haslem, a Miami Heat player, articulated the general sentiment of athletes who Trump angered with his "locker room" comment: "That ain't our locker room talk. I don't know what locker room he's been in." Frustrated to have been associated with Trump's behavior, Haslem urged Trump: "Don't throw us in there — we have nothing to do it with it." Jacob Tamme, a tight end for the Atlanta Falcons, has made a similar plea of Trump: "Please stop saying 'locker room talk." Tamme continued, "It's not normal. And even if it were normal, it's not right."
Yet people have long spoken of sexual conquests with sports jargon. Colloquially, people may refer to a "player" or someone who has "got game" as a man who has sex or the opportunity to have sex with many women. Even the concept of getting to first, second, third, and home base describes sexual acts with sports metaphors. Though these associations seem to have little to do with the kind of harm that Trump's comments evoke, some authors have pointed out the dangers of athletes associating the messages that they receive on the field with their relationships with women. For example, an important part of any competitive game, "scoring" is described in Transforming a Rape Culture, edited by Emilie Buchwald and Pamela Fletcher, as not only having had sex, but also is "enhanced by getting women to perform sex acts that the men consider demeaning." Male athletes are often praised on the field for their aggression and stoicism: so does how we talk about sports and sexual exploits—from colloquial language to our treatment of athletes—affect their treatment of women?
Minnesota Lynx coach, Cheryl Reeve, would agree, as apparent in her response to the uproar of defensive athletes. Reeve determined that the mere existence of this "locker room talk" metaphor is revealing in itself: "He was trying to say, 'It's what men do.' And that to me is the inherent problem. It is what men do. Let's not have all these men stand up and say, 'Well, we don't do that!'" Validating Reeve's concerns, some athletes have spoken out, admitting that they see "locker room talk" as a viable problem. Former major league pitcher Ron Darling commented about gathering with teammates before or after a game: "Every repugnant thing that you can think of has probably been said in a clubhouse at some point." When asked about "locker room talk," Aqib Talib, a cornerback of the defending Super Bowl champion Denver Broncos team, replied, "There's a lot of locker room comments, man. We talk about everything in here." He continued with a smile, "Trump may fit in if he came in here, who knows?"
Since rape culture is not the blatant justification of rape, it can affect children and teens from early on in their lives. In a study assessing California high school athletes from all different sports, researchers found that "boys who had hypermasculine attitudes were three times more likely to have recently abused their female dating partners." Basketball and football were amongst the sports with the highest rate of hyper-masculine attitudes, defined in the Encyclopedia of Race and Crime as "an exaggerated form of masculinity, virility, and physicality, as well as a tendency to ward disrespecting women." This form of masculinity praises physical aggression, sexual exploits with women, and stoicism.
Chris Mosier, a transgender Olympic athlete who spoke at DePauw University last month, commented to CNN on his childhood as a girl, suggesting that his interest and ability in sports and skateboarding surprised people. Yet he did not consider their comments to be bullying remarks about his gender identity, but rather "it was more about being sexist towards female athletes than anything." The fact that athletics is supposed to be considered masculine, assigns the positive attributes of athletics to the male gender. This association not only demotes female athletic accomplishment, but also considers them unnatural. Our society places great emphasis on gendered roles; thus, after his transition, Mosier has received plenty of hateful and "unpleasant messages on social media."
The hyper-masculine ideals condone a violence that the players take with them when they assert their masculinity off of the field as well. In a contemporary study that compared non-athletes, intercollegiate athletes, and recreational athletes on four different campuses across the country, researchers "found that 54.3 percent of the intercollegiate and recreational athletes and 37.9 percent of non-athletes had engaged in sexually coercive behaviors – almost all of which met the legal definition of rape." One of the researchers, Sarah Desmarais, commented, "As high as these numbers are, they may actually under-represent the rates of sexual coercion, since the study relied on self-reported behavior." Desmarias also noted that "[n]on-athletes were much less likely to believe in rape myths." Rape myths include harmful misconceptions such as "if a woman goes to her date's room on the first date, it implies she is willing to have sex" or "it's not really rape when a woman changes her mind in the middle of a sexual activity." These false perceptions of rape justify sexual assault offenders and perpetuate victim-blaming.
Curious about the role of college athletics in sexual assault, researchers, Benedict and Crosset, reported in the 1990s "that male student-athletes only make up 3.3 percent of the population, but they account for 19 percent of sexual assault perpetrators." Redmond Brown, founder of the National Coalition Against Violent Athletes, attempts to explain why there is a higher rate of sexual assault among athletes. She discusses the difference between unconditional love and the "performance-based love" that an athletes receive from their coaches, fans, and teammates when they do well out on the court or field. The hyper-masculine perspective demotes unconditional love and emotions as a sign of weakness and femininity. With emotion-based love being replaced by that need to perform, Brown argues that in rape situations, "[t]he whole thing is for him. It's about his performance, his conquest, his power, his vanity. Like, [Brock Turner] would not see his actions as anything to do with the victim. He separates that out because that person is nothing to him, so it's about what he gets out of it." Society has told its athletes that they deserve special privileges: perhaps exemption from class, a higher grade in order to maintain eligibility for sports, or a scholarship. Turner saw his victim as just another thing that he is entitled to.
Noting in What the Playbook Doesn't Show You "the fact that black men are the majority of football players," Jessica Luther explains, "[w]hile we focus on the black-man-as-criminal and the woman-as-liar, what is lost is that most of the people who create and maintain the culture of college football are white men, from coaches to athletic directors, from university presidents to the media who cover the sport"; thus, they are the ones who benefit from victim-blaming and isolating the perpetrator in order to detract attention from the system aiding in the perpetration of this culture.
The most challenging lessons are the ones that we have to unlearn. We have grown up in a rape culture that not only protects the offenders, but may even elect one as president. "Only 3 percent of rapists will spend a day in prison," and we have to keep asking ourselves why. Increasing the rights of victims' accesses to their rape kits and harshening the punishments of convicted rapists is a good step. But the kind of change that needs to happen will not occur in Congress or a court room. We need to change how we treat view and treat women whether they are in the room or not. It needs to happen at home, up in the stands, in the classroom, from the podium, amongst peers, and in the locker room.