Prindle Intern Spotlight: Caroline Zadina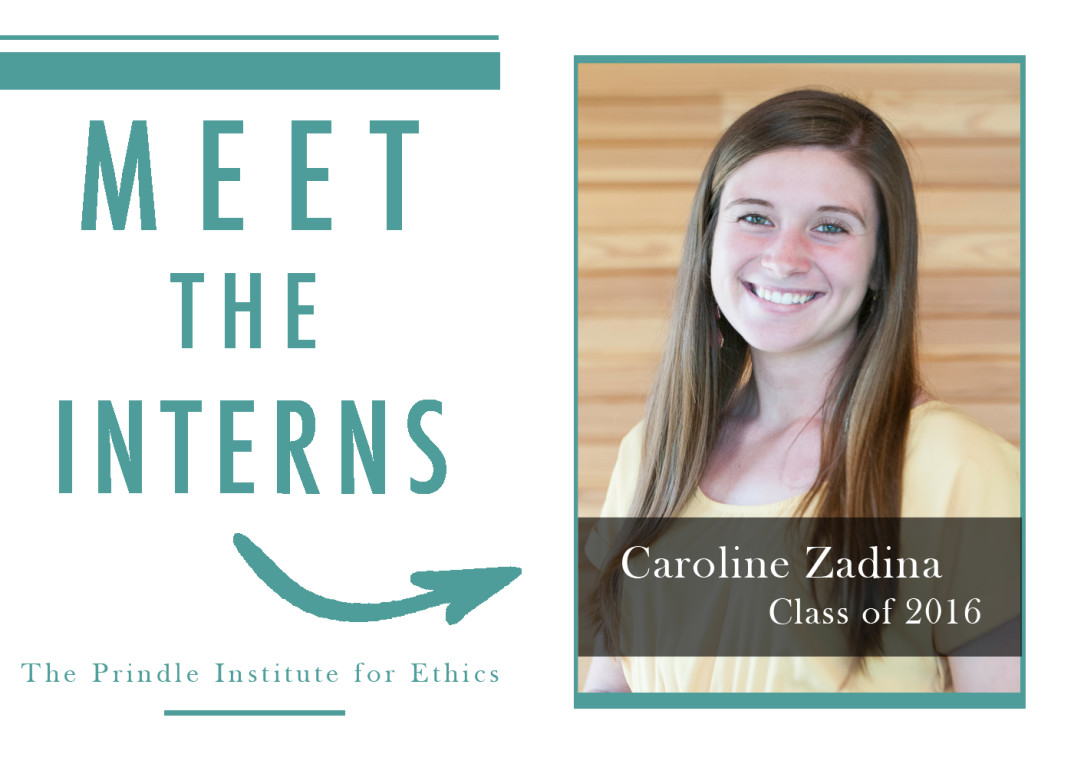 Caroline is a junior intern from Glencoe, Illinois. She studies Pyschology at DePauw and is a member of the varsity women's soccer team.
Tell us about an ethics/social justice issue that is particularly important to you.
Ethics in athletics and competition is of great importance and interest to me. As a college athlete, I have learned a remarkable amount from my commitment to soccer, and have grown into the person I am today because of my experiences on the field with teammates and coaches. One particular aspect that has captured my attention lately is the ethics behind coaching. The role of a coach has a tremendous impact on the development of an athlete, and can either be positive or negative to one's development. On the cusp of recent athletic scandals regarding college athletes, my hope is that one day there will be a greater commitment by the sporting world to treat athletes with respect and dignity, just as any human, whether competing or not, deserves.
What upcoming Prindle event are you most excited about?
The Undergraduate Ethics Symposium hits the top of my list of my favorite Prindle events. I am really looking forward to this year's event titled: Value and Virtual Spaces. I am excited to explore the moral questions raised by the virtual world as technology touches my life daily. This year, Prindle has four highly accredited speakers coming to share their experiences and knowledge on this topic, and I am really looking forward to listening and contributing to the conversations.
Which class(es) at DePauw have most challenged and expanded your worldview?
The most challenging class I have taken at DePauw was Sociology of Hip Hop. It not only challenged me academically, but also personally. I listen to hip hop music regularly. Every time I run on the treadmill hip-hop music is blasting in my ears. Because of this, I expected to be familiar with the topic, yet in actuality, there is much more to hip hop music then what reaches the ear. The historical roots and the stories captured in the lyrics, when truly recognized and understood, are incredibly moving. I have gained a whole new perspective and lens in which to listen and interpret hip-hop through. It is no longer just fast and catchy beats and lyrics. I appreciate it more, and listen to the stories and thoughts it conveys whenever I hear it now.
What's the coolest thing you've heard about in the past week? This could be something you read, listened to, watched, talked about, etc.
In interpersonal communication class this morning we saw a video that focused on eye contact, and the power of eye contact. Before actually taking the time to think about it, I did not realize how powerful eye contact can actually be. When making eye contact, if you put in the time and the effort, you can learn a lot about a person and notice things you may have never taken the time to see. In the short clip we watched in class, couples were asked to stare into each other's eyes for four minutes. Viewers observed how at first these couples were resistant, felt "weird" and "awkward" and lots of fidgeting was going on. It can be challenging to actually stare into someone's eyes if you think about it, as eyes are believed to be windows to the soul, which can be frightening to some. However, by the end of four minutes, these couples shared how much they enjoyed the activity because they had never looked at each other like that before. It was an opportunity to really see each other, and appreciate the importance of their relationship. Each couple's heartfelt reactions to this activity moved me. It has inspired me to take the extra time and make my eye contact matter. Instead of just looking, look with meaning. Here is the video if you want to take a look.
Tell us about one of your hobbies, interests, or passions.
I do love soccer, however that is something most people know about me already. A hobby of mine that is not so well known, is my love of photography. I took photography class in high school and instantly was hooked. I have never been good at drawing or painting, so photography is an outlet where my creativity can shine through. My favorite thing about photography is its ability to capture an important moment, relationship, or a passing expression of emotion.  Photographs make it possible to hold on to fleeting moments that you never want to forget.
Learn more about Caroline here.