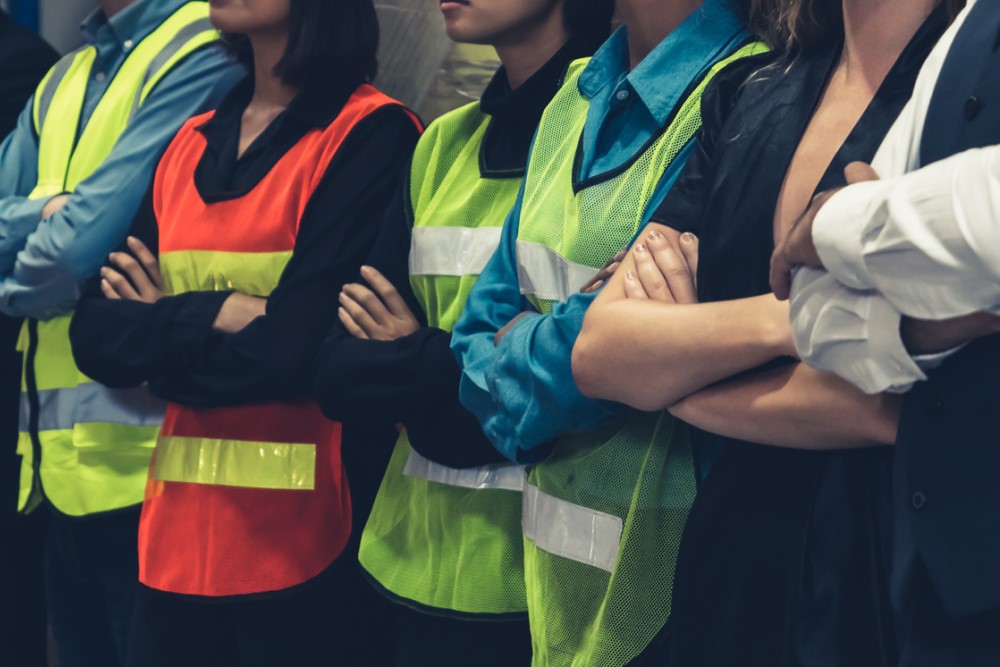 The past few years have seen a resurgence of organized labor in the United States, with especially intense activity in just the past few months. This includes high profile union drives at Starbucks, Amazon, the media conglomerate Condé Nast, and even MIT.
Parallel to this resurgence is the so-called "Great Resignation." As the frenetic early days of the pandemic receded into the distance, workers began quitting at elevated rates. According to the Pew Research Center, the three main reasons for quitting were low pay, a lack of opportunity for advancement, and feeling disrespected. Former U.S. Secretary of Labor Robert Reich even analogized it to a general strike, in which workers across multiple industries stop work simultaneously.
Undoubtedly, the core cause of both the Great Resignation and growing organized labor are the same – dissatisfaction with working conditions – but they are also importantly different. The aim of quitting is to leave the workplace, the aim of unions and strikes are to change it. They do this by trying to shift the balance of power in the workplace and give more voice and agency to workers.
Workplaces are often highly hierarchical with orders and direction coming down from the top, controlling everything from mouse clicks to uniforms. This has even led some philosophers, like the noted political philosopher Elizabeth Anderson, to refer to workplaces as dictatorships. She contends that the workplace is a blind spot in the American love for democracy, with the American public confusing free markets with free workers, despite the often autocratic nature of the workplace. Managers may hold almost all the power in the workplace, even in cases where the actual working conditions themselves are good.
Advocates of greater workplace democracy emphasize "non-domination," or that at the very least workers should be free from arbitrary exercises of managerial power in the workplace. While legal workplace regulations provide some checks on managerial power, the fact remains that not everything can or should be governmentally regulated. Here, worker organizations like unions can step in. This is especially important in cases where, for whatever reasons, workers cannot easily quit.
Conversations about unionization generally focus on wages and benefits. Unions themselves refer to the advantage of unionization as the "union difference," and emphasize the increases in pay, healthcare, sick leave, and other benefits compared to non-unionized workplaces. But what causes this difference? Through allowing workers to bargain a contract with management, unions enable workers to be part of a typically management-side discussion about workplace priorities. Employer representatives and union representatives must sit at the same table and come to some kind of agreement about wages, benefits, and working conditions. That is, for good or for ill, unions at least partially democratize the workplace – although it is far from full workplace democracy, in which workers would democratically exercise managerial control.
Few would hold that, all things being equal, workers should not have more agency in the workplace. More likely, their concern is either that worker collectives like unions come at the cost of broader economic interests, or that unions specifically do not secure worker agency but in fact saddle workers with even more restrictions.
The overall economic effect of unions is contentious, but there is little evidence that they hobble otherwise productive industries. A 2019 survey of hundreds of studies on unionization found that while unionization did lower company profits, it did not negatively impact company productivity and decreased overall societal inequality.
More generally, two assumptions must be avoided. The first is that the interests of the workers are necessarily separate from the interests of the company. No doubt company interests do sometimes diverge from union interests, but at a minimum unionized workers still need the company to stay in business. This argument does not apply to public sector unions (government workers), but even there, unions can arguably lead to more invested workers and stronger recruitment.
The second assumption to avoid is that management interests are necessarily company interests. Just as workers may sometimes pursue their personal interests over broader company interest, so too can management. This concern is especially acute when investment groups, like hedge funds, buy a company. Their incentive is to turn a profit on their investment, whether that is best achieved by the long-term health of the company or by selling it for parts. Stock options were historically proposed as a strategy to tie the personal compensation of management to the broader performance of a company. This strategy is limited however, as what it does more precisely is tie management compensation to the value of stock, which can be manipulated in various ways, such as stock buybacks.
Beyond these economic considerations, a worker may also question whether their individual agency in the workplace is best represented by a union. Every organization is going to bring some strictures with it, and this can include union regulations and red tape. The core argument on behalf of unions as a tool for workplace agency is that due to asymmetries of power in the workplace, the best way for workers to have agency is collective agency. This is especially effective for goals that are shared widely among workers, such as better pay. Hypothetically, something like a fully democratic workplace (or having each individual worker well positioned to be part of company decision making) would be better for worker agency than unions. The question of whether these alternatives would work is more practical than ethical.
There can be other tensions between individual and collective agency. In America specifically, unions have been viewed as highly optional. The most potent union relationship is a "closed shop," in which a union and company agree to only hire union workers. Slightly less restrictive is a "union shop," under which all new workers must join the union. Both are illegal in the United States under the 1947 Taft Hartley Act, which restricted the power of unions in several ways. State-level  "right to work" laws go even further, forbidding unions from negotiating contracts that automatically deduct union representation fees from employees. The argument is one of personal freedom – that if someone is not in the union they should not have to pay for it. The challenge is that the union still has to represent this individual, who benefits from the union they are not paying for. This invites broader questions about the value of individual freedoms, and how they must be calibrated with respect to the collective good.
The author is a member of Indiana Graduate Workers Coalition – United Electrical Workers, which is currently involved in a labor dispute at Indiana University Bloomington.