The Capitol Coup and the Rhetoric of Essentialist Exceptionalism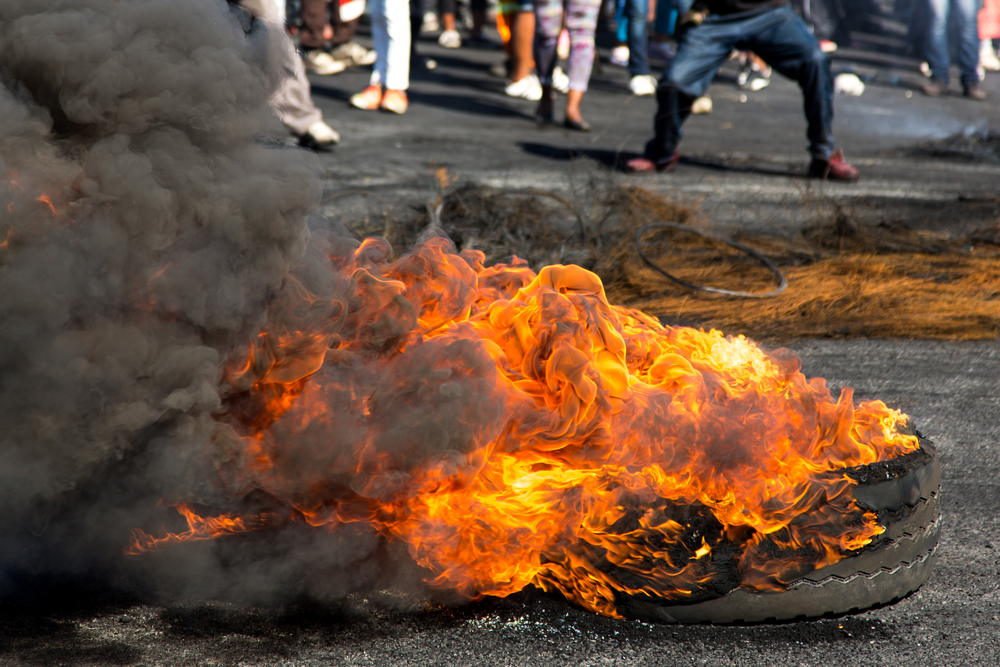 On January 6, 2021, a mob of Trump supporters stormed the U.S. Capitol, disrupting Congress's certification of President-elect Joe Biden's electoral college win for a few hours. Law enforcmenet deployed tear gas in the Capitol Rotunda, and at least four people died; one woman was shot and killed. It was a deeply depressing spectacle that underscored two facts: that millions of Americans live in an alternative reality in which President Trump, the nemesis of shadowy, rootless "globalists" and other vaguely Semitic "swamp-dwellers," won a second term in a landslide; and that Trump himself, pathologically fixated on his electoral loss, will gladly incite violence against his own government in order to cling to power.
Even as it was happening, media commentators registered their bewilderment that something like this was happening here, and not some other place — Iraq, maybe, or perhaps (as CNN's Jake Tapper imagined) Bogotá. The by now well-worn cliché that it was something that might happen in a "banana republic" was trotted out. Echoing these sentiments, in his remarks on that day, President-elect Biden said that "the scenes of chaos at the Capitol do not reflect the true America."
There is, I think, a deep connection between the commentators' surprise and Biden's rhetoric. Many people in this country seem to subscribe to a metaphysics of America, or of American political culture, that is essentialist in that it says that there is something that the culture essentially or truly is — that there are qualities which define America and without which America as we know it would not exist. Usually, the outlines of this conception of America's essence are drawn by exclusion: by saying what America is not. Thus, Biden tells us that the "true" America is not whatever-it-is that the Capitol insurrection represents — probably that it is not violent or lawless. Other invocations of America's essence have claimed that America is essentially liberal or conservative, or essentially tolerant. In general, we can say that American essentialism defines what America is in terms of what the one doing the defining thinks it ought to be. Frequently combined with this claim about America's essence is the idea that this essence is exceptional; that America has a unique essence that distinguishes it from other countries. Thus, those who hold to American essentialism often define America not only by what it is not, but they suggest that what it is not is what other countries are. 
Put these two beliefs together — that America has an essence, and that this essence is unique — and you can readily explain why it should seem shocking or unbelievable that something like the Capitol coup occurred. If America is essentially not what, say, Iraq is — violent, lawless, prone to coup attempts — then what happened at the Capitol is almost unthinkable.
But American essentialist exceptionalism is doubly untrue. First, even if America's political culture had an essence, it would be implausible to claim that this essence is peaceful or law-abiding. Since its founding, America has been the site of extreme political violence. Periods of relative peace have, if anything, been the exception, not the rule. Second, it is simply implausible to think that political cultures have essences. What makes this particular political culture American is simply that it is comprised of the political beliefs and practices of citizens of the United States, a particular political entity. Those beliefs and practices can (and have) changed dramatically over time and yet remain American. 
Defenders of the rhetoric of essentialist exceptionalism might call on Plato or Government-House utilitarians for support, arguing that even if untrue it is a "noble lie" that helps bind the political community together. On this view, saying that America is essentially good motivates its citizens to love it, thus making it more likely that they will help preserve it across time.
However, we must balance this benefit against the costs, which in my view are considerable. First, the exceptionalist aspect of American essentialist exceptionalism encourages Americans to view the political cultures and systems of other countries with unthinking disdain. That disdain was on full display in commentators' casual invocation of Iraq, Ukraine, and other countries as examples of places where a Capitol coup would somehow be more appropriate. In fact, Americans likely have much to learn from the struggles of other democracies.
Second, the essentialist aspect of American essentialist exceptionalism may encourage complacency about America's prospects: if America is essentially democratic, non-violent, tolerant, law-abiding, and so on, then the acts of individual political actors seem to matter less in the scheme of things — it just can't happen here. Put another way: if in some sense we already are what we ought to be, then what's the point in struggling to achieve our ideals? It is perhaps just this sort of complacency that was at play in the acts of the Republican congressmen and -women who chose to contest Biden's electoral win, or the failure of the Capitol police to anticipate the possibility that Trump supporters might assault the building. Now the costs of that complacency are available for all to witness.
Third, the idea that there is a true America can easily be hijacked to serve nefarious political ends. Instead of arguing that American political culture is essentially tolerant, liberal, and democratic, some on the far right believe that it is essentially white, Christian, and patriarchal. Thus, the belief in American essentialism can motivate the exclusion of many members of actual American society as fundamentally "alien" to the culture.
The best course, then, is to jettison both our essentialism and our exceptionalism. There simply is no "true" America, and there are no qualities, good or bad, which define our political culture for all time. There are only the beliefs and practices of Americans in their roles as citizens, jurors, office-holders, and the like; and whether these beliefs and practices are, on the whole, good or bad depends upon the choices of each and all of us.