Jane Austen and Moral Instability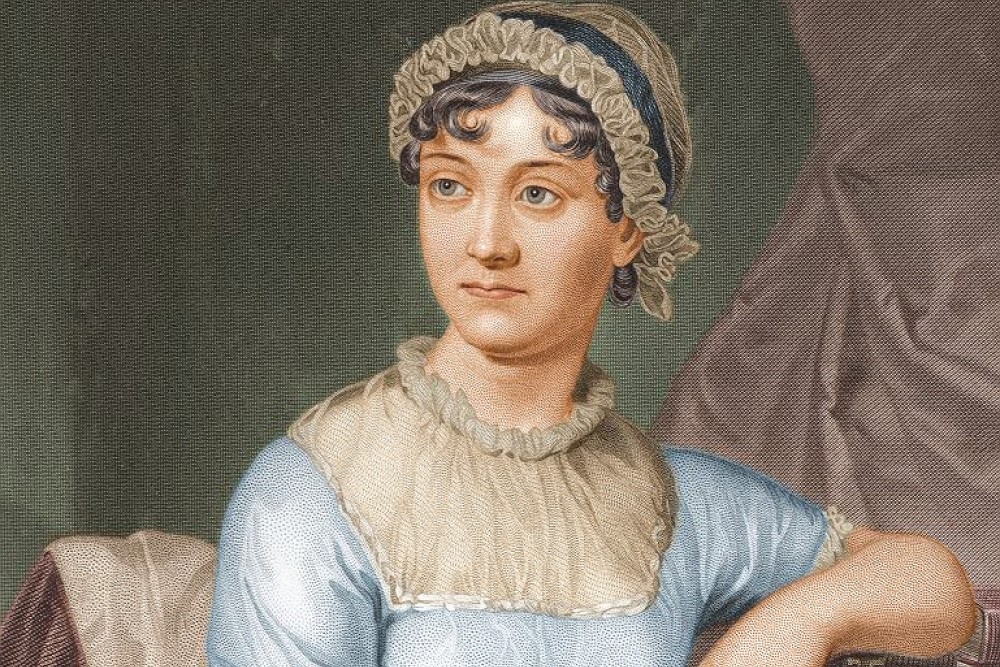 "Instability" is not a word many would associate with Jane Austen. Film and television adaptations have cemented her reputation within pop culture; we picture rolling hills, country balls, and restrained drama played out in charming domestic interiors. She seems uninterested in the Napoleonic wars, which were playing out just across the channel, or any of the weighty political matters that concerned the more "serious" writers of her day. She does seem interested in social unity, usually represented by a wedding, which punctuates the end of each narrative. Just desserts are always doled out by the narrator, and we always know which characters to root for. For these reasons, her name has become a byword for moral stability, and her version of the English countryside has come to represent a time when society wasn't subject to rupture and confusion, as it is today.
If the wide array of contemporary Austen-themed conduct books indicates anything, she's still seen as a touchstone for moral behavior. Her words have been used to demystify cooking, sex, and everything in between. This flourishing industry casts her as a sweet and world-savvy aunt, and further suggests that her novels can be pulverized into idiomatic quotes without context to serve a unified (if somewhat patchwork) Austenian ethic of the everyday.
And yet, beneath this seemingly tranquil surface lies a battleground for radical and conservative academics. Looking more closely at her works, it's easy to see why; what at first appears a unified moral vision is anything but.
Attributing a single moral philosophy to Austen is notoriously difficult. There are overarching moral messages that connect her novels, but what may be the subject of mockery in one text is celebrated within another, or even within the same text. The unstable positioning of the Gothic in Austen's first published novel, Northanger Abbey, is just one example. The novel's heroine, Catherine Morland, is a voracious reader of pulpy romances, which leads her to commit a series of social blunders. She suspects that her love interest's father murdered his own wife, in a plot lifted directly from the sensational literature of her day. But even though Catherine's suspicions are proven false, the widowed gentleman proves to be cruel in other ways, which indicates that there is a glimmer of insight in even the most ridiculous Gothic fiction.
Even Austen's engagement with class is hardly as black-and-white as it may appear. Often cited as the most fundamentally conservative element of her fiction, social and economic distinction are generally portrayed as the natural state of society, even beneficial to those at the bottom. Members of the landed elite like Mr. Darcy of Pride and Prejudice and Mr. Knightley from Emma especially embody this paternalism. And yet Austen's final published novel, Persuasion, celebrates the meritocratic royal navy, and denigrates the landed elite as undeserving of their wealth and privilege.
Academics from both sides of the political spectrum have claimed her as one of their own, a conflict which came to a head with queer theorist Eve Kosofky Segwick's groundbreaking article on Austen, "Jane Austen and the Masturbating Girl," in which she explores the cultural history of masturbation through Austen's Sense & Sensibility. The mere title (the actual paper had yet to be published) prompted conservative academic Robert Kimball to write Tenured Radicals, a pearl-clutching polemic on the moral bankruptcy of leftists in the academy, who dared link a bulwark of old-fashioned English morality like Austen with such a depraved topic. Kosofy's article, and Austen by association, clearly came to represent something much larger within intellectual discourse. Both Kosofky and Kimball had completely different views of this body of work, which again speaks to Austen's versatility as a writer and as a moral touchstone.
Like all great literature, her work opens the way for a myriad of interpretations. She was a novelist, not a philosopher, and was therefore not obliged to lay out her understanding of the world in treatise-form. As Thomas Keymer mentions in his book Jane Austen: Writing, Society, Politics, Austen recoiled from moralizing novels of her contemporaries, like those of Hannah More, for their Evangelical zeal and purely didactic approach to fiction. She herself wrote to her sister Cassandra, "I do not write for such dull Elves As have not a great deal of Ingenuity themselves." She is not calling for moral and imaginative complacency, but for wide-ranging sympathy and understanding.
Helena Kelly's 2016 book Jane Austen, the Secret Radical, is described by Google Books as "A brilliant, illuminating reassessment of the life and work of Jane Austen that makes clear how Austen has been misread for the past two centuries and that shows us how she intended her books to be read, revealing, as well, how subversive and daring — how truly radical — a writer she was." The impulse to claim her as a "secret radical" is perhaps as misguided as Kimball's attempt to claim her for conservatives, compelling as Kelly's interpretation may be. We can never completely reconstruct how Austen understood the world through her novels and surviving letters, but we can understand her as a three-dimensional person who may have had radical thoughts while still being a product of her time. When we move past our preconceived notion of her as a fixed moral touchstone, we can engage with her work in exciting new ways, which ultimately sharpens our understanding of how to be a person in an increasingly complicated world.