Third-Party Voting in 2020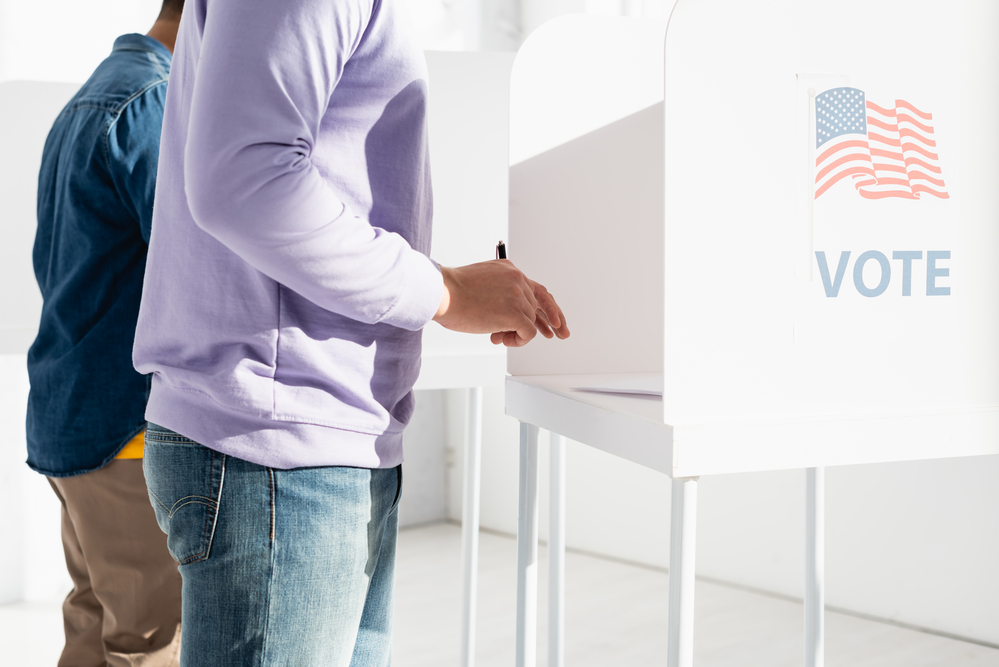 In the weeks leading up to the election, many high-profile celebrities have made last minute political endorsements and pleas for individuals to vote. On October 25, Jennifer Aniston shared an Instagram photo of herself dropping her ballot in the mail. In this post, she shared she had voted for Joe Biden, and in a short PS added "It's not funny to vote for Kanye. I don't know how else to say it. Please be responsible." Kanye West officially announced his presidential bid on Twitter back in July. While he is only on the ballot in 12 states, he has spent over $5 million on his campaign and traveled around the US to give campaign speeches. Perhaps this is part of the reason he did not take lightly to Aniston's comments, facetiously quipping "Friends wasn't funny either" in a now deleted tweet. While many might not consider West a serious candidate, he has spoken at length about his stances on political issues from abortion to police reform.
While it may not have been her intention, Aniston's post points to a larger moral issue not only about the issues at stake in this election, but about voting in general.
Is it wrong to vote for a candidate you know has no chance of winning? Is it okay to vote third party or to cast a protest vote?
From Ralph Nader to Jill Stein, third-party candidates are treated with extreme hostility by Democrats, especially when elections are a toss-up. It seems that every year, a substantial number of voters on the right or left cast votes for candidates that they know have no chance of winning. For some, these votes are out of 'protest' against the two-party system which does not represent their interests. To others, it is a joke, or perhaps a statement of their apathy toward or lack of faith in our political system as a whole. Five million votes were cast for third-party candidates in the 2016 election. It is fair to say these candidates were not serious, as they were not even given a space on the debate stage. While this might not seem like a lot compared to the overall sum of 138 million votes, some argue that votes for third-party candidates cost Hillary Clinton the election, as the number of votes for Jill Stein were far larger than the margin that Clinton lost by in swing states such as Michigan and Florida. Some have pointed out the flaw in such criticisms, because they assume that third-party voters would have voted for Clinton as their second choice.
However, the 2020 election is also very different from the 2016 election. In 2016, barely any major polls predicted Donald Trump's victory. Those casting third-party votes may have underestimated the consequential power of their actions. Donald Trump was also a wild card back in 2016, because though he made plenty of campaign promises, he had no political record to attest to his potential behavior in the White House. In 2020, both Trump and Biden are established politicians with a record. Though it's been four years, the lingering effect of the largely unforeseen election upset has left virtually no national poll in a position to underestimate Donald Trump. Those choosing to vote outside of the established norm are well aware of the potential consequences of failing to register a preference for one of the two likely candidates.
While it's clear that voting for a hopeless candidate in this election will generate a predictable outcome, is it possible that our vote can be morally assessed by more than the consequences we believe it will produce? Principled voting, often as a form of protest, has been labeled negatively as immoral, selfish, and wasteful. Voting as a statement is certainly not widely accepted in American culture, but that does not mean it has no moral basis. Under the "expressive theory" of voting, rather than seeking consequentialist ends, individuals vote in order to express their loyalty to a political party or an ideology. Voting might also be a way to keep in line with our principles and avoid hypocrisy. To go even further, could voting, or refusing to, be a way to keep our hands clean of any ills done by political leaders who will undoubtedly go on to make moral mistakes during their four years?
On the other hand, maybe our decision to cast a protest or principled vote is a reflection of one's total alienation from the parties in power. Studies have shown that most of us naturally turn to consequentialist moral decision making when under pressure. Principled stands, such as voting based on value rather than strategy, are often chosen when we perceive there is little at stake.
The perception that little is at stake in a presidential election has been labeled by many as one of inherent privilege, as there is often much more at stake for historically marginalized groups when it comes to which party holds the key to the presidency. Voting is still bafflingly inaccessible to many Americans based on inequities attributable to race, socioeconomic status, and criminal history. In order to combat this lack of access to civic influence, many on the left have appealed to altruistic intuitions. Altruistic voting is the concept that we should vote not for our own selfish interests, but for the welfare of others. Those who advocate for altruistic voting see politics as a method to enhance the collective good. In her aforementioned Instagram post, Jennifer Aniston appealed to altruism by urging her followers to "really consider who is going to be most affected by this election if we stay on the track we're on right now… your daughters, the LGBTQ+ community, our Black brothers and sisters, the elderly with health conditions." It is fair to say that for many, this election has come to represent much more than merely who will sit in the Oval Office for four years.
Many critics of altruistic voting point out the fact that its consequential justifications are not consistent with its low probability of consequential change. Regardless of practicality, is a good moral basis for voting? One could see the nobility in choosing to put one's selfish concerns aside for the betterment of society. However, there is often no clear moral choice when it comes to voting, as perfect candidates rarely exist. While you may seek to vote for the candidate who will protect a woman's right to choose, they might also have a questionable record in terms of criminal justice reform. Even if one plans to take an altruistic approach, there is no guarantee, in a system which consistently demands choosing the "lesser of two evils," that one will truly discern who to vote for.
How we moralize voting is hinged on what we really believe a vote means. Does it mean we wholeheartedly believe in the candidate on the ballot? Does it mean we think they are the most rational choice? Or is it simply another way to express who we are and what we believe in? How we answer these questions will reveal whether or not we believe voting Kanye 2020 is unethical.