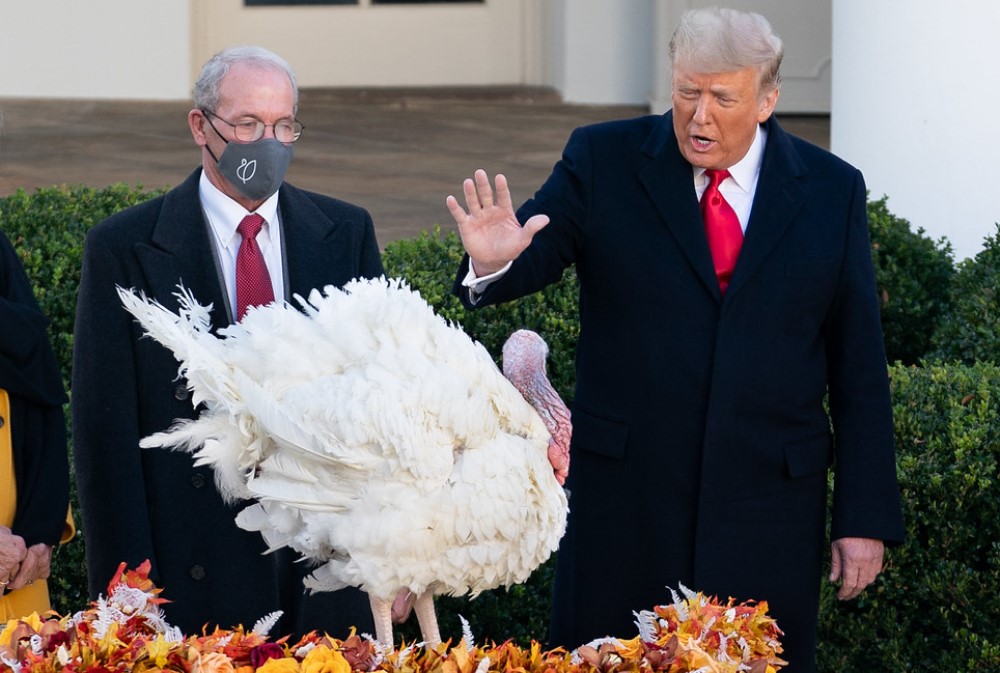 Back in October, I read the single greatest news article that I have ever read. It had everything you could want in a story: courage, a murderer turned hero, a thwarted terrorist attack, the London Bridge, a narwhal tusk, and a royal pardon. If you have not already read the article, you absolutely should; each paragraph is better than the one before.
But the story is not only a thrilling and satisfying narrative, it also provides us an excuse to talk about the ethics of pardons. This is a good thing, because I expect that, as happened in previous presidential administrations, we will see a flurry of presidential pardons before president-elect Biden is sworn in. It is always a good idea to think carefully through your principles before there is some controversy where you need to apply them. Otherwise it is far too easy to shift into principles that end up siding with your political tribe after a controversy arises.
Black's Law Dictionary defines a pardon as "the act or an instance of officially nullifying punishment or other legal consequences of a crime." In the United States, the power to pardon is possessed by the executive. The president can pardon federal crimes, while governors can pardon state crimes.
When we look at the ethics of pardoning, there are two types of questions we might ask. We might wonder about how extensive the power to pardon should be. These are questions framers ask when structuring a constitutional system. An example question is whether the president should be empowered to pardon him or herself? We might also wonder whether any given pardon is a good idea. These are questions that the executive branch asks before issuing a pardon. An example question is whether President Ford should have pardoned President Nixon. Note that these two questions come apart. Just as I can simultaneously think it is a really bad idea to own a gun and also think people have extensive rights to own guns if they choose to, so I can think that most pardons are a bad idea and yet also think the president should have broad power to pardon.
There are fascinating questions about how extensive the presidential power to pardon should be. But here I want to look at the second set of questions. Suppose that the president is empowered to pardon someone, when is it appropriate to exercise that power?
One context where pardoning might make sense is when the president believes a criminal trial was unjust, either in process or outcome. A recent example of this is President Trump's posthumous pardoning of the Boxer Jack Johnson. While there are many checks internal to the judiciary, the presidential pardon is probably the largest external check on incorrect judicial decisions.
Another context where pardoning seems justified is where the judicial branch properly applies the law, but where peculiar circumstances make the application of the law unjust. This is the justification for the presidential pardon given by Alexander Hamilton in the Federalist Paper No. 74. Alexander Hamilton explains the power to pardon is important because criminal codes have a "necessary severity" and so "without an easy access to exceptions in favor of unfortunate guilt" justice would often end up too "cruel."
Of course, neither of those two justifications are operative in this narwhal story. According to the NYTimes, in the U.K. "pardons for early release are generally recommended by officials in exceptional situations, such as if a prisoner risks his safety to prevent death or serious injury to another." Here, the idea is that pardons might be a way to recognize something particularly remarkable about an individual.
And indeed, many pardons do seem to track something about the individual. For example, it is not uncommon that famous people are much more likely to receive pardons for crimes. This may in part be in recognition of their accomplishments, but it is also simply a consequence of being much more likely to be brought to executive attention.
This brings us to one of the biggest worries about the use of pardons, namely that they are idiosyncratic and thus seem in tension with a commitment to equal treatment under the law. Suppose I am also in jail in the U.K. for murder. It could be that I, like Steven Gallant, turned my life around, am close with my child, and act as a role model and mentor. However, none of that will be enough to secure a pardon, I also need to have the opportunity to do something heroic. Opportunities for heroism, however, are not evenly distributed throughout society. And thus some people will have access to pardons that others do not, merely as a matter of luck.
Indeed, this worry about the idiosyncratic nature of pardons applies even to pardons designed to act as a check on the judiciary. This issue is examined in detail in The West Wing episode "Take This Sabbath Day." President Bartlet faces the question of whether to commute the sentence of a man soon to be executed. President Bartlet, who is Catholic, believes the use of the death penalty is unjust. However, he also worries about punishment for a crime changing based on the beliefs of whoever happens to be president. Toward the end of the episode he expresses his frustration:
"I commute this guy, for no particular reason other than I don't like the death penalty . . . And the next president sees it in a different way. . . .  We cannot execute some people and not execute others depending on the mood of the Oval Office. It's cruel and unusual."
So what should we think about this worry concerning equal justice?
It is actually a tricky legal principle. Is it unjust to give a good thing to one person, if you cannot also give the same good thing to others who are equally deserving? Obviously, certain motivations for giving the good thing only to some people are unjust. For example, if you pardon one person and not the other because the one person is famous, then you are doing something wrong. But what if you would be willing to pardon anyone in that situation, you just know you will only hear about famous people. Then is it still unjust to pardon the famous? This question has important parallels. It would be unjust if I chose to only give money to white beggars and not to black beggars. But would it be unjust if I gave money to every beggar I see, I just also happen to live in a part of town where almost all the beggars I see are white?
It seems plausible that in the interpersonal case, one does not need to be too concerned about the unequal application of personal charity. However, it also seems plausible that in cases of criminal law, we have special reason to maintain not just justice before the law, but also the equality of all persons. It matters, if for no other reason that it not look as though the rich and famous get access to extra opportunities to avoid punishment.
If you think that it is important that everyone have an equal chance before the law, then the use of the power to pardon should be extraordinarily rare. If, instead, giving a good thing to someone is still good, even if you can't also give it to another, then probably the presidential pardon is an underutilized tool.