Under Discussion: Democracy Demands More than Your Vote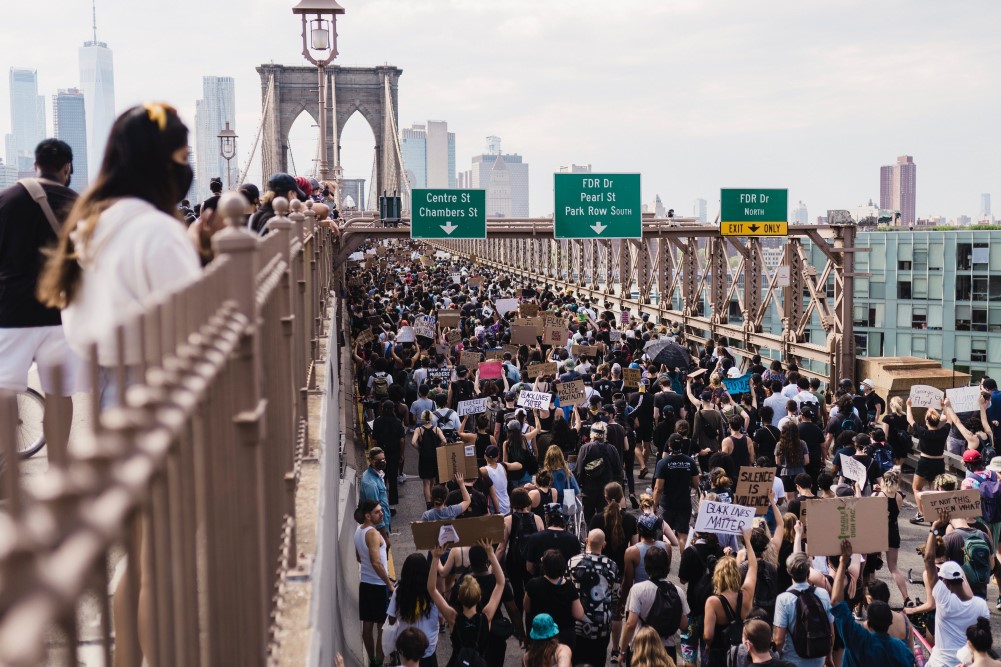 This piece is part of an Under Discussion series. To read more about this week's topic and see more pieces from this series visit Under Discussion: Democracy's Demands.
It took roughly thirty minutes for people to start arguing about what to do once reports of Supreme Court Justice Ruth Bader Ginsburg's death became public on the evening of September 18th. With fewer than two months left before Election Day, it was not immediately clear that Ginsburg's replacement could — or should — be rushed through the confirmation process before November 3rd. And many were quick to say, in no uncertain terms, that they thought it inappropriate for the president to nominate another justice, given the political circumstances. Consider this tweet from author and producer Reza Aslan:
If they even TRY to replace RBG we burn the entire fucking thing down.

— Reza Aslan (@rezaaslan) September 19, 2020
Nevertheless, it quickly became clear that partisan interests would indeed take center stage in the final weeks of the election cycle with (eventual nominee) Amy Coney Barrett's name circulating as a likely contender for the seat even before Ginsburg's body had been laid to rest. Despite public opinion polls indicating that a consistent majority of voters want the winner of the 2020 presidential election to nominate RBG's replacement, President Trump and Senate Republicans have worked hard to pack up the Supreme Court before November, nonetheless.
And, despite Mr. Aslan's September suggestion, nothing has been burned down.
While some protests, both in Washington and at the homes of several Senate leaders, have materialized, the dominant prescription to voice public opinion on the matter has pointed towards one place: the ballot box. In a manner reminiscent of former President Obama's famous "Don't boo; vote" call, politicians, pundits, and other media personalities have, with increasing fervor, exhorted the American people to get to the polls. And though it is hard to measure the impact of a "Souls to the Polls" event or a special reunion of Aaron Sorkin's The West Wing, early calculations suggest that Americans are indeed voting in record-shattering numbers, with voter turnout in 2020 already matching 12% of total voter turnout in 2016.
Of course, for someone specifically interested in voicing their displeasure at the partisan abuse of the currently-vacant SCOTUS seat, pleas to vote in an election that won't be decided (and whose winners won't be installed) until well after Judge Barrett becomes Justice Barrett might seem beside the point. Furthermore, even if the timeline were different, the SCOTUS-motivated voter would be casting her ballot in support of a candidate who would also receive support from thousands of other voters and it's far from clear that the entire group would be voting for exactly the same reasons. Politicians frequently aim to build coalitions of differently-motivated voters for precisely this reason: opinions vary, not only about answers to political questions, but about which questions are most important to ask in the first place. For all its virtues, the "one vote, one voice" mantra fails to account for the unavoidable homogenization of voter's voices in support for a single candidate.
This is roughly why the French philosopher Jean-Paul Sartre called voting a "trap for fools" that prevents people from exercising their true power as citizens. Championing instead the formation of interest groups that can wield political power about the specific values around which they unify, Sartre saw voting as an institutional mechanism for "serializing" the citizenry into complacent powerlessness. According to Sartre:
"When I vote, I abdicate my power — that is, the possibility everyone has of joining others to form a sovereign group, which would have no need of representatives. By voting I confirm the fact that we, the voters, are always other than ourselves and that none of us can ever desert the seriality in favor of the group, except through intermediaries. For the serialized citizen, to vote is undoubtedly to give his support to a party. But it is even more to vote for voting…that is, to vote for the political institution that keeps us in a state of powerless serialization."
By assimilating variable support for a panoply of initiatives and desires into the discrete affirmation of only a handful of individual politicians, Sartre saw representative-based voting as a flattening of a person's public agency.
And, indeed, the drafters of the U.S. Constitution would seem to agree. Writing in the Federalist Papers, James Madison warned about the dangers of public sentiment forming "factions" that could ultimately overthrow the system he and his friends were constructing. To Madison, this was a problem for two reasons: firstly, populist forces could easily be swayed by the manipulative power of demagogues (a point Alexander Hamilton discusses at length in Federalist No. 68), and, secondly, voters could form factions — what Sartre would call "groups" — that would threaten the "various and unequal distribution of property" within the United States. In Federalist No. 10, Madison outlines a defense of what would become the Electoral College as a cooling mechanism that could prevent popular ideas from being quickly turned into federal policy, saying "A rage for paper money, for an abolition of debts, for an equal division of property, or for any other improper or wicked project, will be less apt to pervade the whole body of the Union than a particular member of it." Indeed, Madison's "republican remedy" looks strangely similar to Sartre's "powerless serialization," but whereas the former views it as a solution to a problem, Sartre sees it as a problem of its own.
But, for all their disagreements, I think that Madison and Sartre would nevertheless agree on at least one thing: the practice of voting is not the chief duty of a democratic citizen. When not plagued by manipulative efforts to suppress voter turnout, the standard electoral process is a relatively easy responsibility that takes — again, in ideal circumstances — only a short amount of time every few years. But Sartre ridiculed those who "have been persuaded that the only political act in my life consists of depositing my ballot in the box once every four years," arguing instead that the life of the political agent is suffused with a constant responsibility to attend to, speak up about, and organize both supports and protests in service of public issues.
In a similar way, later in his life, Madison defended not only public education, but specifically for "the poorer classes to have the aid of the richer by a general tax on property" so that, among other things, the electorate would be both more informed and more equipped to engage in political life; indeed, to Madison, the operation of such "learned institutions" to enlighten the public is "the best security against crafty and dangerous encroachments on the public liberty." So, for both Madison and Sartre, politics was not simply a matter of semi-annually marking a ballot, but required diligent, regular attention to important matters of public concern, educating oneself and others so as to bring about the overall best state of affairs.
To be clear: my point is not to cast doubt on the value of suffrage, but to recognize that whatever virtues (pragmatic or otherwise) it may hold, the general election does not exhaust the duties of a responsible citizen in a modern democracy. Protestors, educators, and other servants of civic welfare who care for justice to be understood and upheld are just as crucial for the vibrant operation of our republic as are poll workers and voters.
As Hamilton himself wrote in The Farmer Refuted, "The sacred rights of mankind are not to be rummaged for among old parchments or musty records. They are written, as with a sunbeam, in the whole volume of human nature." Democratic citizens who take that identity seriously should exercise these human rights and responsibilities in ways that far exceed the always-soon-to-be-musty ballot box.