Ponderous Chains; or, How the Supreme Court Escapes Precedent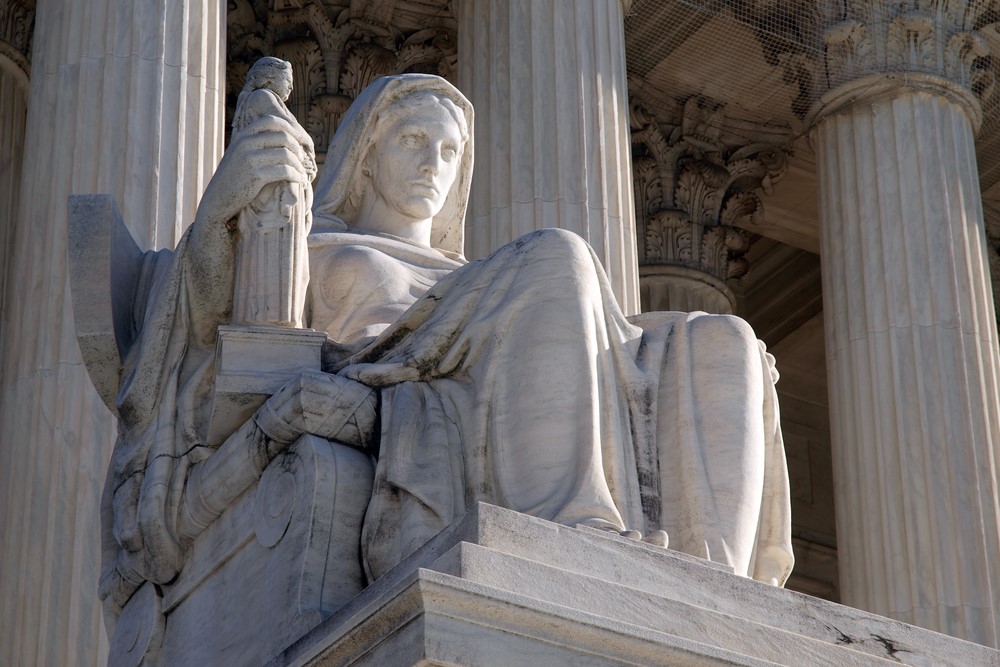 Like Jacob Marley, the Supreme Court of the United States wears the chains it formed in life; unlike Jacob Marley, the Supreme Court is not always resigned to be strictly bound by these chains. This is a simile. It is also in the form of a fact-to-fact comparison law students are taught to write in their first year. Such legal similes are a devious device by which the Court slips its ponderous chains — but only in its subtler moments. A court will avoid following a rule while leaving it in place by arguing that it doesn't apply in a particular case — by "distinguishing" a past binding case from one under consideration. At other times the Court casts-off one of its coils altogether like Dorothy Parker's apocryphal book. It is this less subtle maneuver that commentators worry about when the make-up of the court radically changes, as it has over the last four years. Now with President Donald Trump poised to name a third justice to the Court, after Neil Gorsuch (replacing Antonin Scalia) and Brett Kavaunagh (replacing Anthony Kennedy), the Court is changing more at one time than it has since the presidency of Franklin D. Roosevelt.
The Supreme Court of the United States ("SCOTUS") has nine justices. That number is not fixed anywhere as a matter of law, but is how many seats there have been since 1869. That makes 5 to 4 four the ratio for majority opinion. Why does that matter? All courts in the US operate on the basis of a principle called stare decisis, which is Latin for "stand by what is decided." This principle creates a system of judicial precedents that oblige "lower" courts to rule in a manner consistent with "higher" courts, and creates a strong presumption that a given court will decide in a manner with its own past decisions. For example, decisions of the Supreme Court of Pennsylvania bind the intermediate appeal courts of that state, as well as all of the state trial courts. The decisions of the 3rd Circuit Court of Appeals bind the Federal District Courts of Pennsylvania, New Jersey, Delaware, and the Virgin Islands. And of course the decisions of the SCOTUS bind all other courts: it is the "highest court in the land," and therefore all other courts are lower with respect to it.
A majority opinion is required for a decision to be binding. Or, more precisely, a single rationale (implicitly) approved by at least five justices is required to bind lower courts. This rule, the "Marks Rule," was promulgated in Marks v. United States, where the court was primarily concerned with deciding due process issues about the retroactive effect of binding decisions made while other cases are in the process of adjudication. If there is no common rule or rationale embodied by the collective opinions of the justices, then their opinions are merely persuasive rather than binding. When the SCOTUS does issue a majority opinion, in addition to binding lower courts, it also creates a precedent that it will generally hold itself to. Reading a SCOTUS opinion, you will see the justices often refer to past Court decisions as reasons for their decision — sometimes with open distaste. For example, in Grable & Sons Metal Products v. Darue Engineering & Manufacturing, Justice Clarence Thomas invited an opportunity to overrule Court precedent concerning federal court jurisdiction in his opinion concurring with an unanimous court. That is, in the same breath he indicated both "this is the rule" and "I would like to obliterate this rule." Recently, Thomas also indicated that he would entertain cases aimed at overturning the qualified immunity rule.
Why would a Justice or the Court invite the opportunity to hear cases in order to overturn precedent rather than simply doing it? No court can just issue any decision on any matter it wants to apropos of nothing. There are complicated matters concerning which court ("venue") can hear which claims ("subject matter jurisdiction") over which people ("personal jurisdiction"), all of which haunt the sleep of law students. Further, courts usually cannot decide any matters that are not explicitly raised by parties to a legal proceeding: they cannot issue rulings on their own initiative, or "sua sponte." Finally, the supreme courts of the various states and the United States itself are not generally obliged to hear any particular case. Instead these courts exercise their discretion, guided by their own procedural rules, when determining what cases to hear.
Now the anxiety of liberal Court-watchers becomes clear. With Amy Coney Barrett's confirmation to the seat made empty by Justice Ruth Bader Ginsberg's death, the balance of the Court would shift to a clear conservative majority. The conservative bench would comprise Justices Barrett, Kavanaugh, Gorsuch, Alito, Thomas, and Chief Justice Roberts, while the liberal bench would have only Justices Sotamayor, Kagan, and Breyer. In light of this composition, people eager to overturn decisions in disfavor with conservatives (for example, Roe v. Wade) would attempt to obtain review for as many cases that could present an opportunity for the Court to overturn past precedent. Conservative members of the Court might even encourage that in their opinions on related matters. There would then be a new precedent, binding on all lower courts, until a time when a later Court with a different composition might decide to change its mind again. However, as Justices serve until they die, retire, or are removed pursuant to impeachment, it takes a long time for the composition of the court to evolve "naturally."
In light of the Republicans blocking Obama nominee Merrick Garland during an presidential election year, and their subsequent rush to appoint Amy Barrett in the last few weeks prior to a presidential election, many urge an "artificial" alteration of the Court's composition. The alternative, increasing the number of seats on the court (i.e., "court packing"), was openly discussed by Democratic presidential candidates Pete Buttgieg, Amy Klobuchar, Cory Booker, and current Democratic Vice-Presidential candidate Kamala Harris. However, that option requires Congressional cooperation and popular support and is likely to create pushback. In all likelihood, Democrats will have to wait a long time to appoint a new Justice to the court, even if Joe Biden wins the 2020 election for President of the United States.