The Ethics of Climate Change Protest: Should Protest Be Funny?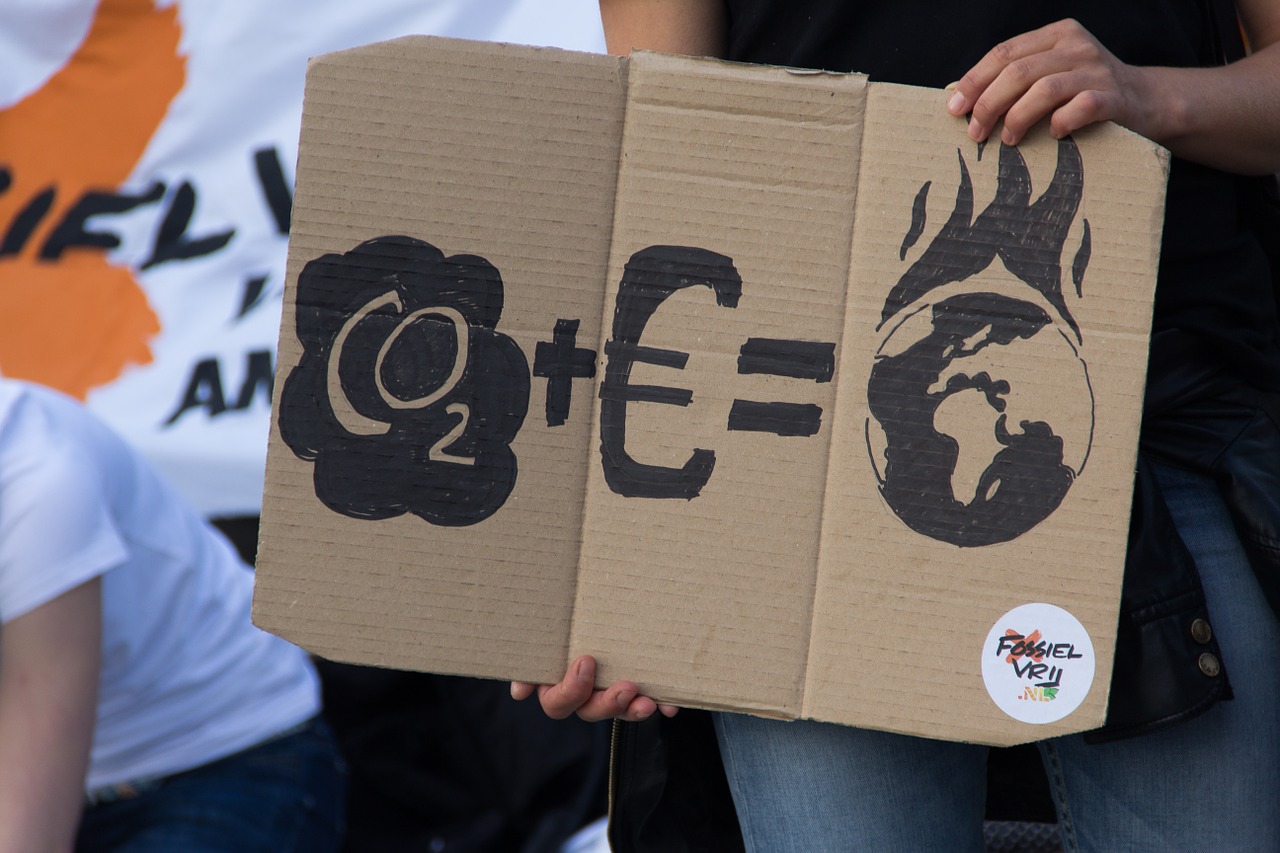 The Global Climate Strike, which took place last September and involved over 150 countries, counted nearly 4 million young people among its numbers. This admirable show of support perhaps seems less shocking given the increasing prominence of young people in climate change activism. Greta Thunberg is perhaps the most famous of these, but others like Autumn Peltier and Xiye Bastida have also become important advocates for the fight to save the planet.
Because political protest itself has become increasingly visible online, signs from the climate strike inevitably went viral. The vast majority of signs spoke to the unblunted rage and helplessness inspired by political ineptitude (a perfect example, seen in the header of a Vox article on the climate strikes, simply reads "DON'T FUCKING KILL US"). However, many other drew on the language of memes and online humor to articulate frustration. In one example, a teenage girl holds up a sign with the words "THIS IS NOT WHAT I MEANT WHEN I SAID…DIE LIT" floating above a planet half-engulfed in flame. Another sign reads, "Winter is Not Coming," a distortion of a Game of Thrones quote that has become a meme in itself. These signs, and many others like them, require fluency in the language and culture of social media. Almost all young people are equipped with this form of literacy. As Bridget Read notes in an article for The Cut, "Gen Z has a knack for incorporating its politics into its internet-inflected, ironic, and earnest self-expression so uncannily, so it's to be expected that its IRL signs would be as funny, charming, and devastating as the best 'climemes'."
Read coins a startling new word in that last sentence, though climate change memes were hardly invented by the protests of last September. While "climemes" is a useful way of describing the ever-growing phenomenon of climate change memes, it should prompt us to ask what the moral ramifications of "memeifying" political protest are. Does humor have a place in our collective reckoning with the environmental catastrophe, or does it impede active and sustained engagement in social change?
On the one hand, memes are more likely to be seen by younger people who aren't already actively engaged in environmental activism. Because they are made to be shared, memes certainly increase the visibility of issues like climate change for a diverse audience. If many people didn't read lengthy articles about the climate protests, most at least saw images of funny protest signs on their Twitter feeds. However, memes inherently have an expiration date, and it eventually becomes blasé to share older memes. Given that climate change will have long-lasting ramifications, is such a short-lived format really best for fostering long-term engagement?
This leads into another question, of whether or not memes encourage those who share them to physically participate in activism. The idea of "armchair activism," or activism that involves nothing more than sharing information with others online, has become controversial in recent years, but one could argue that sharing memes falls under this category. However, it should be clear that the protestors who make such signs are by no means working against their own cause, or that encouraging engagement is even the goal of climemes. A bitter sense of humor may be all we have in the face of looming catastrophe, a way for us to vent frustration and grief.
This issue is rooted in a much older debate about the overall purpose of humor. Aristotle, for example, was skeptical about the purpose of humor, and separated it sharply from tragedy. In Chapter 5 of The Poetics, he states that,
"The tragic and the comic are the same, in so far as both are based on contradiction; but the tragic is the suffering contradiction, the comical, the painless contradiction […] the comic apprehension evokes the contradiction or makes it manifest by having in mind the way out, which is why the contradiction is painless. The tragic apprehension sees the contradiction and despairs of a way out."
His argument is that both tragedy and comedy are rooted in contradiction. This could be the contradiction between appearance and truth on which much of comedy hinges, or the contradiction between desire and reality which is often at the center of tragedy. Contradiction is just one thing climate change protests are pushing back against; namely, the contradiction between grim reality and the insulated world in which many politicians are living it, the contradiction between the urgency of the situation and the lack of response to it.
Aristotle's definition of humor vehemently excludes pain. However, the kind of humor utilized by protestors has a painful edge. As Aristotle said, tragedy and humor are closely linked, but as climate change alters every aspect of life on earth, the lines between tragedy and comedy become indistinguishable. This is evident in all climemes, and whether or not circulating them is fully ethical, their existence speaks volumes about the modern day tragedy of environmental destruction.