American Social Media Support of the Hong Kong Protests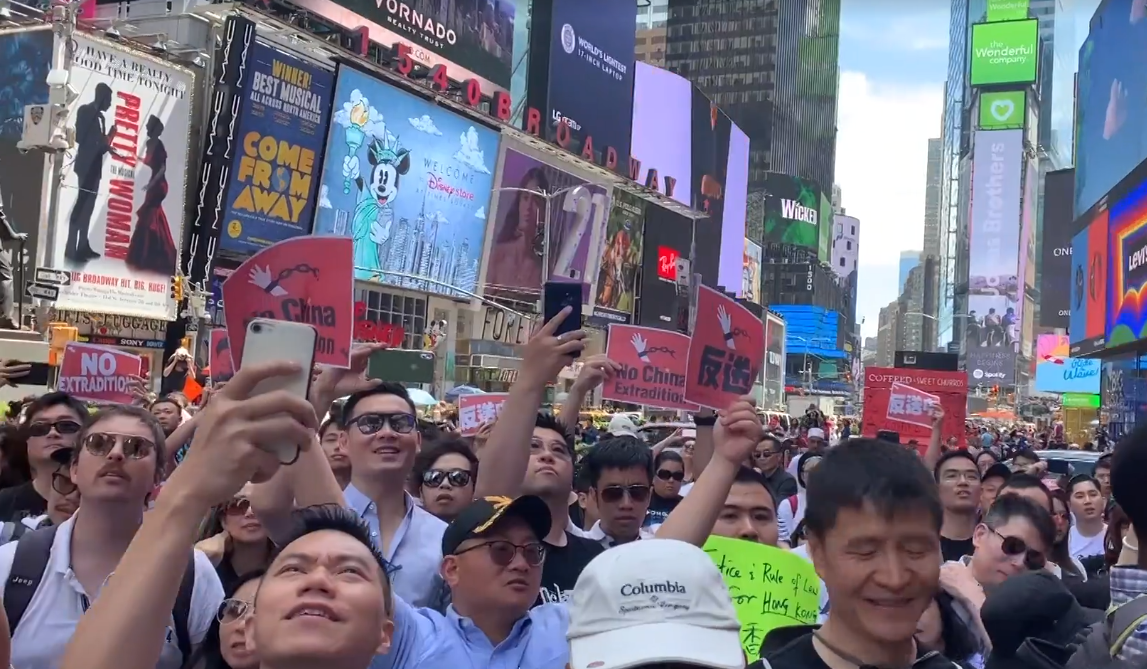 Since March of this year, there have been protests in Hong Kong which have gained mainstream media attention and regular coverage since they began. The protests began over a bill proposed by the Hong Kong government that would have allowed for the extradition of Hong Kong citizens to mainland China if China's government found them guilty of some crime.
Hong Kong, a British colony until 1997, has a long history of more liberal and democratic governance than the mainland. When returned to China by the British in 1997, Hong Kongers were promised a policy of "two systems, one country." However, many believed that this law would erode the independence of the Hong Kong government and the freedoms of its citizens. Mainland China is known for not being friendly to antagonistic voices, jailing those who dissent and censoring speech generally. While free speech is technically guaranteed by the Chinese Constitution, people can be arrested for endangering vaguely defined "state secrets" which allows for mass censorship. If a Hong Konger, used to the free speech protections afforded to a citizen of Hong Kong, dissented against the mainland government to such an extent that the Chinese government wished to arrest him for endangering state secrets, this proposed bill would allow him to be extradited to China. Essentially, the free speech of Hong Kong would become the "free speech" of China.
As these protests and confrontations between protestors and police grow more violent, Hong Kong is getting more attention from Western media and from Western social media. Many people on social media are calling for boycotts of the NBA and of Blizzard, a video game production company, for bowing to China in silencing employees supporting the Hong Kong protests. Far more are simply expressing support for the Hong Kong protests, a fact being taken advantage of by Hong Kong protestors. During the protestors' occupation of the Hong Kong airport in August, signs like this one saying "Sorry for the inconvenience. We are fighting for the future of our home" made the rounds on social media. Importantly, the message on the sign was written in English, as are many of the signs used in the protests. While English was the official language until the 1970s, far more people know the local dialect of Chinese, Cantonese, than know English.
Clearly, the purpose of these signs being written on in English is for people to take photos of them and to spread them around on English-speaking social media rather than for other Hong Kongers or even mainland Chinese to read them. English-speaking nations and their people are typically very supportive of the sorts of liberal democratic values for which Hong Kongers are fighting. However, one has to wonder to what extent English-speakers, particularly Americans, should be spreading these Hong Kongers' messages around.
The United States has a long history of intervention in the affairs of foreign nations. Some people believe that this period of intervention should end, that Americans and the American government should focus on domestic affairs instead of sticking their noses into the affairs of others. People point to the chaos in the Middle East, or the historic meddling of the US in Latin America to demonstrate the common proverb that "the road to hell is paved with good intentions."
As China would have people see it, the Hong Kong protests are an internal affair (for discussion see Tucker Sechrest's "The Hong Kong Protests and International Obligation"). Rather than fighting for freedom, mainland Chinese people and a portion of Hong Kongers see protestors as damaging social stability. Indeed, in response to the Houston Rockets' general manager Daryl Morey's tweet in support of the protests, the Chinese consulate in Houston said that "anybody with conscience would support the efforts made by the Hong Kong Special Administrative Region to safeguard Hong Kong's social stability." If Americans have anything to say about the protests, China says, it should be in support of normal governmental processes working to resolve the conflict and maintain stability. Supporting the protestors, no matter one's personal beliefs on the issue, clearly is disrupting the social order. Roads are sparse and hotel rooms are cheap as tourists decline to visit. Fights between protestors and police are regular. Typically, when the US destabilizes another country's governmental authority, collapse and chaos follow.
At the same time, while there are clear examples of US intervention going wrong, especially when it is militaristic and government-backed, it is not clear that a bunch of Americans tweeting in support of the protests will cause the same damage. For a long time, people's social media posts in support of this or that social issue, especially with regards to protests, were labeled examples of "slacktivism" and "virtue-signalling." The idea is that the posts people make on social media do not foment any real social change but are selfish attempts for people to make themselves look like good people. In essence, some claim that people posting about the protests do not care enough to actually support the protestors, but are simply "making it about themselves."
Ultimately, however, this analysis falls apart when social networks are analyzed. Research out of NYU and University of Pennsylvania shows that "occasional contributors," that is, people who are not political activists, posting about this sort of thing constantly, are vital for information about the protests to spread. Importantly, this pattern, dependent on occasional contributors, was not found in other large scale social media discussions, such as about the Oscars or the minimum wage. Hong Kong protestors recognize this fact as, again, demonstrated by their use of English in their protests. To get real change, even a ton of protestors on a small island off the coast of China cannot act alone. Rather, Hong Kong protestors, if they want their government to be pressured need to get the attention of the powerful English-speaking nations of the world. Social media posts bubble upward with even world leaders eventually taking heed of them. Donald Trump has even suggested talks with Chinese President Xi Jinping as a result of this social media attention, he himself tweeting about it.
Whether the United States, its government or its people, should be commenting on or intervening in the domestic affairs of other nations is an open question. However, it is undeniable that the Hong Kong protestors, if they are to maintain their liberal democratic society, need the support of other nations. And, that support is greatly influenced, in nations with free speech, by the most common avenue of political speech today, social media. As is often said "the revolution will not be televised," but, as we see today, it might be tweeted.