Is J. Cole the Savior of Hip-Hop?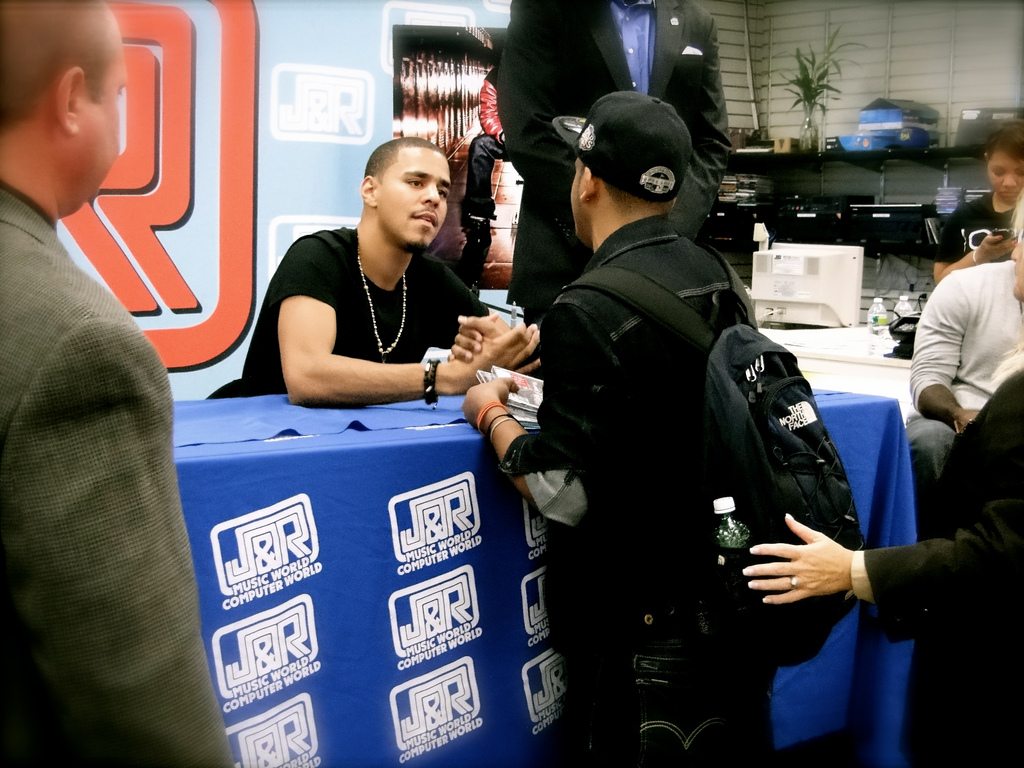 Editor's note: this article contains quotations that use vulgar and/or offensive language.
The rap game has always been divisive. Since the birth of hip hop, the music genre has been divided into two schools of thought: the old school vs the new school. For decades, the founders of rap, the pioneers who provided the foundation for hip-hop, have remained locked in an seemingly everlasting battle with the up-and-coming rappers who are shifting the sound of the genre. Those who advocate for old school rap, otherwise known as "old heads," claim that old school rap is vastly better than the new rap that is coming out and that present day rappers are ruining the craft. In turn, up-and-coming rappers have responded by saying that the old heads are outdated and simply can't accept change. Despite the controversy, rapper J. Cole has seemed to find a middle ground and begun to end the debate without picking a side. The Dreamville rapper's influence has impacted the rap game for the past decade, and seems to be making a complete shift in hip-hop. Both Cole's music and how he impacts others begs the question: is he the savior that hip-hop needs?

The state of hip-hop today is one that can't be described with a single adjective. Even now, in real time, rap music continues to morph into something different as new artists apply their own spin to the genre. Regardless of whether new rap is good or bad, it is making hip-hop lovers and scholars, artists and fans alike, pick a side. It could be argued that the division in rap can take away from the genre itself. Perhaps J. Cole is the emcee who can regulate the issue. But why J. Cole? After all, there are many other impactful rappers such as Kendrick Lamar and Childish Gambino who could also be considered saviors of hip-hop. Similar to Cole, the messages in Kendrick songs such as "i", and Gambino's hit "This is America" indicate that they are leaders of the genre and individuals who can bring stability to the rap game. What makes J. Cole stand out?

For starters, 2018 was a huge year for J. Cole. The North Carolina rapper kicked off the year by dropping KOD, his fifth studio album in April. The project came in as No. 1 on the Billboard 200 albums chart. It was the year's biggest week for an album, bringing in 397,000 album equivalents in a little under a week after the album's release. KOD consisted of introspective songs regarding Cole's legacy, but it also comments on the state of the rap game and the newer artists that have inherited it. On the track "1985," Cole touches on the divide between the old and new school of hip hop. He raps:

"All these niggas popping now is young,
Everybody say the music that they make is dumb,
I remember I was 18,

Money, pussy, parties, I was on the same thing,

You gotta give a boy a chance to grow some"

Cole also discusses the persona that many rappers in the past several years have adopted. They're tattooed from head to toe, do a range of different drugs, and use mumble rap as their go-to flow. As if he is talking directly to one of the new generation of rappers, Cole goes on to say:

I got some good advice, never quit tourin',
'Cause that's the way we eat here in this rap game,
I'm fuckin' with your funky lil' rap name,
I hear your music and I know that rap's changed,
A bunch of folks would say that that's a bad thing,
'Cause everything's commercial and it's pop now."
After KOD released, "1985" turned heads. It made some members of the hip-hop community rejoice and it rubbed others the wrong way, specifically rapper Lil Pump. Considered one of the new generation of rappers who uses mumble rap, the Florida rapper had dissed J. Cole on a track called "Fuck J. Cole" that was teased on social media, but never released. "1985" was believed by many to be J. Cole's response, including Pump himself. He responded to "1985" over social media and surprisingly, rather than Cole giving a rebuttal, a video emerged with Lil Pump and J. Cole interviewing each other. The two emcees sat down in Cole's recording studio, The Sheltuh, and talked about how they came up in the rap game, their similarities, their differences, and ultimately reconciled over the rap beef from before. The exchange demonstrated how although Cole was commenting on the new generation of hip-hop, he wasn't demonizing it. In fact, his connection with Pump shows how he can bridge the gap between the old school and the new school. At 34 years old, J. Cole technically should be considered an "old head." After all, he signed with Jay Z's Roc Nation label back in 2009 after founding his own Dreamville Records label in 2007. But Cole's music continues to evolve, so it's difficult to categorize him with the old head emcees who haven't been making music since the early to late 2000's. Cole talks about the disparity between hip-hop generations and where he fits on "Middle Child," a single he dropped in January of 2019. The song confirmed that Cole is a hybrid, possessing the ability to connect to both younger and older generations of hip-hop. The song is Cole reflecting on his current position. He raps:

"I'm dead in the middle of two generations,
I'm little bro and big bro at once,
Just left the lab with young 21 Savage,
I'm bout to go and meet Jigga for lunch"
This line exemplifies Cole's position of being in the middle of hip-hop generations, as he is collaborating with artists like 21 Savage, but also working with artists like Jay-Z, who's been in the rap game for over twenty years.

Regardless of age, Cole continued to bridge the gap between the old school and new school through the songs that he featured on throughout the rest of 2018. Cole ended up hopping on the tracks of various veteran emcees, including Wale and Royce da 5'9. But he also featured on recent Dreamville signee JID's song "Off Deez," as well as R&B/hip-hop artist 6lack's song Pretty Little Fears. Cole then capped off his features for the year when he hopped on rapper 21 Savage's hit song "A Lot" in December. JID, 6lack, and 21 are all younger artists who are on the rise in hip-hop and have a very different sound than Cole himself. Collaborating with them demonstrates how the old school and and new schools of hip-hop can coexist.

But the overarching question is: does Cole's ability to connect the hip-hop generations make him rap's savior? It could be argued that he's not the only veteran rapper working with younger artists. On his most recent album, Dedication 5, Lil Wayne featured the late XXXTENTACION. Drake has rapped on songs with 21 Savage and other young artists such as BlocBoy JB. Kanye West, no matter how controversial, has also bridged the gap between the new hip-hop generation by working with artists such as Lil Pump and YNW Melly. A counter argument could be that J. Cole simply impacts listeners in a different way than other rappers do in terms of the messages that his raps convey. Cole talks about politics like in tracks like "High for Hours," where he reflects on a conversation with former President Obama about police brutality. Or he'll talk about beauty standards like he did on his single "Crooked Smile." The positivity in Cole's music can be inspiring for listeners, and that inspiration isn't something that all rappers can achieve. Still, it could be argued that Kendrick Lamar also has a positive impact with his music and therefore could also be rap music's savior. For instance, Kendrick's song "Complexion" talks about self love and embracing blackness. Therefore, is it safe to say, with full confidence that Cole is hip-hop's savior? It's possible, but the music from other impactful artists cannot be ignored. Most likely, it'll be left to time to decide who will have the most impact on the music genre.