Telling Stories, Seeking Justice: The #MeToo Movement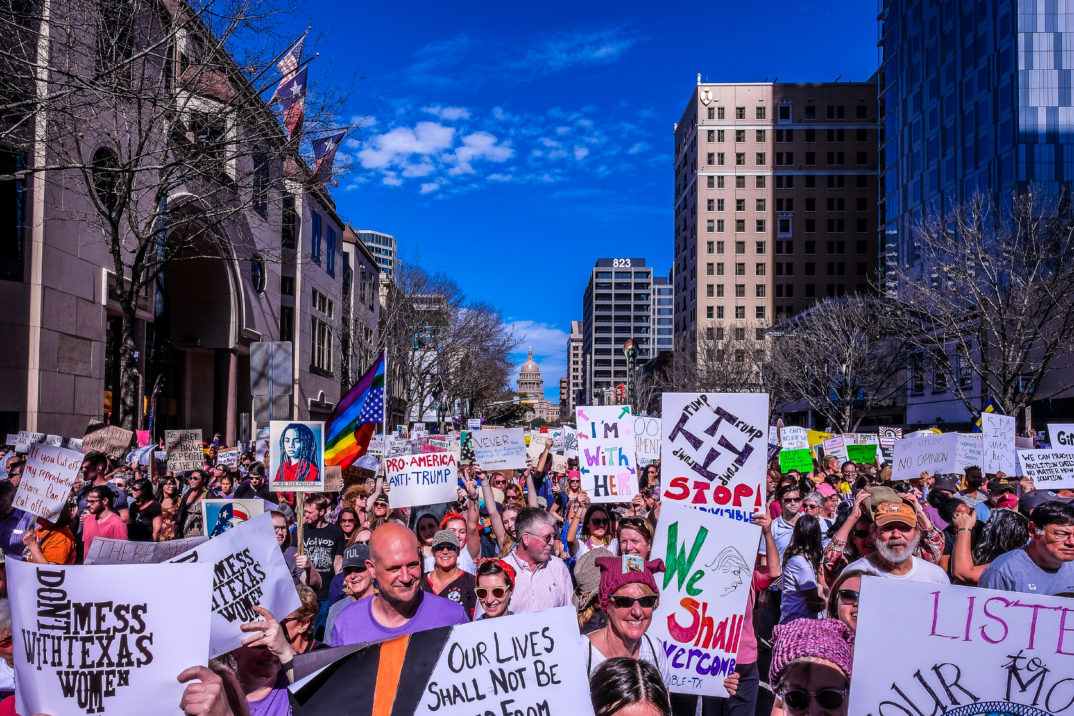 This article has a set of discussion questions tailored for classroom use. Click here to download them. To see a full list of articles with discussion questions and other resources, visit our "Educational Resources" page.
---
When Tarana Burke served as a youth worker, she heard her "share of heartbreaking stories from broken homes to abusive or neglectful parents." A little girl, Heaven, reached out to Burke to talk in private, relaying stories of "her mother's boyfriend who was doing all sorts of monstrous things to her developing body." Unable to handle the horror, Burke interrupted and directed the girl to a different counselor. Haunted by her response, Burked reflected, "as I cared about that child, I could not find the courage that she had found. I could not muster the energy to tell her that I understood, that I connected, that I could feel her pain." Shocked and hurt by the rejection, Heaven walked away, and Burke remembers the moment: "I watched her put her mask back on and go back into the world like she was all alone and I couldn't even bring myself to whisper…me too."
The first "#MeToo," Burke started the movement and also founded JustBe Inc., "a youth organization focused on the health, well-being and wholeness of young women of color." Last weekend, Actress Alyssa Milano posted on Twitter, rekindling the movement: "Me too. Suggested by a friend: "If all the women who have been sexually harassed or assaulted wrote 'Me too.' as a status, we might give people a sense of the magnitude of the problem." The movement resurfaced as the cascading allegations of Harvey Weinstein's perpetrations of sexual assault flooded in by the dozens. Spreading rapidly across social media platforms, the movement quickly came to life: "On Facebook, there were more than 12 million posts, comments and reactions in less than 24 hours, by 4.7 million users around the world, according to the company. In the U.S., Facebook said 45 percent of users have had friends who posted 'me too.'"
Anna Walsh, writer for The Washington Post, notes that there have been many hashtag movements like this one, listing #YesAllWomen in 2014 and #NotOkay in 2016, when then-presidential candidate Donald Trump dismissed his conduct in a video that emerged — in which Trump bragged about sexually assaulting women — as "locker room talk." When "Trump's surrogates attempted to discredit the women who said Trump had assaulted them," people responded with a new hashtag, #WhyWomenDontReport. Yet many people, like Walsh, are frustrated by the lack of a male response. Despite the surges of female activism and expressions of pain, culminated in the national #NotOkay and #WhyWomenDontReport, Donald Trump still became the president of the United States, defeating a woman. We still have need for hashtags like #MeToo.
Ann Friedman, writer for the LA Times, expresses her disappointment with the lack of a male response to the #MeToo movement in her powerful article, titled "Want to be a male ally to harassed women? Stop ranting about Harvey Weinstein and put your friends in check." Weinstein's extensive and horrific history of sexual assault is terrible. But to only acknowledge his crimes within his industry is an oversight. With millions of women posting #MeToo, sexual harassment and assault is far from only Hollywood's problem. Friedman supports the men who have come forward on social media, admitting to be a part of the problem: one male actor posted, "Used to be, when I got drunk, I'd get HANDSY" with an apology. According to CNN Entertainment, Quentin Tarantino regretfully expressed his inaction for not speaking up about Weinstein's abuse, "I knew enough to do more than I did."
Yet overall, mostly female voices have carried the #MeToo movement. Men cannot treat assault like it is none of their business. Why are many men hesitant to deem themselves feminists? Why is sexual assault a women's issue?
Taking a look at where we receive our information and social cues — news outlets, movies, political leaders, and books — can help breakdown why certain issues become gendered. Who has the power? Or more importantly: who is telling the stories?
Media
On average, a 2013 survey reported that — among reporters, copy editors, layout editors, online producers, photographers, and videographers — "[m]en have 63.7 percent of the gigs, while women have 36.3 percent." Determining what stories to report to the public, the media has the potential to greatly influence public perceptions. With the gender imbalance, male and female concerns may not be equally represented.
In Hollywood, the industry currently in the spotlight, "Women comprised just seven percent of all directors working on the top 250 domestic grossing films in 2016. That figure represents a decline of two percentage points from 2015's nine percent." Men dominated the important positions in the film industry: "Women accounted for 13 percent of writers, 17 percent of executive producers, 24 percent of producers, 17 percent of editors and nine percent of cinematographers."
Weinstein perpetrated violent crimes of power. Yet other men in the industry benefit from the same power that silenced the survivors of Weinstein's sexual assaults. Not only do the executive men in Hollywood gain wealth, social status, and the ability to shape art and popular culture from their positions, but they also have the power of an audience — a listening audience that women posting #MeToo are desperate to reach.
Politics
In her article about women's representation in politics, Danielle Kurtzleben, a political reporter for NPR, provided a useful visualization that compares professions based on the rates of employed women within a job: preschool and kindergarten teachers being the most popular at 96.8 percent, to carpenters being the least, at 1.8 percent. Female state legislators (24.5 percent) are roughly equivalent to the rates of female farmers and ranchers; female congress members (19.4 percent) practically align with female clergy; female governors (12 percent) fall 1.4 percent short of female sheriff's patrol officers; while female president remains unparalleled at zero. Kurtzleben comments that "Several large American religious denominations . . . for the most part do not allow women to be ordained. Lawmaking of course has no such restrictions, but Congress' women's share is still stuck where it is among clergy."
Women have to be activists for their issues, because in a male-dominated Congress, they do not have the seats to make the changes themselves. For so long, feminism has been considered a controversial term, a sort of taboo. Defined as "the theory of the political, economic, and social equality of the sexes," feminism may indeed be a dangerous term for the people who benefit from political, economic, and social inequality.
Novels
Usually introduced to children earlier than the news and politics, books can have a great effect on young Americans. From children's books to classic novels, stories have the power to construct gender roles and shape people's perceptions of society. What they include or what they leave out can be as equally harmful. In her TED Talk, "The Danger of a Single Story," Chimamanda Adichie, a novelist from Nigeria, shares that she grew up reading British and American children's books. As she began to write at the age of seven, she realized, "All my characters were white and blue-eyed, they played in the snow, they ate apples, and they talked a lot about the weather, how lovely it was that the sun had come out." Adichie's characters did not look, eat, or talk like her. Though she was very fond of those books and they sparked her imagination, Adichie claimed, "I had become convinced that books by their very nature had to have foreigners in them and had to be about things with which I could not personally identify" until discovering African writers.
In the United States, this lack of representation in the literary world is apparent in schools' reading lists. Under "Popular High School Reading List Books," Goodreads lists predictable books that high school graduates have most likely read, including The Great Gatsby, To Kill a Mockingbird, and The Catcher in the Rye. Out of the top fifty suggestions, only nine authors were female, with only one woman of color. 
Assigning only "the classics" of a patriarchal literary history teaches high school girls and boys to sympathize with only male characters and see through a male-centric view of the world. We need to teach girls and women that they have a place in our society and the right to vocalizes their stories; they have the right to say #MeToo; and they have the right to be heard. We need to teach young girls of color that they make up more than just 2 percent of our country's voices, history, pain, potential, and value; and thus they deserve much more than a dismal 2 percent of our literature. Women should not be forced to aspire to limiting role of supporting characters, plot necessities, and conflict drivers. We need to teach women that they can be the protagonists, strong-willed characters, and authors.
Feminism Transcends Gender
In another one of Adichie's TED Talks, We should all be feminists, she contemplates societal perceptions of gender. Adichie reflects on her initial encounter with the word "feminist" — her young male friend directed the term toward her derogatorily — and culminates her talk with her own definition — "feminist : a man or a woman who says, 'Yes, there's a problem with gender as it is today, and we must fix it, we must do better.'" Though she delivered her TED Talk five years ago, her talk readily applies to the male response — or lack thereof — to the #MeToo movement. Discussing how challenging of a conversation gender can be, Adichie prompts her audience to consider: "Some of the men here might be thinking, 'Okay, all of this is interesting, but I don't think like that.' And that is part of the problem. That many men do not actively think about gender or notice gender, is part of the problem of gender." Understanding, acknowledging, and discussing the gender imbalances in the media, politics, novels, and certain professions is a place to start.
Friedman, the LA Times journalist, also challenges the fact that sexual assault has societally become a women's issue like feminism, claiming that "survivors should be supported by everyone in their community. For men, that means doing what women have been doing privately for a long time: reaching out, offering support, and taking women's words to heart." She asserts that men "have to want to know the truth": "It haunts me to think that I have given social approval to serial harassers or worse because of what I didn't know. Men should feel the same way."
Tracing gender to its roots, Adichie acknowledges the fact that physical strength once made men more natural leaders for survival purposes "a thousand years ago," but the world has changed: "The person more likely to lead is not the physically stronger person, it is the more creative person, the more intelligent person, the more innovative person, and there are no hormones for those attributes. Stuck in a societal stasis, "We have evolved, but it seems to me that our ideas of gender have not evolved."
Reflecting on how even though sex requires more than one person, it is masculinized whereas virginity is feminized, Adichie comments on how female sexuality is globally repressed: "And so, girls grow up to be women who cannot say they have desire. They grow up to be women who silence themselves. They grow up to be women who cannot say what they truly think. And they grow up — and this is the worst thing we do to girls — they grow up to be women who have turned pretense into an art form." Referring to the public's response to a gang rape in her home country, Nigeria, Adichie comments about how people "have been raised to think of women as inherently guilty," and thus they may instinctively blame the woman by questioning "what is a girl doing in a room with four boys?" Instead of focusing on the men's horrific violent crime of power, people wonder what the woman did to provoke them until she believes it to be true: "We teach girls shame. 'Close your legs. Cover yourself.' We make them feel as though being born female they're already guilty of something."
We cannot keep blaming women, repressing their ambitions and sexuality, and promoting men's careers, art, and futures while excusing their behaviors at the cost of women's respect and safety.
Looking Ahead
Courageous women will keep pouring out their pain again and again with new hashtags until men listen. If survivors of assault are brave enough to speak up, everyone else cannot remain silent while people dismiss rape culture as hookup culture, share their damaging attitudes toward women, and boast about sexual assault. We cannot ignore the problem with half of our population sharing a fear. We must speak up since an American is assaulted every 98 seconds —roughly nine times since you began reading this article.
The #MeToo movement will not end here.
It cannot end until a high school boy says, "I see myself in these books," and the girl next to him can reply, "me too."
Until a man confronts his social circle and says, "This is my business. I will not let you treat, touch, or talk about a woman like that." And the others nod their heads, "me too."
Until a woman can say, "I have been president," and other women can raise their hands, signaling "me too."
I am hopeful for the moment in which we can reclaim the phrase. But for now, all I can say is
#MeToo.