The Cinematic Populism of Rotten Tomatoes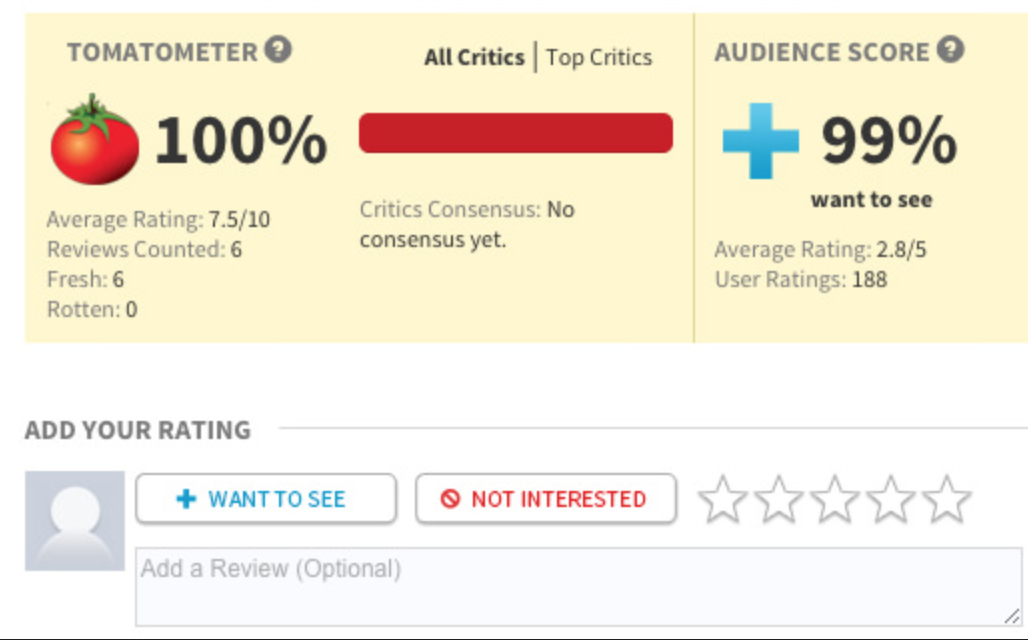 On September 7, the front page of the New York Times business page flashed an enormous, sharp-toothed, red tomato. This monster tomato strangled popcorn in its powerful vines as it rose from the tempestuous seas, with a timid skyline cowering in its backdrop.
This brute is none other than the review aggregating website, Rotten Tomatoes, through the eyes our movie studios. The New York Times article addressed concerns that movie producers have been expressing after a record low in box office profits this summer. They blame this on Rotten Tomatoes. Warner Bros producer, Brett Ratner, said of the website, "I think it is the destruction of our business" – a widespread sentiment amongst film producers. This issue over Rotten Tomatoes is part of a long-standing battle between film producers and film critics. And the concerns that the producers raise may either be genuine worries about our recent film culture, or may be rooted in a quest for power over box offices. Regardless, Rotten Tomatoes highlights interesting developments about the ways in which we relate to films, and to each other.
Unlike most review aggregating websites, Rotten Tomatoes separates audience reviews (published once the film has released) and critics reviews (often published before release). The critics reviews produce the famous Tomatometer: a value from 1-100 percent, indicating the percentage of critics who rated the film 'Fresh' as opposed to 'Rotten.' The site has only grown in popularity, as reported by the NYT, "attracting 13.6 million unique visitors in May 2017 alone, a 32% increase from May 2016." Thus, its effect on the perception of films today is marked, and can be seen in the numbers. As soon as Rotten Tomatoes publishes a score, levels of conversation about the film amongst potential audiences drop by 70 percent. And low scores have greater impact than higher scored do. A score below 30 will have 300 percent more impact on the volume of conversions than do scores over 70. It is numbers like these that studios lament over.
In response to being blamed for the failure of the film industry, Rotten Tomatoes and its supporters argue that the site has merely democratized the industry. In an interview with Collider Movie Talk, critic John Campea noted,
"If Rotten Tomatoes didn't exist, the only influence you are allowing yourself in the decision making process of 'what to watch' is the corporate masters. But now, you can see what film critics and everyday people are saying. We should not solely trust the people who stand to make off you going to see the movie."
With this, Campea points out the vested interest that movie studios have in defaming websites like Rotten Tomatoes. In the same interview, regular cinema-goer Mark Ellis rejoiced, "It is a fun time to be a movie fan now. We get to influence more of how a movie fares, how long it stays in theaters, and whether it gets a sequel. We have a lot of power now."
This dispersion of power is a recent trend. In the last 20 years of the site's existence, box offices have swung significantly depending on whether their score on Rotten Tomatoes says Fresh or Rotten. Before the likes of Rotten Tomatoes, film producers could project profits prerelease by tracking pricey marketing campaigns. Thanks to review sites like Rotten Tomato, watcher reviews have an increased relevance, making such predictions very uncertain. Many believe that it is this tangible power that audiences and critics have gained over the industry, that truly threatens the grumbling studios. If so, the only solution is: studios, just make better movies.
On the other hand, studios do raise a couple important points. The first is about the reductionism of Rotten Tomato scores. The quote cited earlier by Brett Ratner is often taken slightly out of context. In the rest of the interview with Entertainment Weekly, Ratner actually expressed his admiration for film critics. He told EW, "I have such respect and admiration for film criticism. When I was growing up film criticism was a real art. And there was intellect that went into that. That doesn't exist anymore. Now it's about a number. A compounded number of how many positives vs. negatives."
In response to the accusation about critique quality, Paul Yanover, president of Fandango (parent of Rotten Tomatoes) says that moving away from traditional film critiquing means widening what criticism is, and who critiques. He says, "Critics at traditional outlets tended to be white men and Rotten Tomatoes wanted to include female and minority voices" by loosening critic requirements. While a valid and laudable point, in his statement to Entertainment Weekly, it seemed that Ratner's issue arose not from criticism, but from meaningless criticism.
This meaninglessness may be apparent in the "positives versus negatives." The percentage score of the Tomatometer score indicates how many critics vote "yay Fresh" or "nay Rotten" for the film. This is unlike the rating system that most other review websites use, such as IMDB, where the individual scores are averaged. Film critic and host of the show What the Flick?, Alonso Duralde, identified that there was, "a decision that Rotten Tomatoes  made whenever it started – that everything ultimately came down to a yes or a no, posing an explicit binary." Duralde explains that as a critic, one is forced to reduce what may be a more nuanced and moderate opinion of a film to an extreme one –  Fresh or Rotten, moving percentage scores to either side of the pole. In a way, this makes the Tomatometer scores unreflective of real options. And so Ratner proclaims, "The worst thing that we have in today's movie culture is Rotten Tomatoes."
Rotten Tomatoes does offer a response to these criticisms, however. The former Editor-in-Chief of Rotten Tomatoes, Matt  has spoken in favor of the site's tendency to oversimplify. He argues,
"I don't think it is unreasonable to ask you [critics] take a stand on a movie. We just ask you to answer the question: Does this movie fulfill this promise? Sure, it is a bit is reductive. But that is why the site still insists to be able to link reader to full reviews. The tomatometer is just the entry point."
Atichiy makes a the point that reducing a film down to a rotten or fresh conveys the essence of what viewers are looking for. And while some may indulge the full-length reviews, we may largely be looking for a quick thumbs up or thumbs down. In addition to this topic of reductionism, movie studios also point to a larger trend about Rotten Tomatoes' omnipresence.
Tomatometer scores can be found almost everywhere today – almost attaching themselves to movie titles. Through business partnerships, the NYT article reports, Tomatometer scores show up next to "iTunes movie rentals and purchases," under the "film's poster when Googled," and even "next to the purchase button on Fandango," the lead ticket-purchasing site. While this ever-presence of Rotten Tomatoes comes to the dismay of movie producers, it says something about our behaviors as consumers.
We rely on review-aggregating sites not only for films, but for restaurants with Yelp, travel with TripAdvisor, and even handymen with Angie's List. Though this development arises from our advances in technology, in its essence, it is as old as civilization – word of mouth. Former Editor-in-Chief of Rotten Tomatoes Matt Atchity explains that the perfection of word of mouth through technology has forced studios to be accountable for the content they produce. In the interview with What the Flick?, Atchity said, 'What used to happen is that you could open a shitty movie with a big marketing budget and get a couple weeks of ticket sales because it took that long for word to get out." However, today,  "they cannot hide a bad movie. Not past the second night."
This is a battle of differing perspectives and differing understandings of the history of the film industry from the eyes of two opposing camps – the producers and the critics. While producers view Rotten Tomatoes as a reductionist distortion of the art of film critique, critics view Rotten Tomatoes as the champion of the people. Yet through all this, the question still stands: is Rotten Tomatoes a looming monster that will haunt film produces far into the future? Probably.