Is Activism the Most Ethical Way to Fight Climate Change?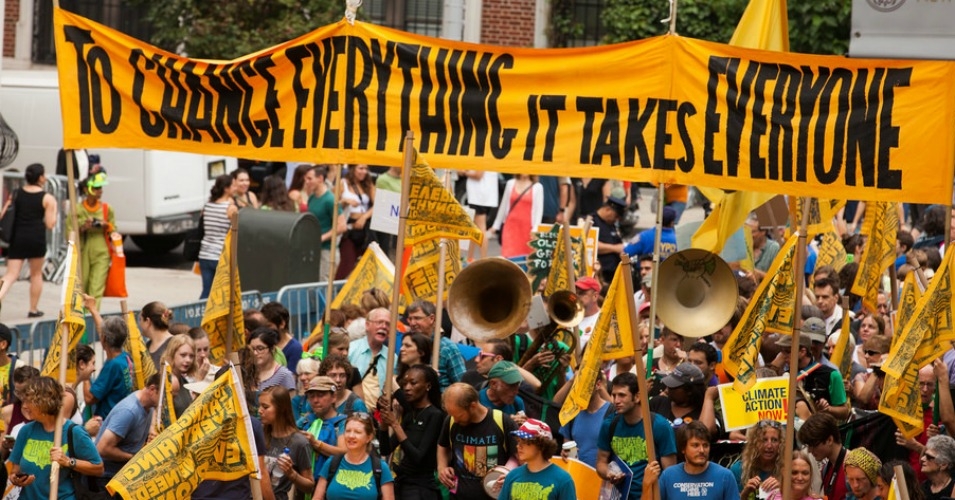 Mere days away from The People's Climate March in Washington D.C., at least 100,000 people are estimated to march in the streets. One quick Google search of "Climate March D.C." turns up dozens of articles on why marching next Saturday is important. However, in terms of social activism, and specifically climate change, is protesting a true form of advocacy? Much of the climate march this year is focused on "fighting back," specifically against the Trump administration. But is turning the environmental movement into a direct political one ethical? And what is the danger in turning a movement into a large-scale march?
Many environmentalists believe that activism is an important part of environmental advocacy, especially in the era of climate change. Activism can take many forms, so why are marches so important specifically? A recent article in the Huffington Post lays out exactly why marches and protests are an important part of environmental advocacy. In her article, Rosaly Byrd, Co-founder of the Sustainability Co-Op, argues that marching can call attention to many important causes. She states that "In participating in the People's Climate March, we call for the creation of good paying jobs and happy communities, for the right to clean air, water, and land, for healthy ecosystems, and for racial, social and economic justice, as many of those that are most impacted by climate change are also the ones most affected by socio-economic inequality." In other words, the People's Climate March does not just aim to draw attention to climate change, but many important environmental and social justice issues. She also points out that marches, more specifically, are important because marching can "protect our right to a free press, right to protest and to free speech."
Many could also point to the apparent success of the first People's Climate March. Merely one day after over 400,000 marched in the streets, The Rockefeller Brothers Fund announced its decision to divest from fossil fuels. And the march certainly captured the attention of not only President Barack Obama, but UN General Secretary Ban Ki Moon, who participated in the march. Additionally, The People's Climate March Organization is sponsoring a week of action prior to the march, aimed at encouraging participants to take action in their communities.
However, some do not believe marching is the most effective form of activism, or way to help the environment in general. In a Bustle article earlier this year, JP Thorpe examines the question "Do Political Protests Actually Change Anything?" Though Thorpe admits the complexity of measuring effective change that results from a protest, there are several key factors that can make a march successful. Thorpe turns to the research of Dr. Jaquelien van Stekelenburg to define these factors. According to her research, violence can dissuade policy makers from taking a protest seriously. Additionally, if the issue has not been introduced to the public previously, through education, the protest might not strike a chord with the public.
There is also a danger in very large protests, according to historian Lucy Barber. One may find this counterintuitive, since many marches emphasize the amount of people involved. However, the larger the protest, the less focused the message can become, and as a result, the less change the protest actually causes. By making clear the accessibility of The People's Climate March, Byrd might be doing a disservice to the effectiveness of the march itself, in terms of tangible change.
And is turning the march, and the environmental movement, into a reaction to the Trump administration effective or correct? Many of the official People's Climate March advertisements feature photos of Trump or allusions to his administration. Though many would agree that Trump has already taken extremely anti-environmental steps in his first few months in office (from naming Scott Pruitt head of the EPA to eliminating climate change data on government websites) is it fair to depict him as the sole proprietor of climate change?
In a previous article, titled "Who Owns Climate Change?" I examined the question of climate change accountability. With this poster and many others on the People's Climate March website, Trump and his administration seem to be the proprietors of environmental damage. With slogans such as "Fight Back" and "Resist," it is hard to imagine that those marching are being encouraged to examine their own contributions to climate change, or even those of people not currently in power. The People's Climate March website itself claims that "Everything we have struggled to move forward in the United States is in peril. Our loved ones feel under siege, and those in power in Washington are advancing a dark and dangerous vision of America that we know is untrue." Though there is power in this type of alarmism, there is also a danger of over-simplifying the problem. Climate change is not a new issue, and framing it as one could skew the responsibility of those who have, and continue to, contribute to it.
Climate change is an issue that has defined, and will continue to define, the future of the environment and society as a whole. That is not up for debate. The real debate begins with what we should do about it, and it seems as though that answer is not so simple. In the next week, The People's Climate March has the potential to shed light on this question, but due to the nature and qualities of large social demonstrations there is unfortunately no guarantee of tangible political change.