Should Theatre be a Safe Space?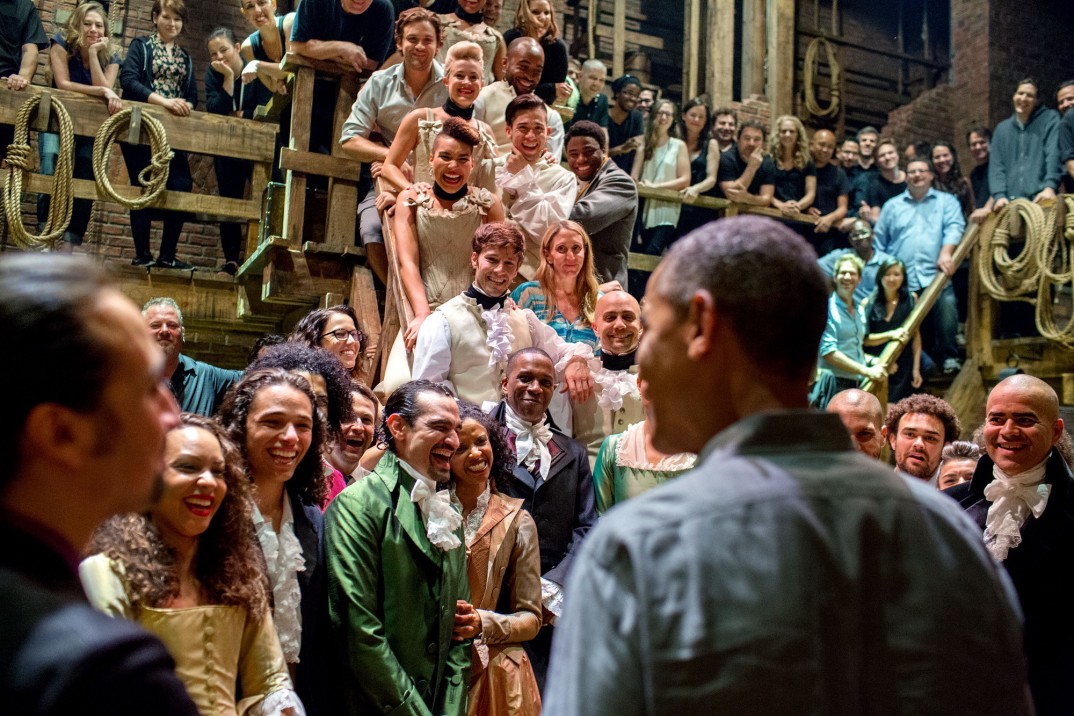 Recently, Vice President-elect Mike Pence attended a performance of the smash Broadway musical, Hamilton. During closing curtain remarks, Pence was directly addressed by the cast of the musical. The address encouraged Pence and the rest of the Trump administration to uphold their promise to truly be an administration working toward the welfare of all Americans. The cast expressed that the diversity represented in their multi-ethnic retelling of the founding of America is a true representation of the American dream and that Trump's administration should respect the diversity so cherished in American values. You can view the full video of the address here.
The following day, President-elect Donald Trump took to Twitter to defend Pence, who he claimed was "harassed" by the cast of the show. He then called the Tony-award-winning show "highly overrated" (though he has not seen it), and demanded an apology from the cast for their "terrible behavior." Mike Pence responded soon after, saying that he enjoyed the show, and "wasn't offended" by the address, and reassured the public that Donald Trump's election night promise to be a president for all Americans would be
kept.
Though this whole spectacle can easily be reduced to the same tabloid gossip that defined the presidential campaign trail, one of Trump's early-morning tweets on the matter is certainly worth discussing. Trump claimed that "[the] Theater must always be a safe and special place." Is it really, though? And should it be?
Those who agree with Trump's response to the event argue that the stage is not the appropriate time or place to make a political statement. Rather, it should be a place where people simply go for an evening of entertainment, much like a sporting event. Stevie Van Zandt, guitarist in Bruce Springsteen's E-Street Band, spoke up on the matter, articulating that the cast's address was the most "respectful, benign form of bullying ever." Van Zandt expressed that, to performers, the audience is like a guest in their home: "[it's] taking unfair advantage of someone who thought they were a protected guest in your home." An article in the New York Post suggests that the very act of Pence attending a production of Hamilton shows his willingness to understand the diverse voices of America, and that the cast's address to him was redundant and inappropriate for the Broadway stage.
Others, however, feel passionately that the theater is and has always been a necessary space to express ideas and commentary on current events. Using theatre as a political tool is not a new concept. Historically, playwrights have been jailed, banished, or even executed because the dissenting political opinions communicated in their works were seen as too threatening to the tyrannical governments which they opposed. Gabe Meline of KQED Arts argues that successful art is the kind that challenges audiences; discomfort is O.K., and should be encouraged. Referring to theatre as a "safe and special place" implies that musicals and plays are frivolities, as asserted by the Washington Post's Peter Marks. Rather, as Trump naysayers would voice, live Broadway shows should be used not as a sort of "feel-good" safe space for audience members, but as an encouraging safe space for performers be able to articulate ideas and convictions, particularly if they will intellectually challenge audience members.
The drama spurred by Trump in regard to the cast of Hamilton's closing curtain address to Pence was drastically blown out of proportion and sensationalized by the media. That being said, Trump's tweet which called the theater a "safe and special place" is absolutely worthy of intellectual discussion. Should theatre seek to be a potent force of political dissidence and commentary, knowing some audience members might feel uncomfortable or even threatened by certain topics? Or should it seek to be a place where audiences can always feel comfortable with their surroundings and forget about the burden world events or the current political climate?