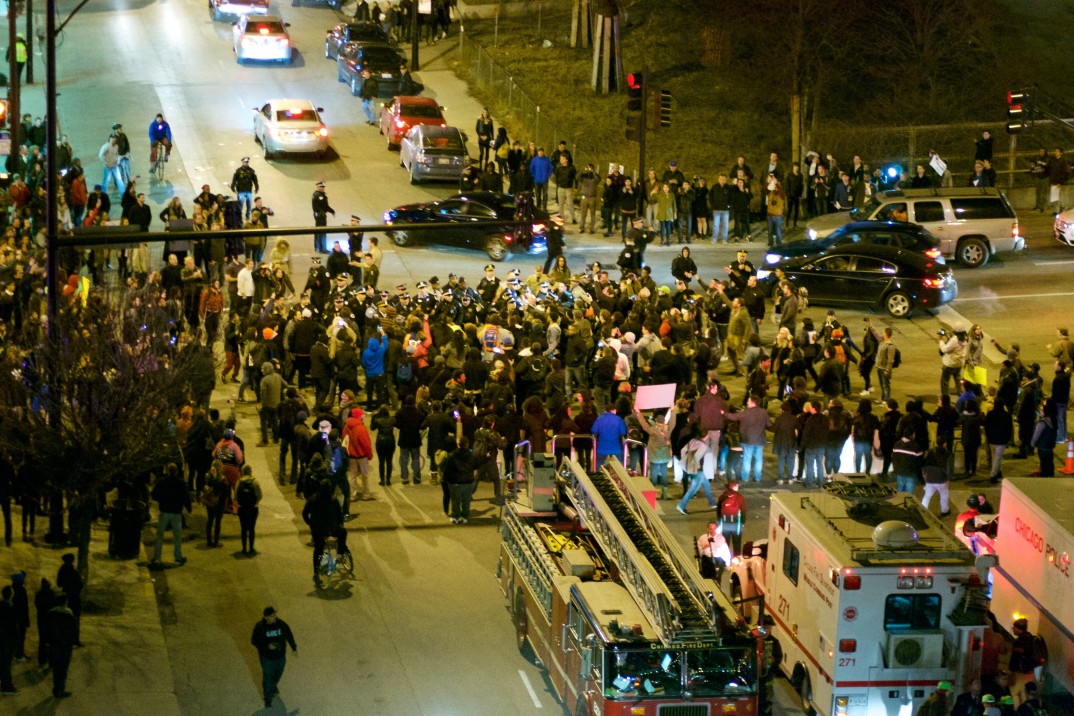 An election season that was already dramatic enough has recently become even more interesting with the rash of violence that has been breaking out at rallies for colorful Republican frontrunner Donald Trump. There has been much debate about whether Trump is to blame for these riots. Here is a brief recap of the recent violence that has occurred on the Trump campaign trail:
March 9th, 7:00 pm rally in Fayetteville, NC.  
A member of a group of protesters was punched by a Trump supporter at the Fayetteville, NC rally. As protesters were being escorted out of the event by police officers, one of them, Rakeem Jones, turned around and flipped off the crowd. A few seconds later, a Trump supporter reached over and punched him in the face. The incident was caught on several videos, one of which can be found here. The supporter, John McGraw, has since been charged with assault and disorderly conduct by the Cumberland County Sherriff's office. When asked about the incident, McGraw told Inside Edition, "you bet I liked it. Knocking the hell out of that big mouth," and, "next time we see him [Jones] we might have to kill him."
March 11th, 12:00 pm rally in St. Louis
Supporters and protesters faced off outside the rally venue, where "battle lines" were drawn. At least 32 people were arrested, most for disturbing the peace, one for 3rd degree assault. There is a video of a protester receiving medical attention, saying that he had been hit.
March 11th, 3:00pm rally in Chicago
Hours before Trump even arrived, demonstrators were already protesting, leading to a "tense standoff" before the rally was due to start. After Trump announced the postponement of the event, "for the safety of all of the tens of thousands of people that have gathered in and around the arena," more fights broke out.
Some people, especially the other presidential candidates (from both sides of the aisle) feel Trump is at least partly responsible for the violence. At previous rallies, Trump has seemingly encouraged the violence against protestors – saying things like "I'd like to punch him in the face [about a protestor who was being escorted out]," reminiscing about "the old days" where "what they used to do to guys like that when they were in a place like this? They'd be carried out on a stretcher, folks," was still acceptable, and even telling supporters to "knock the crap out of" protesters if they threw tomatoes at him. For awhile, after the North Carolina incident, police were even considering charging him for inciting a riot, although the charges were never brought about.
Trump, meanwhile, stated, "I don't accept responsibility, I do not condone violence in any shape," and that his supporter who punched out the protestor just "got carried away." Instead, he placed the blame in a number of other places. For starters, he argued that the tension at his rallies comes from how the voters feel about failed leadership and a sense of being betrayed by the government – not the speeches he is giving at the rallies. He's only the messenger, and the violence and tension is the result of the people who put us in this mess in the first place. He also blamed the protesters for the violence, because, after all, if they weren't there, there would be no one for his supporters to argue, fight, and riot with. Some of the protesters have yelled insults and obscenities at supporters, lending credibility to his point.
Trump is playing off the simmering rage and fear of voters who feel robbed by the government, hurt by the poor economy, disadvantaged by immigration and disenfranchised by seeing their values called into question with the rapidly changing climate in regards to social issues (i.e. gay marriage). There are many people who support Trump because they believe in his ideas and think a successful business leader has the best chance of improving the economy – however, even they cannot deny that Trump uses fear and hate as tools. All one has to do to know that is to listen to what he says.
So if Trump uses such tools, is he responsible for the ensuing logical outcome of violence? Does he bear any blame for the riots? If so, should legal action have been taken against him? And does a political leader have a moral responsibility to discourage unethical or violent actions among their supporters? What do you think?
(Note: Dates and times of rallies pulled from the 2016 presidential campaign blog here)