Spas and Pilgrims in Assisi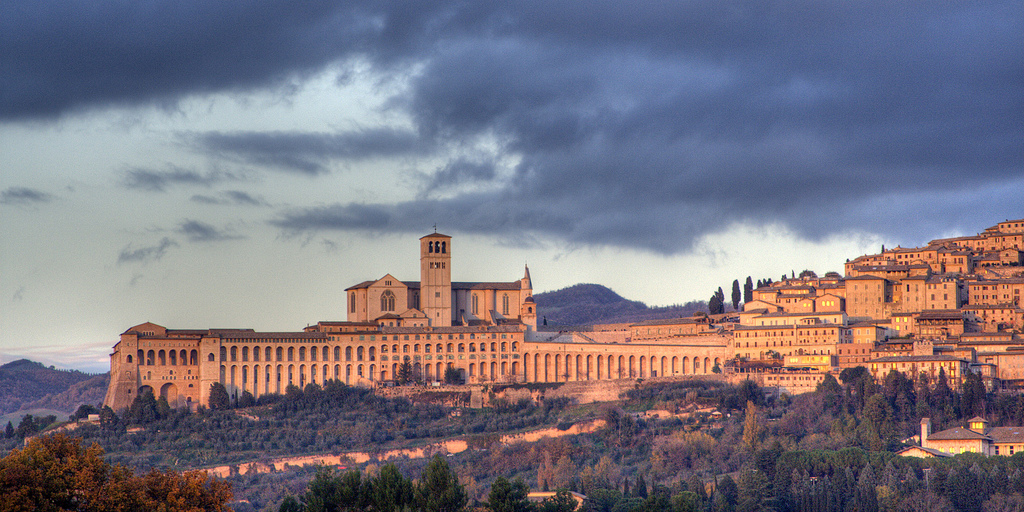 Known for his simplicity and acceptance, Saint Francis is often considered one of the most popular saints in the Catholic Church. The current pope even chose his papal name based off of the saint. Because Saint Francis is a favorite among Catholics, pilgrims have been flocking to his hometown, Assisi, Italy for centuries. Catholic visitors from around the world travel to Assisi to walk in the saint's footsteps and to soak in the natural beauty of Mount Subasio, as well as the surrounding forest.
However, in recent years Assisi has also become a popular tourist destination for non-Catholics, even non-Christians. The non-Catholic crowd often travels from around the world to stay in one of Assisi's newest luxury spas. One of the most popular resorts New York Times writer Nina Burleigh covers is the Nun Assisi Relais Hotel and Spa Museum, which is a converted convent featuring healing baths, wine bar, and a meeting room in place of the former chapel . Should Catholics be upset that their historically sacred sites are being exploited for non-religious tourism?
Interestingly enough, New Yorker writer Joan Acocella writes that Saint Francis and his followers are famous for rejecting wealth and lavish worldly goods. How then do we explain the recent turn towards a more lavish lifestyle in his hometown? As Burleigh notes, an English reverend and frequent visitor to Assisi thinks, "… people shall enjoy themselves. Then I hope the luxury does not anesthetize the people and take them into their own bubble far from St. Francis' message." Although many newer resorts cater to a more pampered lifestyle, many simpler retreats are still thriving. No frills accommodations, such as the Simple Peace Hermitage and St. Anthony's Guesthouse that Burleigh documents, allow the beautiful view of the mountainside to speak for itself. Is all tourism good tourism even if it means a shift away from local tradition?
Although earlier residents and business owner's in the area remain unfettered by the newcomers, there has been some backlash by the local law enforcement. The Ananda Center, Burleigh writes, has been accused of cult and criminal activity by Assisi police. While the Catholic Church and government authorities do not approve of new-age spiritual resorts, they do not appear to be hurting pre-established local businesses. Despite the changing market in Assisi, a Franciscan nun interviewed by Burleigh reiterates Saint Francis' message of acceptance of all people by saying: "We are open to people of all traditions — strangers or seekers…This is a safe place to rest, retreat or pilgrimage. Or just to be."  Would Saint Francis' support increased diversity even if it brings a possible turn away from pious Catholicism and simple living in Assisi?