Prindle Intern Spotlight: Rachel Hanebutt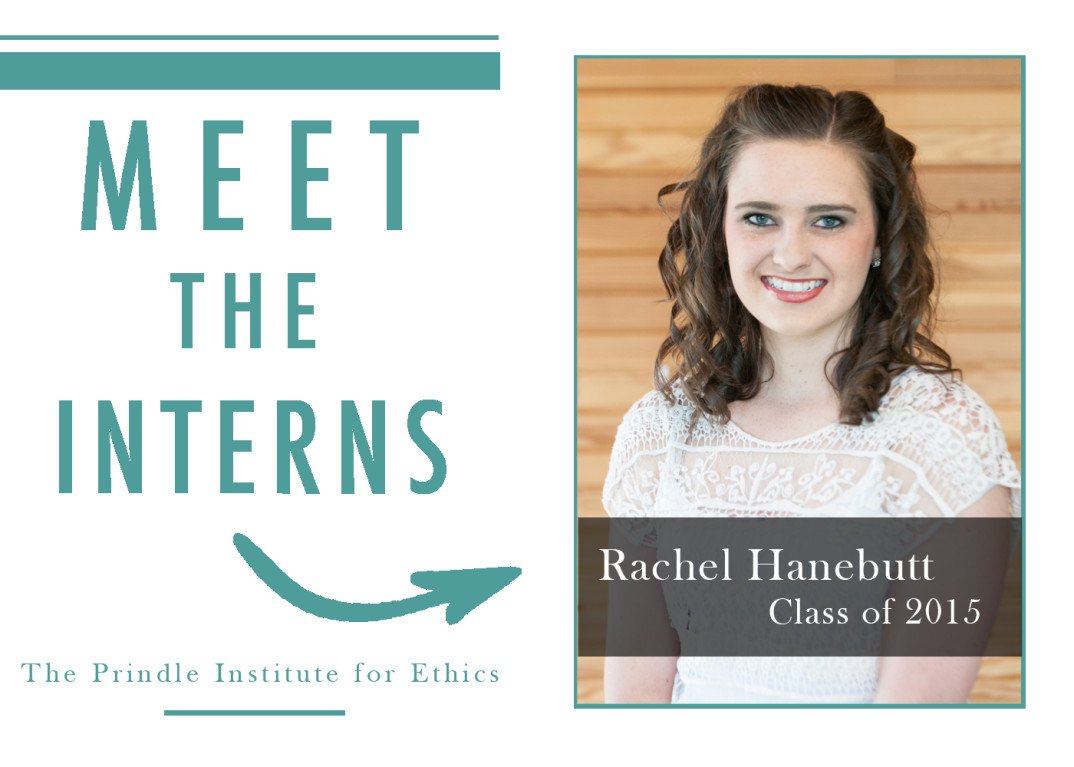 Rachel is a senior intern from Huntingburg, Indiana. She will graduate this Sunday with a double major in Political Science and Education Studies and a minor in Chemistry. This fall, she will pursue a Masters degree in Mind, Brain, and Education at Harvard's Graduate School of Education.
1. Tell us about an ethics/social justice issue that is particularly important to you.
Education. The ethics surrounding the education system, issues involving schools and the ethics of the classroom.  This has allowed me to expand my thoughts and work to encompass ethics on DePauw's campus as well. I am especially passionate about investigating the ethics of zero tolerance policies and juvenile incarceration. As Nelson Mandela reminds us, "Education is the most powerful weapon which you can use to change the world," however, I believe that ethical education and ethical empowerment of students are the ways you can truly make a difference.
2. What was your favorite Prindle event from the past year?
Meeting Piper Kerman and hearing her Ubben Lecture was hands down my favorite Prindle-sponsored event this year. Getting to ask Piper about her experiences and thoughts about the prison industrial complex was life-changing. Her perspective is brought out through her book and somewhat through the Netflix series and I personally think that she has allowed more Americans to critically assess, or at least think about the unethical nature of our current legal punishment processes.
3. Which class(es) at DePauw have most challenged and expanded your worldview?
Decolonization Education Theory, a 300-level Education Studies course taught by Dr. Rebecca Alexander, was one of the most challenging courses for me both intellectually and emotionally.  Being one of two white students in a class completely focused on privilege and colonization, I was forced into an uncomfortable, vulnerable, but entirely necessary space.  This course helped me to grow because it allowed me to truly learn about my own learning for the first time. A close second, Political Economy of Schools, a 300-level Education Studies course taught by Dr. Marcelle McVorran, expanded my views of education and acted as a much-needed capstone, pulling together all of my political science and education studies courses.
4. What's the coolest thing you've heard about in the past week? This could be something you read, listened to, watched, talked about, etc.
I am completely in love with learning new things, both figuratively and literally. Somehow, it has taken me until this past week to discover "Duolingo," an online app for learning new languages (If you have not heard of it, you should definitely check it out). I took Spanish for three years in high school, but tested out of Spanish at DePauw. I have really missed speaking in a second language and this app has the visual appeal and addiction factor of a video game. In other words, I am obsessed!
5. Tell us about one of your hobbies, interests, or passions.
Many people might not know this about me, but I am a licensed safe server for the State of Indiana, which is basically a bartending license.  I am not to the point where I can flip bottles and put on a show, however, I have interned at a winery making wine and served at a bar. I love the way that social drinking can bring people together, especially because I feel that college-social drinking has distorted society's view of consuming alcoholic beverages. Whether it's making wine or serving a perfectly poured Blue Moon, I plan to continue to learn about the industry and maybe learn a few tricks of the trade in years to come!
Learn more about Rachel here, and read more of her articles on Prindle Post here.