High School Essay Contest Winners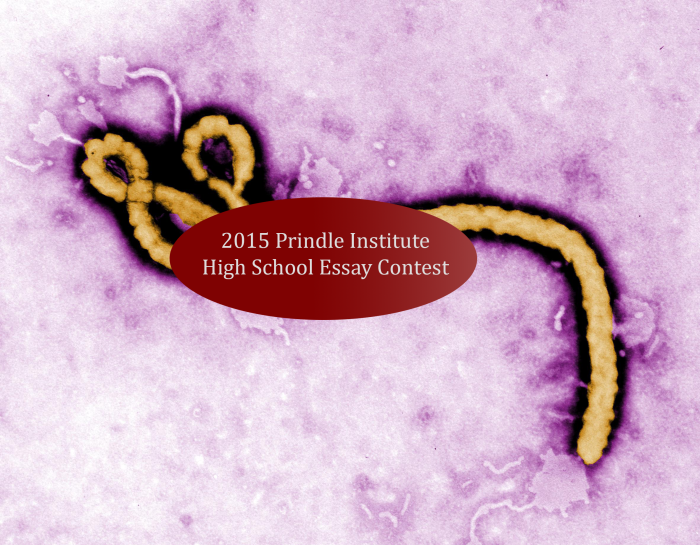 The Prindle Institute is excited to announce the winners of the first annual High School Ethics Essay Contest! Over 100 high school students responded to the prompt "Should we impose a travel ban on countries with Ebola?" The five winners received a cash prize of $300. Excerpts from the five winning essays are featured below.
"Those calling for a travel ban argue that since our democratic republic is of the people, then the government must then protect the rights and health of the people. Since a travel ban will most effectively achieve this end, the government must impose a ban. However a travel ban is likely not the best defense of the public health. Health Care Professionals argue that a formal ban will not prevent victims of Ebola from reaching the United States. Instead such a ban might result in a greater threat from Ebola."
Ian de Moura is a senior from Eagle Rock High School in Los Angelos, California. Click here to read the rest of Ian's essay.
"Even with sufficient screening procedures in place, history has shown that travel bans cannot keep a virus or disease out of a country. Past outbreaks of pathogens such as the SARS disease and H1N1 virus have prompted travel bans and airport screenings, yet the viruses found their way into the countries implementing such procedures. In another example, airports in the northeastern United States were closed for weeks after the 9/11 terrorist attacks, yet flu season was only pushed back two weeks by the closures (Garrett). When asked whether the long-term effects of travel bans were noticeable, Harvard epidemiologist John Brownstein stated, "Ultimately these pathogens find their way around the globe" (Langfield). In other words, attempts to quell outbreaks through travel bans are futile."  
Nathan Hemby is a senior from Frontenac High School in Pittsburgh, Kansas. Click here to read the rest of Nathan's essay.
"There is already a shortage of skilled professionals fighting Ebola, and any obstacles that make it more difficult for officials to combat the virus will only exaggerate the problem.  Liberia alone needs roughly 9,000 to 10,000 health workers to staff the thousands of beds the U.S. is building, said Ariel Pablos-Mendez, an assistant administrator for USAID, which is in charge of the U.S. response in West Africa (McKay, Hinshaw).  Rabih Torbay, senior vice president of international operations for International Medical Corps, is a veteran of recruiting medical professionals to help people after natural disasters.  However, he noted that is significantly more difficult to recruit officials to fight Ebola.  He said, "After the Haiti earthquake, we had 2,000 volunteer applications within the first few days," he said. "With this one, there were seven to ten in the first week" (McKay, Hinshaw). There is already a shortage of qualified healthcare officials, so if many of the most powerful nations stop sending aid to West Africa, then more people will suffer and the outbreak may spread beyond West Africa." 
Katherine McCarren is a junior from North Shore Country Day School in Winnetka, Illinois. Click here to read the rest of Katherine's essay.
"Balancing the interests of sick patients, healthcare workers, and the general public is a challenge that requires careful research to discover the efficacy of a variety of policies. Only when the government understands that certain limitations to an individual's freedom is unavoidable and necessary, can it ethically be implemented. The 2014 Ebola Epidemic raised a variety of ethical questions. Most of all, it revealed that greater mobility in the modern world allows diseases to spread rapidly. In the interest of saving thousands of lives in the future, cooperation between nations is essential. We are becoming a global community, connected by airplanes, phones, and new technology. As our lives become more intertwined, it important that to act like a community–a disease in one country quickly is everyone's problem, and must be fought in unity."
Ann-Kathrin Merz is a senior from Leland High School in San Jose, California. Click here to read the rest of Ann-Kathrin's essay.
"Restricting travel can lead to long-term economic consequences for the countries that become cut off. Experience from other outbreaks should serve as an example for how travel bans inflict more bad than good.  According to an article written by Kyle Davis, in 2003 a disease named SARS infected about the same number that Ebola is currently affecting.  America, in response, enacted a travel ban that prohibited travel to and from numerous Asian countries.  The ban had horrible impacts on the Chinese economy.  Airlines experienced massive setbacks with some companies having to cancel 40 percent of flights a day and other ones having to put their employees on unpaid leave during the duration of the ban.  One airline, Cathay Pacific, claimed to have lost $3 million per day (Davis).  The World Bank has also predicted that a theoretical international flu epidemic could bring about $1.5 trillion loss in global gross domestic product.  An astounding two-thirds of this number corresponds to people evading travel to affected countries."
Adeline Rohrbach is a junior from North Shore Country Day School in Winnetka, Illinois. Click here to read the rest of Adeline's essay.