The Ethics of a "One-Cure" Solution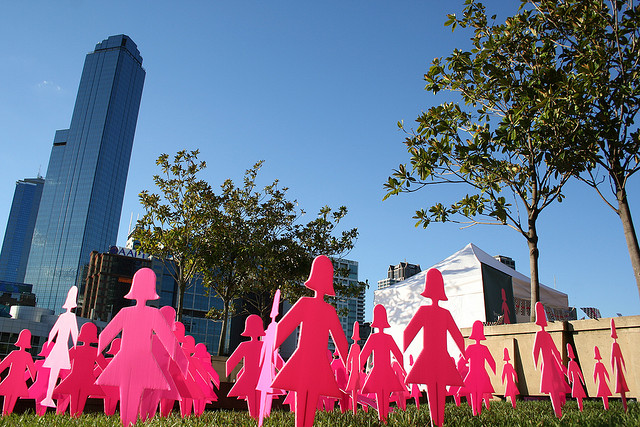 Breast cancer and the push for finding "the cure" for cancer are not new. We race for the cure, walk for the cure, bike for the cure, and do just about anything you can think of to raise money to fund cancer research; the one way society as a whole works to combat this disease. In the months leading up to losing her 13+ year battle with cancer, former LA Times staff writer Laurie Beckland tells a different story of how cancer can be combatted in a February op-ed, As I Lay Dying.
Beckland writes, "Promise me you'll never wear a pink ribbon in my name or drop a dollar into a bucket that goes to breast cancer "awareness" for "early detection for a cure," the mantra of fund-raising juggernaut Susan G. Komen, which has propagated a distorted message about breast cancer and how to "cure" it."  Her article explains that there are other resources, such as databases detailing patient experiences that other patients can learn from.  This would include invaluable advice to current patients who are making decisions about their own individual "trial" as Beckland refers to it.
Cancer patients are not required to report their metastatic diagnosis, so many times, individuals die of other diseases and official death records are in no way reliable instruments for evaluating or counting cancer-related deaths.  Beckland even goes as far as to say not using Big Data to the advantage of cancer patients is criminal and that a lack of participation in such a project by both patients and doctors would be unethical. This brings about a slightly different question: Is it unethical not to create a way for patients to voluntarily (or even anonymously) spread and share information with one another/with doctors?
Additionally, while we are waiting for researched "cures" to meet the gold standard approval of researchers, we are losing valuable time and resources, which could aid patients, potentially prolonging their lives in other ways. Is it unethical for society to continually support the "one cure" mindset, funneling money into research that might not be doing as much as it could be for the cancer patients it claims to support? Should we reconsider the ways in which we fight this currently incurable disease?