Prindle and DePauw Philosophy Department to host Young Philosophers Lecture Series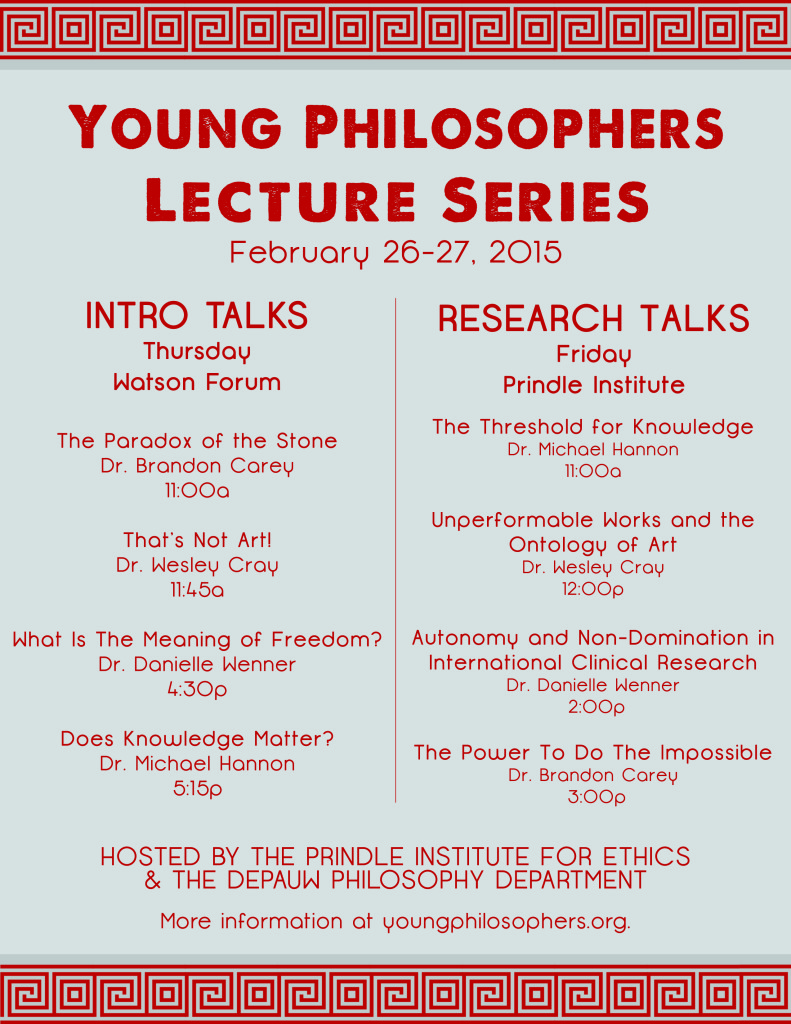 On Thursday-Friday, February 26-27, the Prindle Institute and the DePauw Philosophy department will host Young Philosophers Lecture Series. The series was started by Andrew Cullison, Director of the Prindle Institute, in 2008 at SUNY Fredonia. This is the first year that the series will be held at DePauw.
The lecture series brings four recent Ph.D. grads to campus to deliver talks on their philosophical research. This year, the selected participants are Dr.Brandon Carey of Columbia Basin College, Dr. Wesley Cray of Grand Valley State University, Dr. Danielle Wenner of Carnegie Mellon University, and Dr. Micheal Hannon of Fordham University.  Each scholar will present one introductory level and one research level lecture. The introductory talks take place Thursday, February 26th in Watson Forum and are geared to those who have little to no philosophy background. The research talks are primarily directed towards other philosophers and experienced philosophy students, however, all are welcome to attend. The research talks will be held on Friday, February 27th in the Prindle Auditorium. One of the objectives of the Young Philosphers Lecture Series is to have something for everyone. This is why both introductory and research level talks are presented.
The talk schedule is as follows:
Thursday Feb. 26 in Watson Forum:
11:00 AM – "The Paradox of the Stone" by Dr. Brandon Carey
11:45 AM – "That's Not Art!" by Dr. Wesley Cray
1:00 PM – Lunch at Two West
4:30 PM – "What is the Meaning of Freedom?" by Dr. Danielle Wenner
5:15 PM – "Does Knowledge Matter?" by Dr. Michael Hannon
Friday Feb. 27 in Prindle Auditorium:
11:00 AM – "The Threshold for Knowledge" by Dr. Michael Hannon
12:00 PM – "Unperformable Works and the Ontology of Art" by Dr. Wesley Cray
1:00 PM – Lunch at the Prindle Institute
2:00 PM – "Autonomy and Non-Domination in International Clinical Research" by Dr. Danielle Wenner
3:00 PM – "The Power To Do The Impossible" by Dr. Brandon Carey
If you are interested in attending lunch on either day, please fill out this form by February 24.
Additionally, those interested in past Young Philosophers Lectures may visit the Young Philosophers website to view previous presentations. This year's presentations will be available online shortly following this week's event.
The Prindle Institute for Ethics and the DePauw Philosophy department are thrilled to be hosting this exciting event. We hope that those in the area, including the DePauw and Greencastle communities as well as those from nearby Indiana colleges, will be able to join us!