Prindle and Conflict Studies to host 'The Trials of Muhammad Ali' outdoor screening on September 17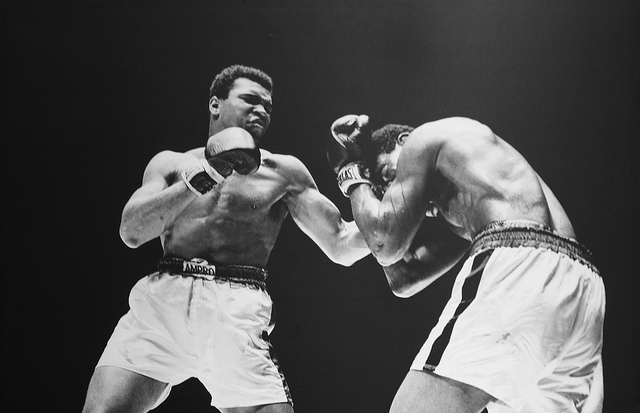 Come out to the Prindle Institute on Wednesday, September 17 at 8 PM for an outdoor screening of the 2014 documentary The Trials of Muhammad Ali. Movie snacks will be provided including apple cider and DIY s'mores around Prindle's fire pit. Bring blankets to enjoy this film on the Prindle Courtyard lawn as you get a closer look at the life of one of the most celebrated athletes and public figures of all time. The film, directed by Bill Siegel of Kartemquin Films, recounts the difficulties that Ali faced as he converted to Islam and refused to serve in the Vietnam War, specifically addressing the conflict between personal values and public image.
Here's an excerpt from Mick LaSalle's review of the film in the San Francisco Chronicle:
"There's history as it's remembered, and then there's history as it happened. This documentary gives us the latter, and it's a true education…'The Trials of Muhammad Ali'…documents a crucial decade in Ali's life, and over the course of the film you can see him changing his public strategies, or perhaps just changing as a person."
And another from Bruce Ingram's review for the Chicago Sun-Times:
"…As a testament to inner strength, or epic stubbornness, or both, "Trials" is a mind-blower. Especially when you see the way Ali stood firm — and seemed to grow and mature — as he became a highly visible lightning rod for all of the most hotly contested social and political issues of the late '60s."
Watch the trailer on the film's website here. This screening is co-sponsored by Prindle and the Conflict Studies department.
Need a ride? The DePauw bus will leave the UB for Prindle at 7:45. We hope to see you there!