Three Reasons I'm Excited for Reparation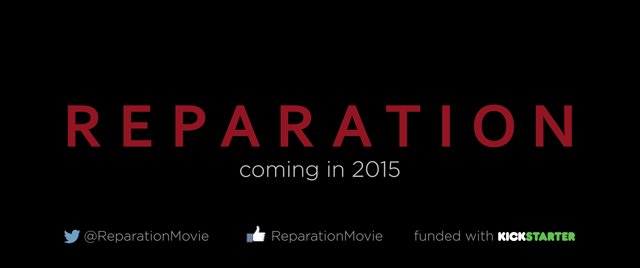 I want to tell you why I'm excited for the new film, Reparation. Before you hear my reasons, you might want to watch the trailer above. Okay. Here's why I'm excited.
1. The movie looks like it's going to be great.
I have a good feeling about this movie based on the trailer, and the conversations I've had with one of the screenwriters, Steve Timm. The plot is great. Here's a plot summary from their very successful kickstarter campaign.
REPARATION is a powerful psychological thriller that swirls like a funnel cloud around Bob Stevens — a small-town farmer with a three-year hole in his memory.   When a mysterious stranger, Jerome, shows up claiming to have been his best friend in the Air Force Police, Bob's peaceful existence begins to unravel from the outside in. Bob's entire family is caught in the storm — but none more than Bob's eight year-old daughter, Charlotte, who discovers that she might hold the key to conjuring Bob's forgotten past.   As Charlotte comes to learn, "every time something happens that knocks us out of balance, we try doing something that will knock us back in…" That universal theme of balance is the soul of REPARATION.
2. The DePauw Connection: Steve Timm and Kyle Ham
The screenplay was adapted from a play written by Steve Timm, DePauw professor of communication and theatre. He is also the chair of the advisory board for the Prindle Institute. He co-wrote the screen play with DePauw alumn, Kyle Ham '94. This was Ham's directorial debut and they filmed it in Greencastle, IN and the surrounding area. It's exciting to know that what promises to be an excellent indie film was created here.
3. The Prindle Connection: It raises a super-interesting puzzle about Moral Responsibility.
One of the reasons I'm so excited about this film is that it raises interesting questions about moral responsibility. The person has forgotten some of the actions in his past, and we are somewhat inclined to sympathize with this person because of that. Should someone be punished or be held responsible for actions that they can no longer remember? I can't say much more without spoiling things. But I can promise you that the plot is great.
That last reason is why we're talking about it so much at Prindle. Expect more Prindle programming around this when the movie is released in 2015.