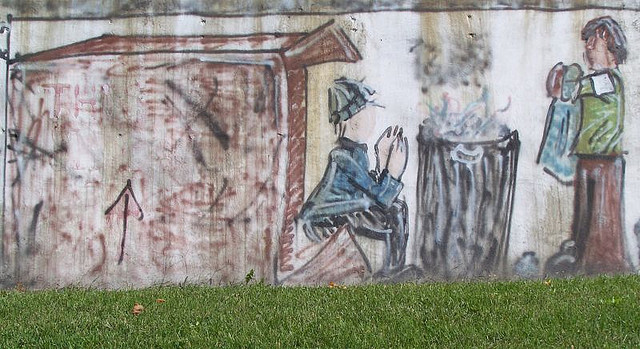 According to US Census Data, the percentage of people below the poverty line in Putnam County is 13%. The percentage of children under 18 living below the poverty line is 17%. Putnam county ranks 69th out of 92 counties with respect to the percentage of people above the poverty line.
DePauw has done enormously positive things to help Putnam County. Being the second largest employer in Greencastle is a huge benefit to the local community. Student outreach through local private charities and campus sponsored centers and groups also significantly improves the lives of those in need in our community.
There are 6 more things we can do to address poverty in Putnam County
Raise Awareness about Filing for the Earned Income Tax Credit

The Earned Income Tax Credit provides cash supplements to people below the poverty line who show evidence of having earned some income. In a lot of cases it can be enough to raise someone above the poverty line. However, most people below the poverty line are unaware of this, and don't realize how important it is for them to file taxes, and there are free services available to them that will help them file their taxes.

Raise Awareness about Legal Aid

Legal Services Corporation provides free legal assistance in civil matters for people below the poverty threshold. They help millions of people fight wrongful evictions, wrongful termination, child custody, and government benefit disputes. They can significantly reduce the degree of injustice that people below the poverty line experience simply because they cannot afford the tools to access our justice system. The office that handles cases in Putnam County is in Bloomington, and the managing attorney there said that she thinks that a vast majority of people in Putnam County who qualify are not served by her office at all. She thinks it is likely an awareness problem and that if the poor in Putnam County could simply be made aware about her branch, we'd make a big difference.

Increase Support for the Campus Farm

Children below the poverty line have less access to healthy food. The Campus Farm mitigates this by donating 10% of its crop to local services that focus on feeding the poor. I'd like to explore the possibility of expanding the operations of the Campus Farm so that we can increase the amount of support to these services.

Raise Awareness about Higher Education Options

Not having a college degree is one the top predictors as to whether or not you will be below the poverty line. Getting kids below the poverty line to take the idea of college seriously is an important step in helping get them out of poverty. A recent study suggests that simply sending poor children packets of information dramatically increases the likelihood that they will apply to and enroll in a top college. I propose we do something like that here in Greencastle, and there is already an organization here that we could work with to help.

Raise Awareness about Health Care Options

People below the poverty line are more likely to suffer from serious health problems, helping the poor take advantage of the Affordable Care Act is something that our students could be involved with that, again, mitigate some of the more severe consequences of poverty.

Support the New Homeless Shelter

Greencastle has been without a homeless shelter for 3 years, but that's about to change. This new shelter is encouraging news for Greencastle's homeless population, and we can work to assist the shelter. This can also be a community focal point for some of the above initiatives. It has already received strong support from the Management Fellows, and I'd like to see Institute Interns join in and help.